Support PDF,DOC,DOCX,TXT,XLS,WPD,HTM,HTML fils up to 5MB
Late Bloomers: Going to Law School Later in Life
by Harrison Barnes, Managing Director - BCG Attorney Search
(
1244
votes, average:
5
out of 5)
What do you think about this article? Rate it using the stars above and let us know what you think in the comments below.
Who says you can't teach an old dog new tricks? While the typical law school student is between the ages of 23 and 26, according to the Law School Admissions Council (LSAC), 21.8 percent of all law school applicants in 1999-2000 were over 30. Though their reasons for seeking a legal education and their experiences in their programs differ, the general consensus remains: School isn't just for kids. Often schools enjoy and prefer to see applications from students with life experience.
As C.S. Lewis puts it, "You are never too old to set another goal or to dream a new dream." Many people have taken to this advice with 40.5 percent of students enrolled in the 2012-2013 school year between the ages of 25 to 39 years old, according to the National Center for Education Statistics. Students over the age of 40 made up 12 percent of those enrolled. When it comes to law school, around 20 percent of the applications were from students over the age of 30 between 2005 and 2009, according to AmLawDaily.  
The bigger question to consider is what to go back to school for. There are certificate, associate, bachelors, or higher education programs that can help you achieve your goal. If your goal is to become an attorney, then starting from the beginning may seem like a daunting prospect, but for some it can greatly pay off in a few short years. If you already an attorney, but are looking to make yourself more marketable, there are plenty of certificate programs you can take to pick up a variety of skills directly related to the industry or not.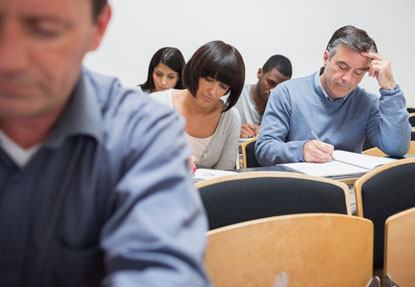 Many JD programs have fairly flexible schedules that
accommodate older students
with outside commitments. In addition to offering a full-time program with daytime courses, schools offer evening classes and part-time curricula, allowing JDs to graduate in anywhere from three to six years. This range of options is allowing more and more mid-lifers to pursue law degrees.
If taking an online program is something you think will work best with your schedule, keep in mind that the program must be accredited by the ABA in order to be able to take the bar exam in any state. As a way of enticing students of all ages, many law schools have taken to creating hybrid programs that allow for some online classes combined with on campus classes. The ABA has accredited the hybrid program at
William Mitchell College of Law
, the first of its kind. Since the start of the program last year, many other schools have been working towards creating their own that the ABA will accredit as well.
Other programs that many law schools have been adopting are for accelerated three-year J.D./M.B.A. degrees. Some of the schools that offer this are
Yale
,
Columbia
,
Boston University
, the
University of Pennsylvania
, and more. Graduating in three years with a J.D. and an M.B.A. will give you an edge over students that only have a J.D. The course curriculum is extra challenging, so you have to be committed to not having a social life for three years, but the end result may be worth it.
Part time J.D. programs generally take four years to complete, but are very convenient for students that need to keep working a day job and can only take classes on the weekends or evenings. The top five rated programs by U.S. News are at
Georgetown University
,
George Washington University
,
Fordham University
,
George Mason University
, and the
University of Maryland
.
LLM degrees can be extremely beneficial if you work in a specialty. LLM degrees are offered in tax, bankruptcy, environmental law, human rights law, international law, information technology law, and many more.
Why They Go and What They Do
Unlike some of their younger counterparts, mature JDs tend to have very specific career goals in mind when enrolling in law school. Everett Bellamy, an assistant dean at
Georgetown's Law Center
, believes that there are several key motivational factors. Some seek to strengthen their skills within their chosen industry; others are in search of a career switch; and still others go for the sheer intellectual stimulation.
Building on Experience
Lucille Roussin already held a Ph.D. and taught art history and archaeology at Sarah Lawrence College and Cooper Union before she decided to enroll in the full-time program at New York's
Benjamin N. Cardozo School of Law
. Over the years she'd become interested in stolen artwork and antiquities and wanted to help governments reclaim their cultural relics. After consulting with friends and colleagues, she decided to take the plunge and apply to law school at age 49. "The whole thing was bizarre," she says. "Suddenly I was on the other side of the podium, taking the Princeton Review LSAT-prep course with a bunch of 20-year-olds and starting my first year at school all over again." Today, Roussin has a thriving private practice catering to collectors and national governments with well-heeled clients that include the Republic of Turkey.
Developing New Skills
Like their younger classmates, some older JDs are just beginning their professional careers. Margaret Utterback, 36, worked as a naval officer right after college but had been a stay-at-home mother for 10 years when she applied to the
University of Wisconsin Law School
in Madison. "I was starting to feel like I was lacking intellectual stimulation," she explains. "Once my kids started going to school full-time, I wanted to talk to grownups and get my brain back in the groove." Utterback is now president of Wisconsin's student support group, OWLS (Older Wiser Law Students), and will begin work this fall as an associate at Madison's Quarles & Brady.
Expanding Your Mind
Walter Pincus has covered national security issues at the
Washington Post
for almost 40 years; last May, at 68, he donned his cap and gown at Georgetown Law's graduation. For Pincus, the decision to enroll in the part-time program was motivated by his desire to take on a new challenge. After six years of legal study, he's now preparing for the D.C. bar and hopes to combine his media savvy with his legal expertise, serving as counsel to corporations in crisis. He'll also continue contributing to the
Post
, whose editors have been supportive of his "extracurricular" activity. "The experience has been terrific," says Pincus. "And," he adds, "I was older than most of my professors!"
The Upside
Law school faculty have welcomed older students. Dean Bellamy is quick to point out that though older JDs are held to the same competitive admissions criteria as the twentysomething crowd, Georgetown considers the breadth of life experience when reviewing older applicants.
Harvard Law
has a section on their webpage specifically for those that are considered "experienced." Maturity, life experience, and work experience are positive factors that you can use to your advantage on your application. So, while your LSATs need to be high, job performance matters far more than how many extracurriculars you pursued in college 15 years ago.
Gregory Ogden, who teaches civil procedure and administrative law at Pepperdine, believes that older students enhance class discussions. "They bring a perspective and maturity that helps us deal with conflicts and problems," he says. As faculty adviser to several of the school's law journals, he believes that the over-30 JDs prove stronger in work-related skills like cooperation and management. "They have a stabilizing influence on group projects," he points out. Wisconsin's assistant dean Ruth Robarts, who went to law school after working as a high school principal for 10 years, agrees. She believes that her prior experience made her a better student. "You're just more focused and more mature," she explains.
The Challenges
There are some drawbacks to heading to law school later in life. For one thing, older JDs don't always enjoy the same opportunities as their younger counterparts. Lucrative,
partner-track jobs at firms
often demand young blood-eager recruits without outside commitments who can put in insane hours as associates. Adnan Latis, a thirtysomething 2L at Wisconsin, acknowledges, "There is a stigma. I would be in a better position at a firm if I were younger, because they expect you to work 100 hours a week." With a wife and two young children, Latis is unable to make that kind of time commitment. However, he notes that older law students can find niches within the legal field. Firms will often create more reasonable schedules for older associates with useful experience, such as engineers and scientists who now want to work as patent attorneys. Corporations and not-for-profits also readily hire older graduates as in-house counsel.
Another hurdle older student's face is readjusting to the rigors of school; it can take some time to get back into the swing of things. "I wasn't used to studying anymore," says Roussin. "I had to discipline myself again." With time, Roussin found that she was able to develop an effective studying strategy, devoting blocks of time to reviewing at home, and she succeeded.
In the End ...
Whether you're 22 or 62, law school can be a successful, rewarding experience. Latis, who moved his wife and two children from Nevada to study in Madison, has no regrets about his decision. "If you really want to do something, don't ever make age a hindrance to your objectives," he advises. "It's just an excuse."
There are obvious advantages when older people start attending law school after they have had some work experience. For one thing, they are bound to be more focused and less likely to get carried away by peers in extracurricular activities. For another, they will be able to call on real-life experiences to connect with what they are learning. Of course, they will also be older, but they won't be alone. There is a growing trend where people change careers every 10 years or so, and going to law school is one of the most popular ways this is manifested.
However, older people also tend to have more baggage; spouses, children, mortgages. The adjustment of going back to school can be difficult. Even single people may find it a bit difficult to get back on the saddle, simply because they have gotten used to a certain lifestyle. Here are some things that older people need to consider before deciding on going back to law school.
Show Me the Money
Law school requires some serious investments of time and money. It is three years full time at an average total price tag of $100,000, and that's only for tuition. Other expenses such as food and books will really put a strain on your wallet. Student loans may be the answer if there is too little money for comfort, but that may not be such a good idea since those loans need to be paid back. Some companies finance their employees in pursuing higher education such as law school, so if that is the case, then there is no problem. Of course, that would mean working during the day and going to law school at night, so it may take longer than usual. However, overall it's a good option if it is offered. If not, the best way would be to save up enough to cover expenses for the duration of law school before chucking your current 9-to-5 job.
The Raison D'etre
It is also important to know the reasons behind the decision to go to law school. There is no right or wrong reason; knowing simply makes for better motivation to see it through to the end. If it is to further or go down a more lucrative path in an existing career, then
getting a law degree
will take that career to a whole new level. However, if going to law school is because of a whim, then there is little likelihood that you will actually get the degree or that it will be of any practical use.
And the Survey Says…
If other people are going to be significantly affected by this career shift, it is important that they are part of the decision. A spouse or domestic partner who is not completely supportive can make it very difficult to follow through. Small children will be most affected by the strain that law school will put on the time and attention of the student parent, so it may be a good idea to wait until the children are old enough to take care of things so that there is time for you to study.
Employment Prospects
Older law graduates often find themselves in competition with younger, more eager candidates for entry level positions in law firms. If a law degree represents a whole new beginning career-wise, expectations should be kept reasonable. Some organizations do prefer older graduates because of their work experience in certain fields, but these are relatively scarce. Many law graduates weighed down by student loans are desperate to find work to pay them off, and are likely to accept lower wages and be willing to work long hours. However, if the law degree is obtained to further an existing degree, then that's another matter.
The Spirit is Willing…
Last but not least, the stamina needed for law school is prodigious; students must be willing to put in the hours of study. It is not so much intellect as persistence; law school is mostly about how much can be recalled of the law and the cases related to that law. A law student must not only be willing, but able to do the required brain exercises. For older students, it may be a good idea to start small as
part-time or night students
, where the pace is slower and more relaxed, and where most of the older students are. At the very least, this means there will be a certain level of equality, which will make law school not quite as stressful.
Going back to school is no joke for older people who already have a career. Getting used to being on the learning end of the stick can be difficult to adjust to, especially if the professors are younger than the students! Money, time, family and capability; these are the things that should be carefully considered and weighed before committing to a law degree program.
Please see the following articles for more information about law school, the bar exam and succeeding in your first year of practice:
University of Wisconsin Law School







Featured Testimonials
LawCrossing is a super site with all the best services. The job listings and the information it provides are praiseworthy.
Rebecca
Facts
LawCrossing Fact #10: LawCrossing gives users a variety of search options to narrow down their job selections to opportunities that are perfect for them.
Success Stories

I was incredibly happy with the site. I thought it was very easy to use; had significantly more postings than any other site (or combination of sites); and provided a lot of useful information. (the number, and caliber, of job postings). Exactly what I was looking for – I have 5 years' experience and was looking for a lateral move or an in-house position, and that's exactly what I found!

Sarah E. Potter Louisville, KY