Support PDF,DOC,DOCX,TXT,XLS,WPD,HTM,HTML fils up to 5MB
Why General Counsel Support ''Convergence'' in External Law Firms
by Harrison Barnes, Managing Director - BCG Attorney Search

(
39
votes, average:
4.2
out of 5)
What do you think about this article? Rate it using the stars above and let us know what you think in the comments below.
From the middle of the 1990s, more and more large businesses have started discarding the trend of having a large number of external service providers, or external law firms to handle their work, and are instead emphasizing on the "convergence" model. To an extent, this shift has been both proposed and encouraged by general counsel to reflect the trend of having their pay packages, or their major portions, based upon overall team or company performance. "Convergence" in external law firms had major advantages for general counsel who no longer viewed their own companies as assured clients and were quickly assuming the roles of business advisors on company boards.
"Convergence," – cutting down the number of external law firms
David B. Wilkins, in his paper named
Team of Rivals?
Toward a New Model of the Corporate Attorney-Client Relationship
, (Fordham Law Review, April 2009) discusses the issue of the trend of "Convergence" being adopted by businesses and general counsel. To emphasize his point, Wilkins mentions the case of DuPont. In the 90s, in just two years DuPont decided to reduce the number of external U.S. law firms that provided service to the company from 350 to 35.
Talking on what made DuPont change the trend, in an article, two DuPont lawyers explained:  
[S]preading patent and trademark work among a large number of firms limited rather than strengthened our bargaining power. Firms receiving a relatively small amount of work, even from a perceived "prestigious"client, were not inclined to offer discounts or give close management attention to the work. . . . Dealing with nearly 300 firms [also] made it difficult for the DuPont clerical staff to establish efficient internal procedures. Our bill paying practices were inconsistent and jeopardizing relationships (John E. Dull & David J. Gould, DuPont's Legal Experiment, IP WORLDWIDE, Nov.25, 2002)
DuPont became the trendsetter for "Convergence" with other businesses and companies following suit. In 2001, DuPont successfully deployed the same model in its international law firm relations and in less than a year, its "Convergence" program reduced the number of firms handling its international work from 300 to 48. Only 28 law firms were given 95% work of DuPont. By the first decade of the 21
st
century most large businesses were giving 80% of their work to only twenty-five or fewer law firms, with a majority of businesses limited to ten or less than ten external service providers.
How "Convergence" benefits general counsel
In reality, with the rise of general counsel and in-house legal departments, the client-attorney business relationship of external law firms ended up in the 'general counsel – external law firm' relationship. Alike other corporate managers, general counsel have to ensure spending within budget and "Convergence" made it easier for general counsel to do so, by enhancing bargaining powers, as well as reducing inventories. General counsel began to bundle cases and create fixed-fee or flat fee arrangements, while at the same time leveraging the status of "trophy client" providing bulk work – so entitled to discounts.
However, "Convergence" did not only assure cost-reduction and greater transparency, it also provided better and more uniform quality of the services received. In legal matters, the quality of service was of paramount importance. Convergence and reduction in the number of law firms also provided general counsel with greater ability to pinpoint law firms, which can be safely handed the kind of work, where the quality of work was primary, and costs were largely insignificant against the stakes involved. So, "Convergence" also helped general counsel to present high-paying premium work to reliable law firms as a reward and incentive.
How "Convergence" helps law firms
On the other side of the spectrum, "Convergence" allowed a healthy recovery of work patterns in private law firms focused on better service, transparency, quality, teamwork, and timeliness. Law firms that were able to live up to their promises experienced exponential global growth including law firms like Eversheds,
DLA Piper

and others.
In fact, as Wilkins pointed out, "Convergence" is being practiced more mercilessly in Europe than in the United States, and as in case of Tyco International – the company recently converged from 250 law firms servicing it in the U.K., Europe and Middle-East markets to 1, Eversheds. Practicing "Convergence" has helped promote quality in service provided by law firms and also helped quality-focused law firms to rapidly outdo others.
About LawCrossing
LawCrossing has received tens of thousands of attorneys
jobs and has been the leading legal job board in the United States for almost two decades. LawCrossing helps attorneys dramatically improve their careers by locating every legal job opening in the market. Unlike other job sites, LawCrossing consolidates every job in the legal market and posts jobs regardless of whether or not an employer is paying. LawCrossing takes your legal career seriously and understands the legal profession. For more information, please visit www.LawCrossing.com.
Linklaters





1 reviews


Featured Testimonials
I got a job through LawCrossing. Had a great experience using the website's services. Thank you very much!
Casey
Facts
LawCrossing Fact #122: We are the future. Gone are the days when the most you had to do to get a job was go in and talk to your career counselor. Now you're competing with candidates from all over the world. Let us put you in the position to succeed.
Harrison Barnes does a weekly free webinar with live Q&A for attorneys and law students each Wednesday at 10:00 am PST. You can attend anonymously and ask questions about your career, this article, or any other legal career-related topics. You can sign up for the weekly webinar here: Register on Zoom
Harrison also does a weekly free webinar with live Q&A for law firms, companies, and others who hire attorneys each Wednesday at 10:00 am PST. You can sign up for the weekly webinar here: Register on Zoom
You can browse a list of past webinars here: Webinar Replays
You can also listen to Harrison Barnes Podcasts here: Attorney Career Advice Podcasts
You can also read Harrison Barnes' articles and books here: Harrison's Perspectives
Harrison Barnes is the legal profession's mentor and may be the only person in your legal career who will tell you why you are not reaching your full potential and what you really need to do to grow as an attorney--regardless of how much it hurts. If you prefer truth to stagnation, growth to comfort, and actionable ideas instead of fluffy concepts, you and Harrison will get along just fine. If, however, you want to stay where you are, talk about your past successes, and feel comfortable, Harrison is not for you.
Truly great mentors are like parents, doctors, therapists, spiritual figures, and others because in order to help you they need to expose you to pain and expose your weaknesses. But suppose you act on the advice and pain created by a mentor. In that case, you will become better: a better attorney, better employees, a better boss, know where you are going, and appreciate where you have been--you will hopefully also become a happier and better person. As you learn from Harrison, he hopes he will become your mentor.
To read more career and life advice articles visit Harrison's personal blog.
Do you want a
better legal career?
Hi, I'm Harrison Barnes. I'm serious about improving Lawyers' legal careers.  My only question is, will it be yours?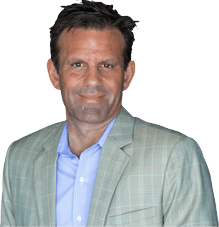 About Harrison Barnes
Harrison is the founder of BCG Attorney Search and several companies in the legal employment space that collectively gets thousands of attorneys jobs each year. Harrison is widely considered the most successful recruiter in the United States and personally places multiple attorneys most weeks. His articles on legal search and placement are read by attorneys, law students and others millions of times per year.
Success Stories
LawCrossing was probably the best legal board I have used. I liked the layout and it was user friendly. I tried to use another job board, but it was not user friendly and was kind of a pain, whereas LawCrossing was easy to use to find jobs. I really liked it. I would certainly recommend this site and service to my colleagues.
Stephen Kobza Tinley Park, IL
Why You'll Love LawCrossing
Stay Ahead. Get your weekly career digest giving you:
the latest legal jobs
legal employment news and trends
career advice and more