Support PDF,DOC,DOCX,TXT,XLS,WPD,HTM,HTML fils up to 5MB
Acquiring Work as a Paralegal: The Job Interview
by Harrison Barnes, Managing Director - BCG Attorney Search

(
26
votes, average:
3.9
out of 5)
What do you think about this article? Rate it using the stars above and let us know what you think in the comments below.
Interviews generally begin with "small talk." Questions posed to you in the beginning of an interview might range from "Did you have any trouble finding us?" to "How did you find out about the firm?" You would never answer questions such as these with replies of: "I had the worst time trying to find you" or, "Oh, I just looked up the firm in Martindale-Hubbell and you were part of my mass mailing to law firms."
Answers like the above would indicate to the interviewer that you have very little regard for the interview since you spent little or no time researching the firm before you applied to it. Better answers would be: "I know the location of your firm very well. I have been in this area several times," and, "I applied to your firm because I have a particular interest in real estate law and I understand that your firm has expertise in this field."
Generally, the next part of the interview will consist of a routine rundown of items on your resume. Needless to say, you must know your resume inside and out. Sometimes people forget how they worded certain parts of their resumes. So be prepared to comment on a point and add to it if the interviewer asks you something about a prior job.
The next part of the interview will usually consist of your answering direct questions about why you studied to become a paralegal, what your future career goals are, and what kind of job you are looking for. Included here is a list of some of the questions that paralegal clients have been asked during inter views.
Questions Frequently Asked During an Interview
Answer all questions to the point. Keep your answers succinct and clear. Sometimes when nervous you might have the habit of rambling on a bit, but a job interview is no place for this. The interviewer will usually ask you if you have any questions about the firm.
Remember again that this job interview is the opportunity for you to learn about the firm or the company and find out if the job is right for you, so have a few questions ready to ask the interviewer.
Questions you might ask could include: how many paralegals are employed; what is the general length of time that paralegals stay at the firm; are there opportunities to learn other areas of law at the firm or company? Do not bring up salary as one of your questions. If you do, it appears as though that is the only reason you are looking for a paralegal position.
It is the interviewer who will usually bring up the subject of salary. He/she might state what the firm is offering or ask you what kind of salary you are looking for. If he/she asks you the salary you want, always give a salary range, Never give a set dollar amount since it might be more than what they are offering and disqualify you immediately, or it might be far less than what they are offering and you would be settling for less.
Depending on the law firm or company, the part of the country you live in, and, of course, other qualifications you have (such as speaking another language fluently or having prior legal experience) this salary would be negotiable. If the interviewer tells you during the interview what the job's salary is, and asks you what you think of it, do not debate the amount. Simply say that you will consider the salary but since there is no job offer there is no point in discussing the amount.
Many people make the mistake of discussing the salary for a job that has not been offered to them. Do not discuss the salary until you get a firm offer and the job is yours. If the salary is less than what you expected, then tell the interviewer that you are worth more because of your prior education or experience.
Do not say that you could not possibly live on the amount they offered you. Unfortunately employers do not care what kind of salary you can live on. But they cannot argue that you are not worth the amount that you say you are, as long as it is a reasonable amount. What happens in some cases is that the firm will negotiate with you for a salary review after three months or so.
What about settling for less money than what you expected? If you can afford it, in your first job as a paralegal it may not be too bad since you will be getting that golden experience you need to succeed in the field. (Do not forget that as soon as you get your first
paralegal job
, your resume immediately has to be updated to include your new experience.)
Also, the firm may offer paid overtime so you could increase your salary by working overtime as needed. And, of course, you may make yourself so indispensable to the firm that you may warrant a big raise in the future. Some firms and companies pay a higher salary but expect you to work overtime when needed. In this respect they are treating you as they do the attorneys.
This is a good sign that the firm has no doubt that you are a professional. Civil rights legislation makes it illegal for a prospective employer to ask certain questions about age, marital status, race, place of national origin, etc. Some interviewers will ask you personal questions that might be illegal. You do not have to answer those questions and you might even want to tell the interviewer this, but by doing so you might be talking yourself out of a job.
If a question comes up regarding marital status or children, answer the questions in a positive fashion by stating that you are able to commit yourself to a career. "I am married and able to commit myself to a career. I am divorced and am able to commit myself to a career. I have three children and am able to commit myself to a career."
Usually when the interviewer asks those kinds of questions he/she is trying to discover if there are any obstacles to your coming into the office every day before hiring you. But if the questions begin to make you feel uncomfortable then perhaps you should evaluate the job situation and consider whether you really want to work in this firm, or with the individual who is asking you these personal questions. Again, this is another example of finding out if the job is right for you.
You may be asked where else you have interviewed. It is always a good idea to say that you are waiting to hear from a few places that you applied to (you do not have to give out the names). If this is your first interview, say that you have just begun to look. Firms and companies want to know what their competition is and you should let them know, when possible, that other places are also seeking you out.
Sometimes other attorneys or paralegals will be asked to join in on the interview. This is called a "Group Interview" and can be disconcerting the first time.
Some firms feel that by having more than one person interview the applicant the decision to hire can be made faster because there is more input. Having those extra copies of your resume will come in handy. Do make sure that you offer those resumes to the people who join the interview.
Try to remember the names of the people as they are introduced to you. Jotting down their names on a pad is not a bad idea since you will probably be sending them thank-you notes after the interview. Maintain eye contact throughout the interview. It is very important. Some firms consider a tour around the offices as a part of the interview. This gives you the opportunity to see the set-up for paralegals. Note whether paralegals share offices or have their own offices.
This is all part of the work environment that you will want to consider. At the end of the interview, many students will offer the interviewer a copy of a writing sample with a self-addressed, stamped envelope so that it can be mailed back. This is an excellent idea since it is an example of your work. Most attorneys are glad to have the opportunity to look over the sample.
The interviewer will let you know when the interview is over. Shake hands with him/her, tell him/her how you enjoyed meeting with him/her, thank him/her for his/her time, and ask when you might be hearing about the decision. Show interest, although you may have decided at the midpoint of the interview that the job is not for you.
This is important because even if you are disappointed in the job but are offered it, there may be another opening in the firm that you could be considered for at a later date. When you get home, write out all your impressions of the interview. Keep this for future reference when you are comparing interviews with firms and companies. Then write or type a thank-you note to each person who interviewed you, telling each that you enjoyed the meeting.
If you think the job is right for you and you would be an asset to the firm, write that. Continue to send out resumes while you are waiting to hear about the job. Usually you will get an answer within the time you were told it would take.
If you do not, wait an extra day, and then contact the firm or company to find out what your status is. There is nothing wrong with this and it tells them that you are really interested in the job. When that job offer comes in, consider the job for a few days. Remember, this is a big commitment to both the firm and your self and should be a job in which you will be able to grow and learn. When you are ready to accept the job, a phone call to them will suffice but follow up with a letter stating that you are accepting the job. Include the stated salary in the letter.
Ask them for a letter noting your starting date and the salary agreed upon. This is for your protection as well as theirs. On occasion, the person who hired you and told you what your salary would be is no longer working for the firm or company when you begin the job. Having something in writing is a very good idea.
Most firms and companies will expect you to begin to work for them within two weeks after you receive and accept the job offer. If you are working at another job and need to give notice, and the notice will be more than two weeks, clear this up with your new place of employment. By following the rules of your old company, you will be giving your new employer a good impression of you. Once you secure that first job as a paralegal, your career has begun!
Click Here to View the 2015 Salaries of the Top Law Firms.

See the following articles for more information:
About LawCrossing
LawCrossing has received tens of thousands of attorneys
jobs and has been the leading legal job board in the United States for almost two decades. LawCrossing helps attorneys dramatically improve their careers by locating every legal job opening in the market. Unlike other job sites, LawCrossing consolidates every job in the legal market and posts jobs regardless of whether or not an employer is paying. LawCrossing takes your legal career seriously and understands the legal profession. For more information, please visit www.LawCrossing.com.
Featured Testimonials
I like the search options on LawCrossing. The daily updates are also very helpful.
Alexander
Facts
LawCrossing Fact #36: LawCrossing features a library full of archived articles, just in case users miss a week.
Harrison Barnes does a weekly free webinar with live Q&A for attorneys and law students each Wednesday at 10:00 am PST. You can attend anonymously and ask questions about your career, this article, or any other legal career-related topics. You can sign up for the weekly webinar here: Register on Zoom
Harrison also does a weekly free webinar with live Q&A for law firms, companies, and others who hire attorneys each Wednesday at 10:00 am PST. You can sign up for the weekly webinar here: Register on Zoom
You can browse a list of past webinars here: Webinar Replays
You can also listen to Harrison Barnes Podcasts here: Attorney Career Advice Podcasts
You can also read Harrison Barnes' articles and books here: Harrison's Perspectives
Harrison Barnes is the legal profession's mentor and may be the only person in your legal career who will tell you why you are not reaching your full potential and what you really need to do to grow as an attorney--regardless of how much it hurts. If you prefer truth to stagnation, growth to comfort, and actionable ideas instead of fluffy concepts, you and Harrison will get along just fine. If, however, you want to stay where you are, talk about your past successes, and feel comfortable, Harrison is not for you.
Truly great mentors are like parents, doctors, therapists, spiritual figures, and others because in order to help you they need to expose you to pain and expose your weaknesses. But suppose you act on the advice and pain created by a mentor. In that case, you will become better: a better attorney, better employees, a better boss, know where you are going, and appreciate where you have been--you will hopefully also become a happier and better person. As you learn from Harrison, he hopes he will become your mentor.
To read more career and life advice articles visit Harrison's personal blog.
Do you want a
better legal career?
Hi, I'm Harrison Barnes. I'm serious about improving Lawyers' legal careers.  My only question is, will it be yours?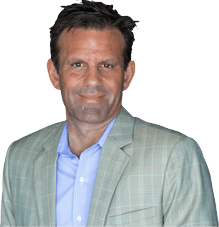 About Harrison Barnes
Harrison is the founder of BCG Attorney Search and several companies in the legal employment space that collectively gets thousands of attorneys jobs each year. Harrison is widely considered the most successful recruiter in the United States and personally places multiple attorneys most weeks. His articles on legal search and placement are read by attorneys, law students and others millions of times per year.
Success Stories
I was able to obtain my new job through LawCrossing. I love your service! Hopefully, I won't need your help for a while, but if I do, I'll certainly sign up again. I have already told others about your great site.
Why You'll Love LawCrossing
Stay Ahead. Get your weekly career digest giving you:
the latest legal jobs
legal employment news and trends
career advice and more