Support PDF,DOC,DOCX,TXT,XLS,WPD,HTM,HTML fils up to 5MB
The Pros and Cons of Being a Transfer Student
by Anayat Durrani
Julie Accardi, 29, transferred at the end of her first year from the University of California, Hastings College of Law, in San Francisco to the University of Chicago Law School, where she is currently in her third year. "I wanted to attend a law school with a national reach. My first-year law school was very strong in a particular region, while my current law school places graduates all over the country."

Ms. Accardi said having transferred to the University of Chicago has provided her with the opportunity to either return to California or go anywhere in the country she chooses. She plans to clerk in Boston next fall. While she said transferring to a new city and adjusting to the "new academic culture" can be hard at first, it does pay off.



"Transferring here has meant that I've had the opportunity to study with world-renowned legal thinkers, in a welcoming and comfortable environment. I'm currently working in a clinic supervised by Hon. Abner Mikva — an opportunity unequaled at any other law school."

While Ms. Accardi transferred out of Hastings to pursue her personal career objectives, Melanie Taylor, 26, transferred into Hastings from Villanova University School of Law in Philadelphia after deciding late in her first year that she wanted to plan her legal career in California. "Villanova would have set me up for a great Philadelphia or New York City future, but I just knew I didn't want to return to New York, where I had previously lived as a professional after college."

Ms. Taylor said the transition was smooth for her, and she was able to successfully compete in the law review write-on competition and said that her GPA from her previous school helped her get callback interviews with top California firms that recruited at her new higher-ranked school.

"I did very well during fall recruiting and am now just deciding which L.A. firm offer to accept."

Other reasons students cite for wanting to transfer to another law school have to do with wanting to be closer to home. Being geographically closer to loved ones, friends, and family members was an important factor for Keri Noonan, 24, a 2L now attending Franklin Pierce Law Center in New Hampshire.

"I grew up in New Hampshire and thought I wanted to get away from my home state for a while, but law school was so much harder then I had expected. I found that I needed the support and comfort of my family and friends."

Ms. Noonan transferred from Pace University in White Plains, NY, after her first semester there and said the experience was not bad considering she joined in the middle of the year. She said the only downside to transferring was losing her scholarship money. "Most likely your transfer school will have already allocated its scholarship funds to your class, and there won't be any money left, no matter what grades you have."

Kara Blanchard, Director of Admission and Financial Aid at Drake University Law School in Des Moines, IA, advises that unless students are unhappy with the law school they are currently attending, they should weigh their reasons carefully before making that move.

"Students that transfer may find it more difficult to secure leadership positions or memberships on mock trial or law reviews. Students with scholarships may find it more difficult to secure scholarship funding at a new school," Ms. Blanchard said. "In addition, strong friendships are often formed during that first year of study in law school. Support systems are very important in law school, and a student that transfers after his or her first year may find it more difficult to build those peer relationships."

In-state tuition and a school with a stronger intellectual property program were reasons Christopher D. David, 25, transferred from the University of Tennessee School of Law to the University of Georgia School of Law. Like Ms. Blanchard, he said that the adjustment period can be hard on a student socially and academically, but that it all depends on the student. He said to make the transition easier and compensate for the one year missed in the new law school, students should participate "in co-curricular or extracurricular activities, which tend to narrow a large class into a smaller group of like-minded students."

Mr. David, now a 3L, added that students should also make sure to ask about journal membership prior to transferring. "Some schools allow transferees to write on, or grade on, based on prior academic performance, while others do not. If you are transferring to a school that does not have a provision for transfer students, talk to the editors in chief, try to work something out. As an alternative, try out for moot court and mock trial teams. Transferees should try to involve themselves as soon as possible."

Erinn Partridge, 22, transferred from Western State University College of Law in Fullerton, CA, to UCLA because she wanted to be able to work anywhere in the country, wanted a school with an On-Campus Interview (OCI) program, hands-on clinics, and seminars that consisted of smaller discussion groups. "Basically I wanted to transfer to a school that had programs that taught you how to be a lawyer, not just the black-letter law. And, of course, I hoped to get in a school that was well known."

Ms. Partridge said the OCI did not turn out as she had hoped, due in large part to the school she transferred from, but that the experience allowed her to have a "crash course in interviewing" with 16 large firms. She said the biggest disadvantage to transferring to UCLA was that she had to give up a scholarship and pay the expensive out-of-state tuition. However, she said there have been several advantages, including access to the same journals and programs as other 2nd-year law students and a great career services department that helps students get jobs outside of OCI. She plans to register for a seminar next semester and a judicial externship in the fall, which she said could not happen at her old school.

What is her most important piece of advice? "Get good grades," she said. "This is the single-most important factor when trying to transfer, in my opinion. The lower ranked your current school, the better your grades have to be. Your LSAT and Undergrad GPA aren't as important, except at the top five law schools."

Margee F. Fagelson, 39, transferred from Western New England College School of Law in Massachusetts to Franklin Pierce Law in New Hampshire because she said her former law school did not meet her needs. Ms. Fagelson said she only attended Western because she received a scholarship. "I felt their student support and endorsement was lacking, as well as the available curriculum. There were two, maybe three classes useful to me outside of the required coursework."

Ms. Fagelson said after her scholarship fell through, she transferred after her first year to Pierce Law, having earlier attended a summer school program there that impressed her in both their attitude and curriculum choices.

Having been through the transfer process and graduated in May, Ms. Fagelson stresses that if students are dissatisfied with their schools, they should definitely transfer. "If the school doesn't offer you what you want, transfer and make an effort to become a part of the new community," Ms. Fagelson said. "My choice was the most rewarding academic experience of my life."









University of Chicago Law School







Featured Testimonials
The job contact details are really very nice
Jason
Facts
LawCrossing Fact #19: LawCrossing's "Chat Live" feature gives users access to a live operator via instant messaging to help address any questions or technical problems they encounter.
Description
Attorney Recruiting and Development Coordinator Duties: Works with department supervisor and other ...
Location
New York City, NY
Description
Legal Recruitment Specialist Responsibilities: On-Campus Recruiting: Plan and execute on-campus and...
Location
New York City, NY
Description
Recruiting Manager Duties: Will manage lateral lawyer recruitment, summer associate recruitment and...
NOW TRENDING ON BCG ATTORNEY SEARCH
MOST POPULAR ARTICLES
Testimonial of the Week

LawCrossing is great at picking up all of the legal listings everywhere across the internet. I could have gone to three different sites to search, but you had them all on your site. That was extremely helpful. LawCrossing is a one stop shop!

Eileen Baca-Penner New Mexico
Top Actively Interviewing Jobs
Construction Litigation Associate
San Antonio, TX
Our client is a boutique construction law firm headquartered in San Antonio, Texas.  The firm handles transactional and...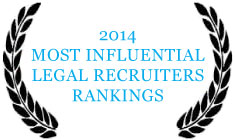 Job Search Tip
Consider the law of averages: The final offer will be somewhere between what you ask for and what the initial offer is.