Summary: This article explores how you can make the most out of your first day at your new law firm.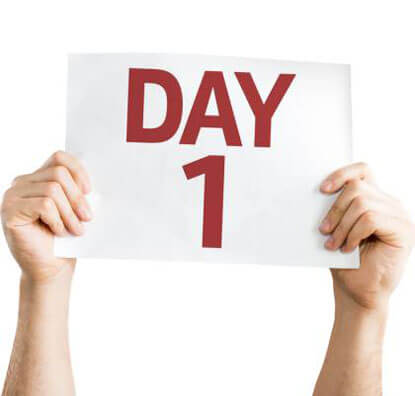 Today is the first day of the rest of your career. That's a thought that's both scary and exciting, isn't it? Let's talk about what you ought to do!
1. Do the "prep" before you show up for work.
There are a few other things you should do, and avoid doing:
a. Get out and meet your future co-workers.
Especially if you accepted your offer in September of your third year, "Get together with attorneys in the group you'll be working for, for lunch or dinner. You're not a pest. You're just letting them know that you're eager to join them!"
b. If you're going to a medium to large law firm, don't leave your department and supervisor choices to "serendipity."
At every medium-to-large law firm, there are good partners to be assigned to, and bad ones. A lot of people will tell you that your assignment is serendipity—but it's not. At least, not if you do something about it ahead of time! As the managing partner at one law firm commented, "Before you start, ask the recruiting coordinator for future colleagues with whom you can go to lunch, so you can learn more about the firm. When you meet with them, listen to them. Tell them you want to get off on the right foot, and ask what they'd do differently—or the same!—if they started again. Get around to asking who they'd work for, perhaps who they'd avoid if the conversation goes that way. Go to the recruiting coordinator and request to be assigned to someone the associates recommended. That way, you'll avoid being stuck with a bad partner. Don't worry. You're not overstepping your bounds. We'd be delighted if our new associates showed that kind of initiative."
Want to continue reading ?
Become a subscriber to LawCrossing's Job Seeker articles.
Once you become a subscriber you will have unlimited access to all of LawCrossing Job Seeker's articles.
There is absolutely no cost!
Already a member? Login | Forgot your password