Support PDF,DOC,DOCX,TXT,XLS,WPD,HTM,HTML fils up to 5MB
Dennis P. Riordan is One of the Nation's Most Influential and Successful Trial and Appellate Litigators
by Nabeal Twereet Follow Me on Google+
(
344
votes, average:
4.7
out of 5)
What do you think about this article? Rate it using the stars above and let us know what you think in the comments below.
Professional Overview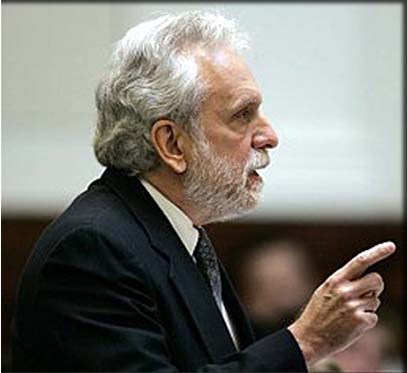 Dennis P. Riordan is a partner at San Francisco's
Riordan & Horgan

For the past twenty years, he has consistently been evaluated as one of the best appellate litigators in California and the United States. Mr. Riordan has argued matters of great breadth and significance in both civil and criminal cases, which includes several in the U.S. Supreme Court, and hundreds in state and federal appellate courts around the nation.
Over the years, he has been awarded with several distinctions. In a 2007 article, the
New York Times
depicted Mr. Riordan as "one of California's top appellate lawyers…known as a brilliant writer of motions, briefs and jury instructions." In May of 2006, the
Sacramento Bee
described him as "one of the nation's best known lawyers of last resort" in an article regarding his entry into the highly publicized prosecution of Hamid Hayat. The
San Diego Union
named Mr. Riordan as "one of the state's top appellate lawyers" following his success in overturning a new trial motion on the corruption convictions of former San Diego councilman Michael Zucchet.
San Francisco Magazine
labeled him as one of the country's top appellate lawyers. In 2003, Mr. Riordan won honors from the
San Francisco Chronicle
as one of the "Top Ten Lawyers" in the Bay Area, nicknaming him "the Last Hope." He has been included in "The Best Lawyers in America" for the past ten years. In the 2002 edition of his book
Persons and Masks of the Law
, Judge John Noonan of the Ninth Circuit Court of Appeals cited Mr. Riordan as the single example of an attorney "who could make a difference on behalf of a defendant in a federal criminal appeal."
In 1996,
California Lawyer Magazine
chose Mr. Riordan among its "Lawyers of the Year" for his work in overturning George Franklin's murder conviction in the first case based on "repressed memory" testimony. During that year, the
San Francisco Daily Journal
described him as "one of the top criminal appellate specialists in California." In 1989,
California Lawyer
called Mr. Riordan, labeled by his colleagues the "best criminal appellate attorney around," as one of the state's "Most Respected Lawyers." Since that time, he has consistently been recognized as one of the outstanding litigators in the Bay Area, the state of California, and in the nation.
Mr. Riordan was born in the Bronx and raised in White Plains, N.Y. He graduated with a B.S. in Sociology from Colgate University in 1970. Mr. Riordan is also a 1974 graduate of New York University School of Law, where he was an Arthur Garfield Hays Fellow, a Root-Tilden Scholar, and a member of the Order of the Coif. He has twice been awarded Fulbright Fellowships for the study of law in Spain, and has served as an adjunct professor at the University of San Francisco and Stanford Law Schools.
When the fearless attorney isn't working, he enjoys the San Francisco 49ers and Giants, Golden State Warriors, and the University of California Golden Bears football team. Mr. Riordan is a frequent visitor of San Francisco's Hayes Street Grill restaurant. He is currently reading Noah Feldman's Scorpions:
The Battles and Triumphs of FDR's Great Supreme Court Justices
and some short stories written by Julio Cortazar.
Mr. Riordan's Memories and Motivations
Does Mr. Riordan have a most memorable law school experience? "I suppose there were two of very different stripes-one summer working in the planning department of the New York City police department; and the next on the Attica Defense Committee, which represented forty inmates charged in the 1971 rebellion."
The trial lawyer was asked if he received any awards or participated in activities that influenced his decision to go into the law. "In eighth grade, I was in a New York City wide public speaking competition, in which I placed second. The student who won gave Clarence Darrow's closing argument in the Sweet case, a brilliant and scathing assault on racism in America. That certainly left me a sense of how legal advocacy could make a difference in life."
Why did Mr. Riordan decide to become an attorney? "In part because I had long been pointed in that direction; my father, who died when I was nine, had been a lawyer; in part because I was sure that I could do it, and there weren't a lot of other things that fit in that category."
So what is the best part of his job? "I really enjoy thinking, writing about, and orally arguing legal issues."
What is Mr. Riordan known for professionally? He acknowledged:
"Perhaps oral argument. When I started out at the State Public Defender's office in the mid-seventies doing appellate cases, there were some attorneys there who liked to write but were uncomfortable in court [and] waived oral arguments whenever they could. I've always thought that arguing to a court or jury was about as much fun as you could have standing up."

Is there an area of practice that he would like to delve further into? "Anything new. The great thing about working with the law is that you often are called upon to master an area that was entirely unknown to you previously. I knew nothing about antitrust law or trade secrets or the federal anti-hacking statute two years ago; I know a lot about them today."
When asked what his strengths and weaknesses were, Mr. Riordan noted, "I would put tenacity on the up side, and spotty organization on the opposite side of the ledger."
What does he think about the legal field today? The candid attorney claimed:
"Cases often receive little attention, a problem not easily remedied because dockets are crowded. But heavy caseloads aside, there are a fair number of judges who view criminal appeals as an empty exercise to be endured before affirmance because all defendants must be guilty; that's why they were convicted at trial. Obviously, if the system is working, most convictions will be valid and should be affirmed on appeal. But we know from the DNA exoneration cases that one reason the innocent spend years in unlawful incarceration is that an appellate court refused to pay attention to the glaring errors that led to these defendants' wrongful convictions. The most effective way of guarding against such miscarriages of justice is uniformly and consistently enforcing the procedures designed to guarantee fair trials."

If he weren't a lawyer, what would Mr. Riordan probably be doing? "A good question to which I have no good answer."
Where does he see himself in five years time? "Doing what I do now, but with more time to write and travel. I somehow managed to find time to do Fulbright fellowships in Spain, but that was over twenty years ago. I need to get back to that sort of thing."
What motivates Mr. Riordan to be an attorney everyday? "John Keker, a great trial lawyer, was asked that question in a newspaper interview I read some time ago, and he answered 'fear.' I agree; fear of failing your client, of making a fool of yourself, is what can overcome the yen to take a day off."
How does one of the best criminal appellate attorneys want to be remembered? "I hope that question is still a bit premature."
High Profile Cases
On April 13th, 2011, a jury found former San Francisco Giants star Barry Bonds guilty on the felony charge of obstructing justice. United States District Judge Susan Illston declared a mistrial on the three perjury charges, as the jury was unable to come to a unanimous verdict. On February 13th, 2013, a three-judge panel of the Federal 9th Circuit Court heard the appeal to overturn Bonds' conviction for Obstruction of Justice. Mr. Riordan defended Bonds against perjury charges. Was he pleased with the outcome of this case? "His appeal of his single count of conviction is now pending before the Ninth Circuit. Get back to me on this one."
One of Mr. Riordan's high profile cases "includes a successful 14-year effort to win the release of Johnny Spain, a former Black Panther convicted of conspiring to murder San Quentin prison guards in a 1971 escape attempt" directed by George Jackson, according to SFGate. What did he learn from this experience? Mr. Riordan noted:
"Perseverance, if nothing else. I lost that appeal in state court, won it on federal habeas in the district court and Ninth Circuit, only to suffer summary reversal in the Supreme Court before winning it again in the district court and 2 to 1 in the Circuit. I also know that the public perception changed, as did John, over the many years the case was pending, and that absolutely made a difference in the eventual outcome."

Mr. Riordan led a defense team in Arkansas that achieved a spectacular victory when that state's "Supreme Court ordered new hearings for the West Memphis Three, youths convicted of murdering three 8-year-old boys in 1993, after their lawyers uncovered DNA evidence that showed no trace of the defendants at the crime scene," according to SFGate. What are the chances that Mr. Riordan will vindicate the West Memphis Three? He explained:
"The victory in the Arkansas Supreme Court in November of 2010 led to all three defendants being freed in August of 2011 pursuant to a deal in which their convictions were vacated, they were permitted to maintain their innocence, and the trial court then entered guilty verdicts and sentenced them to time served. The deal was very controversial, with supporters decrying the fact that the defendants had been forced to suffer reconviction rather than being wholly exonerated, and opponents claiming that the Three should not have been freed if they were guilty. The truth is that the state would never have agreed to their release if the Three in fact had committed these heinous crimes; the prosecutor admitted that the state's object in requiring the plea was to protect against inevitable acquittals at a retrial and the civil liability that would follow.

I never had any doubts about taking the deal. Our client, Damien Echols, was wasting away under brutal conditions on death row. He never doubted he would be vindicated, but feared he would not survive to see it. Instead, since 2011 he has traveled the world and published a critically acclaimed memoir. He'll be fully absolved at some point, but life is a good deal sweeter waiting that outcome on this side of the prison walls."

Marjorie Knoller, a San Francisco attorney, was convicted of murder for a fatal dog mauling in the corridor of her apartment building. Mr. Riordan initially persuaded the trial judge to reduce Knoller's sentence to manslaughter, based on her testimony that she didn't realize the dog was capable of killing. However, more hearings were ordered by the state Supreme Court, the murder conviction was reinstated by a new judge, and Knoller is currently in prison, according to SFGate. What did Mr. Riordan learn from this case? "Misguided public opinion can lead to a perversion of justice, although that was a lesson I had learned long before the Knoller case. The manslaughter verdict may have been justified under the law; the conviction for malice murder was certainly not. The case is pending in the federal courts on habeas corpus, so get back to me on this one as well."
He has argued issues of great breadth and importance in both civil and criminal cases, including many in the United States Supreme Court, and hundreds in federal as well as state appellate courts around the country. Does any case stand out in Mr. Riordan's mind? He stated:
"The Spain, Echols, and Knoller cases, as well as that of George Franklin, who spent six years in prison based on perjured 'recovered memory' testimony before we freed him on federal habeas corpus. The Wallach case in the Second Circuit, on which I was co-counsel with Robert Bork. My Supreme Court arguments, including Justice Breyer's first case on the bench in 1994, are memorable for the process more than the result. In each of the three, certiorari was granted against our win in the lower courts, which meant the probability for success in the high court was low, and the outcomes went true to form."

Mr. Riordan's Mentor and Mentoring Others, Pro Bono Work and Non Profit Organizations
Does Mr. Riordan have a mentor? Is he a mentor? The attorney said:
"Barney Dreyfus, an elegant draftsman and a dean of the appellate bar in California for many years, helped me with my first Ninth Circuit appeal in 1975. And I've been lucky enough to work with Mike Tigar, a legal legend and deservedly so, on a number of cases over the years, including Wallach and the first Sanctuary appeal in the Fifth Circuit. As to being a mentor, I hope somebody has learned something from working with me, as I have from others."

Does Mr. Riordan handle pro bono work? He admitted:
"Relatively few criminal defendants can afford private counsel, and that is equally true of the wrongly convicted. So if you are not willing to forego a fee, you are ruling yourself out of many of the cases where you have a chance to do some real good for your client and for the state of the law. All of the cases I've mentioned above were done mostly or completely on a pro bono basis. That's true now of the Hamid Hayat prosecution, in which we've represented a young American wrongly convicted on a charge of returning from a visit to Pakistan with the intent to wage jihad in Lodi, California, of all places. We'll be filing a writ on his behalf in the months ahead."

Is he involved with any non-profit organizations? "I am involved with legal organizations and youth coaching."
Receiving Flattering Compliments and Mr. Riordan's Goal
Judge John Noonan of the Ninth Circuit Court of Appeals wrote in his book,
Persons and Masks of the Law
, that Mr. Riordan is the single example of a lawyer who could make a difference on behalf of a defendant in a federal criminal appeal. The
San Francisco Chronicle
nicknamed him "the Last Hope" and the
New York Times
described him as "one of California's top appellate lawyers… known as a brilliant writer of motions, briefs and jury instructions." How does it feel to be regarded in the highest esteem from reputable individuals and publications? "The respect of your colleagues is the fuel that keeps you going, as other forms of positive reinforcement are few and far between in the world of criminal defense."
Doe the New Yorker have goals? The humorous attorney said, "To outlive Keith Richards."
Riordan & Horgan.







Featured Testimonials
LawCrossing has amazing features and a search criteria which is very helpful. A well managed website.
Christos
Facts
LawCrossing Fact #9: LawCrossing allows users to upload their resumes and send them directly to employers.