Sometimes getting an attorney is not the only answer to helping a child who might be caught up in their parents divorce or separation. A lawyer cannot do everything, since he has a lot of responsibility for the things that he is hired to do. This goes not just for children, but for anyone who is dependent upon the protection or care of another, such as a senior citizen who is being taken care of by their own children. A system of caring for those who are dependent necessarily has many cracks and fissures in it, since there is too much bureaucracy involved in it. So, if dependents in need can't always rely on an attorney for everything in troubled times, who can they turn to? They can look to a guardian ad litem.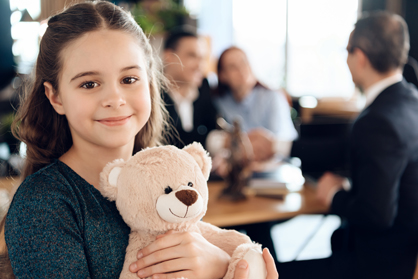 A guardian ad litem is a great and noble profession for someone who thinks that maybe he wants to be a lawyer but is not sure. A guardian ad litem is someone appointed to be a "guardian at law." The court assigns such a person to look out for the interests of a dependent during legal proceedings that could affect the dependent's life; this especially, but not always, concerns divorce cases involving minor children. As a guardian ad litem, you would be working with a lawyer, not as an assistant to him but as another professional in the mix.
Besides divorce cases, a guardian ad litem is very important to
children who are in foster care
. When someone is trying to adopt a child from an adoption agency, the agency, the prospective parents, and the living biological parents each must have an attorney. In the case of the adoption of an older child, a guardian ad litem will act as that child's attorney, making sure that conflicts of interest get resolved in such a way that the child doesn't get harmed.
Want to continue reading ?
Become a subscriber to LawCrossing's Job Seeker articles.
Once you become a subscriber you will have unlimited access to all of LawCrossing Job Seeker's articles.
There is absolutely no cost!
Already a member? Login | Forgot your password