Support PDF,DOC,DOCX,TXT,XLS,WPD,HTM,HTML fils up to 5MB
The recorded tally of asbestos exposure cases has been for approximately 730,000 people and there have been about 8,400 legal entities in litigation regarding the ill effects of asbestos exposure in working conditions. It has been a $70 billion dollar industry for
Asbestos Litigation Attorneys
with half of that amount covering legal expenses and the other half awarded to victims. This data is relevant through 2004 and the cases continue to be filed.
The results which have led to a supreme injustice for mechanics, ship builders, boilermakers and pipe fitters is the development of an incurable cancer called
mesothelioma
. The asbestos fibers are breathed into the lungs and the rare cancer begins. These cases of mesothelioma are complicated and require good Asbestos Litigation Attorneys.
A successful Asbestos Litigation Attorney for many years now is Attorney Steven Kazan. He has been admitted to practice in two states including New York and California as well as the US Court of Appeals and the Supreme Court. Attorney Kazan completed his Law Degree from
Harvard Law School
in 1966 and has been a crusader for the thousands of people who continue to suffer from asbestos lung health problems. Kazan tried his first case in 1974 and continued in other venues to support his clients.
The companies who were responsible for using asbestos tried to file bankruptcy to avoid having to pay for cases of mesothelioma and other asbestos related diseases. Kazan served on the creditor's committees to support victims who had been employed by large companies that tried to avoid their losses. His other notable support for the victims was as a member of the Plaintiffs' Steering Committee for Asbestos Multi-District Litigation (MDL). This Steering Committee filed cases in Federal Courts throughout the United States. He also serves as a member of the Trustees' Advisory Committee for the Asbestos Compensation Trust.
Attorney Kazan also spent much time lecturing and presenting seminars for other attorneys who are in the struggle to represent clients in asbestos litigation. Here is a short list of some of the participation in seminars and presentations:
In February 2000 his lecture at Mealey's Asbestos Litigation Attorneys seminar was entitled ''Liability Theories and Defenses.''
In May of 2001 he lectured at another seminar Kazan's presentation was, "Asbestos and Tobacco Litigation.''
In 2004 he spoke at the
University Of San Francisco School Of Law
's CLE Symposium, "California and Its Impact on National Litigation — Trends and Solutions.''
Asbestos Litigation Attorney Kazan was a panelist many years at the Mealey's Asbestos Bankruptcy Conference held in several states.
From 2005 to 2009 he continued to provide seminars to inform his colleagues about "Asbestos Litigation in the 21st Century'' and also ''Emerging Trends in Asbestos Litigation'' to list only a few.
Asbestos Litigation continues as the longest running
mass tort
today and many lawyers have defended clients as Asbestos Litigation Attorneys. Attorney Steven Kazan has been instrumental the past 30 years in sharing his experience as an Asbestos Litigation Attorney.
Related
asbestos attorney jobs
on LawCrossing :  
Please see this article to find out if litigation is right for you: Why Most Attorneys Have No Business Being Litigators: Fifteen Reasons Why You Should Not Be a Litigator
Harvard Law School.







Featured Testimonials
It's amazing how many 1L Summer Associate positions I found on LawCrossing, thank you!
Jenny
Facts
LawCrossing Fact #137: Without you, our job board is pointless. Tell us what you want the site to do for you, and we'll do our best to make it possible!
Description
Product Liability and Environmental Associate Candidate must have 3-4 years of experience practicin...
Description
Litigation Attorney The candidate should preferably have 3-5 years of experience in handling high e...
Description
Assistant General Counsel II (Torts) The candidate will be responsible for managing a Litigation Te...
Description
Professional Liability Associate The candidate will work with a strong focus on professional liabil...
Description
Major Case Director Responsibilities: Handles highly complex exposure claims based on Claim Guideli...
NOW TRENDING ON BCG ATTORNEY SEARCH
MOST POPULAR ARTICLES
Testimonial of the Week

I came back to LawCrossing to search through the listings in my new job search because I had been able to get my last 2 jobs through using the site. I love the search capacity and filters. This is a very valuable service.

Jennifer Guidea Bloomfield, NJ
Top Actively Interviewing Jobs
Construction Litigation Associate
San Antonio, TX
Our client is a boutique construction law firm headquartered in San Antonio, Texas.  The firm handles transactional and...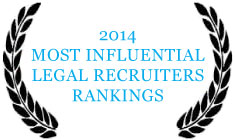 Job Search Tip
Job hunting can involve a long series of rejections. Don't fear rejection. Celebrate it. In salesperson's terms, each no' brings you that much closer to 'yes.'