Support PDF,DOC,DOCX,TXT,XLS,WPD,HTM,HTML fils up to 5MB
Second Year Law Student Eric Suarez Will Practice Health Law in The Washington D.C. Metropolitan Area
by Nabeal Twereet Follow Me on Google+
(
14
votes, average:
4.6
out of 5)
What do you think about this article? Rate it using the stars above and let us know what you think in the comments below.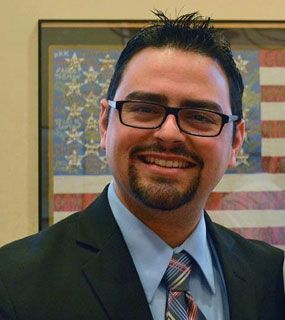 Personal Life
Eric R. Suarez is a second year law student at the
University of Maryland Francis King Carey School of Law
and anticipates a May 2016 graduation. Although he has several areas of interest, Eric wants to specialize in health law. He plans on taking the Maryland Bar Exam.  
Eric was born in Cuba and has resided in the United States since he was seven. He is grateful for his parents who have inspired him to succeed in life. Eric also thanks his wife for supporting his goals, ambitions, and for encouraging him to follow his dreams. He added, "Much of my confidence is derived from my parents. They taught me to believe in myself, to be dedicated to life fully, and to always work as hard as you can to get to where you want to be. My confidence also comes from my wife, who is always there to support me, to give me a pep talk when I need it, and to bring me down to size, when my head starts getting too big."
Eric received his A.A. in Political Science from The Honors College at Miami Dade College in 2011 and earned his B.A. in Political Science from Johns Hopkins University in 2013. He is the recipient of the 2010 President's Volunteer and Service Award. During the spring of 2010, Eric had the opportunity to study abroad in Salzburg, Austria as part of the Salzburg Global Seminar on Sustainability.
Eric currently serves as president of the Latina/o Law Students Association at the
University of Maryland Francis King Carey School of Law
(2014 to 2015). He was also appointed by the Student Bar Association to serve as a student representative on the Committee for Professionalism and Diversity. Additionally, Eric serves as a student member of the Hispanic National Bar Association.
During the summer of 2014, Eric served as an intern at the State of Maryland Office of Financial Regulation. He processed requests for ownership changes of state licensed mortgage companies. Eric read and interpreted purchase/sale agreements to make recommendations to the director of licensing as to whether a particular ownership change should be approved. He also researched mortgage lender laws and wrote legal memos on issues ranging from the definition of a mortgage license process to the authority of the director under Maryland's mortgage lender license statute.
Eric currently serves as a law clerk for the Law Office of Miguel Palmeiro, LLC. He helped assemble a legal manual on immigration that compiled the legal remedies available to potential clients. Eric filed motions, forms, and FOIAs for clients. He conducted client interviews. Eric also assisted in the representation of clients in immigration court, including multiple Master Calendar Hearings.
Click Here to Find Summer Associate Jobs on LawCrossing
When asked about his hobbies and personal interests, he said, "I am an avid baseball fan. I grew up a Miami (Florida) Marlins fan, but have developed a special love for the Baltimore Orioles having spent a few years in Baltimore studying at Johns Hopkins University and now as a law student at the
University of Maryland Francis King Carey School of Law
."
Eric's Academic Law Career and Future Aspirations
Why did Eric go into the law? "The law is the essential foundation of a society. Changes to better the civil and human rights of individuals would not be possible without working and advocating within the legal system. I chose the legal profession as the avenue to pursue my passion for working to better the civil rights of all of our citizens, especially the under served."
He discussed his aims and aspirations. "My life dream has always been to get elected to public office; that dream stems from a commitment and a passion to serve as many people as possible and work towards the common good. I pursued law as a profession because it gives me an avenue in which to fulfill my dreams."
Eric also discussed his key strengths and skills that he would like to use to advance his career goals. "I was blessed with great people skills. I am a team player and I am passionate. These are my strengths that have carried me to this point and I hope these will help to advance my career goals moving forward."
What are his key accomplishments? "One of my biggest accomplishments is to be the first of my family to attend law school."
Is there any particular achievement or activity that Eric has been involved in and which he would like to share with our readers? "As President of the Latina/o Law Students Association and member of the Law School's Committee on Professionalism and Diversity I have been working to raise awareness of the importance of diversity in the law school environment, specifically, the importance of the Latina/o students having a member of the faculty that is of Latina/o descent to look up to and learn from."
Since law school can be hectic at times, he pointed out how he relieves stress. "Usually when I am stressed I like to take a step back from whatever I am doing which is causing the stress and go out for a walk with my puppy and my wife. The most important thing in managing stress is keeping a calm energy."
Many readers are probably wondering how Eric handles new assignments. The third year law student shared his process: "I am quick to learn something new; but I am not afraid to ask for help when I am confused or feel as though I need guidance."
Coming to America, Family Matters, Community Service and Legal Role Models
Has Eric faced any obstacles in his life? He explained:
"The biggest obstacle that I have faced was the move from Cuba as a seven-year-old to the United States. Leaving behind my friends and family and moving to a new country with a different language and culture was a test for me at a young age. It was also the best decision my parents made for them and their children. The adjustment in a school where everyone spoke English was rough, but I learned to not be afraid to ask for help. I also learned that if you work hard and want to succeed there are always people along the way, angels in their own right, that are there to help lift you up."
What is his top priority outside of work? "Outside of work my top priority is to spend time with my wife, our dog, Dallas, and with my family."
Is Eric involved with community service? He noted:
"I have been very involved in my community, especially in one my passions, helping minorities advance in education. From 2012 to 2013, I worked with STAND in Baltimore City, MD to mentor at-risk teens and from 2009 to 2011, I worked with the ZETA Royal Community Center in Miami, FL to tutor and mentor students from low-income families in a free after school program.

As president of the Latina/o Law Students Association I am working with the Immigration Law and Policy Association to set up law student volunteers to visit Baltimore Immigration Court and hand out flyers to families of unaccompanied children that have crossed the border. The flyers tell them where to access pro bono and low bono attorneys."
Does he have legal role models? Eric acknowledged:
"My personal idols are Hillary Clinton and Sonia Sotomayor. Secretary Clinton has dedicated her life to making the lives of others, especially women, better and ensuring that as generations come the struggles of the past are behind them. As a Latino I look up to Justice Sotomayor is an example of what we can all accomplish, a girl from the Bronx, an immigrant, a fighter for equality and justice, and now the highest ranking Latina in the Federal Government."
Personal Philosophy, People You Want to Surround Yourself With and Favorite Quote
What is Eric's personal philosophy? "To be honest and considerate of others. Help others succeed as you succeed."
What kind of situations and people is he attracted to? "I am attracted to people that are team-oriented, that work had to achieve what they have and do not forget to help others achieve their goals and aspirations along the way." Eric added, "I prefer spending time around people. I love team-work and feel that the legal profession can benefit from an environment where we all work together to achieve justice and serve our clients."
Eric's favorite quote is by Harriet Tubman:"If you hear the dogs, keep going. If you see the torches in the woods, keep going. If there's shouting after you, keep going. Don't ever stop. Keep going. If you want a taste of freedom, keep going."
Click Here to View the 2015 LawCrossing Salary Survey of Lawyer Salaries in the Best Law Firms
Looking for a
law clerk job as a law student?
Click here to access law clerk openings on LawCrossing
.
Featured Testimonials
LawCrossing has a listing of jobs from almost all around the world. The mail merge function is something astounding.
Destiny
Facts
LawCrossing Fact #75: Those who use the "Chat Live" feature will be able to receive valuable information that can help them in their searches for jobs.
Success Stories

LawCrossing is fantastic! When I am looking for a job, it is the first place I come to. The service is very good and I enjoyed the emails. LawCrossing has more jobs and it is more tailored. Other sites gave a lot of irrelevant results. Your site may have a great algorithm, but it felt like an actual person choosing jobs they felt would be good based on my search. I will always recommend this site!