Support PDF,DOC,DOCX,TXT,XLS,WPD,HTM,HTML fils up to 5MB
Third Year Law Student Jeff Rasanen Wants to Practice Corporate Law
by Nabeal Twereet Follow Me on Google+
(
6
votes, average:
4
out of 5)
What do you think about this article? Rate it using the stars above and let us know what you think in the comments below.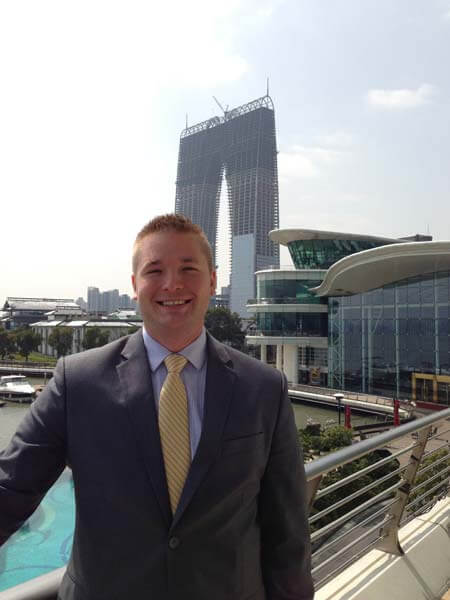 Personal Life
Jeff Rasanen is a third year law student at
University of New Hampshire School of Law
and anticipates a May 2014 graduation. He enrolled in New Hampshire School of Law's JD/MBA Dual Degree program in conjunction with the UNH Peter T. Paul College MBA program. Jeff earned his MBA, which included New York City and China residency programs, in July 2013. Although he has several areas of interest, he plans on practicing corporate law in Massachusetts or New Hampshire.  
Click Here to Find Law Student Jobs on LawCrossing
Jeff was born and raised in Concord, N.H. When asked about his childhood, he said, "I grew up with two brothers whom I consider two of my best friends and were the best men in my wedding."
Jeff received his B.S. in Business Administration from the University of New Hampshire in May 2005. From 2005 to 2009, he served as a compensation specialist at the MEMIC Indemnity Company based in Manchester, N.H. While working for MEMIC, Jeff was responsible for workers' compensation claims and lead specific teams with more than eight million dollars combined premium. He managed litigated claims including settlement negotiations and attorney involvement and he was involved in subrogation management on high value claims. Jeff was licensed in sixteen states and he handled claims in twenty different jurisdictions. He also had a ninety-nine percent claims performance audit average and handled one hundred thousand dollars in settlements.
From 2009 to 2010, Jeff served as a senior claims representative at the New Hampshire Local Government Center in Concord. He managed lost time workers' compensation claims for dedicated accounts and managed litigated claims including settlement negotiations and attorney involvement. Jeff developed department best practices, policies, and operating procedures, leading to increased audit scores and timelier claim adjustment by team members.
During the spring of 2012, Jeff served as a student attorney at the University of New Hampshire School of Law Consumer and Commercial Law Clinic. He led in-person and telephone client interviews, completed bankruptcy paperwork and filings, attended court proceedings, and assisted in writing motions and pleadings. Jeff also researched and wrote memos regarding consumer lending laws, bankruptcy requirements, fiduciary duties in contract work, and other consumer, and commercial legal matters.
During the summer of 2012, he served as a legal extern at Simmons & Ortlieb, PLLC, in Hampton, N.H. Jeff prepared and reviewed client business contracts, drafted LLC agreements and corporate bylaws, created various new client checklists for use by the attorneys, drafted probate court motions, and client letters. He researched and analyzed commercial leases, LLC agreement requirements, new employee business requirements, copyright and trademark applications, and estate probating. Jeff also participated in client interviews, hearings, and mediation sessions.
He worked on two independent research projects. In June 2012, Jeff worked on a memo analyzing a loan document as a negotiable instrument for an attorney based in Manchester. In October 2013, he also worked on a memo analyzing government property taking cases for an attorney based in Concord.
From May 2013 to June 2013, Jeff served as a student business consultant at the University of New Hampshire Corporate Consulting Program in Durham. He was responsible for a business strategy consulting project for a group of seven boutique law firms across the United States. Jeff conducted market research, academic research, and client interviews concerning the likelihood of success for the proposed venture. He advised clients on business strategy, organizational structure, marketing management, new client development, and implementation strategy. Jeff also conducted project deliverables of business reports and presentations to the seven client law firms and to the University of New Hampshire faculty.
During the summer of 2013, he served as an investment proxy research intern for Fidelity Investments based in Merrimack, N.H. Jeff was responsible for self-directed research regarding corporate governance topics with report development and presentation to the Investment Proxy Group regarding changes and updates to voting guidelines. He participated in proxy issuer calls and in-person company meetings usually involving CFOs, CEOs, and/or directors. Jeff also researched topics, which included poison pills, executive compensation metrics, net operating losses, and corporate governance topics.  
Click Here to Find Summer Associate Jobs on LawCrossing
During the spring of 2014, he served as a legal extern at Mclane, Graf, Raulerson & Middleton, PA, in Portsmouth, N.H. Jeff drafted corporate contracts and corporate governance documents, including bylaws, corporate resolutions, LLC joinder agreements, and LLC agreement amendments. He researched and produced guidance for attorneys and clients on a wide range of business law topics, including selection of appropriate investment structure, tax and state law considerations implicated in partnership interest transfers, professional and executive compensation, state transfer taxes, and applicability of solid waste regulations. Jeff researched, prepared, and presented on the tax and corporate aspects of choice of entity at a firm corporate department training meeting. He also researched and wrote an extensive article on transgender discrimination issues and accommodations.
What are his hobbies and personal interests? "I like to travel, play basketball, run, use my road bike, and generally hang out with friends and family. I also do some woodworking and recently built my wife a new dining room table. I now have three more to make for other family members. I'm not sure my bar prep course provides me with enough time though!" Jeff also enjoys reading and eating good food.
Jeff's Academic Law Career and Future Aspirations
Why did Jeff go into the law? "I enjoyed the intellectual challenge of law and degree to which laws or regulations could be viewed from different sides. Using the law to your advantage is what got me interested and has shaped my hopeful future career path post law school."
What are the areas of the law he hopes to practice? "I would like to
practice in corporate law
because of the opportunity to help businesses start up or grow and be successful."
Jeff shared his aims and aspirations. "I hope to be a practicing corporate attorney in Massachusetts or New Hampshire."
When asked about his key accomplishments, Jeff stated, "Graduating from the MBA program with a 3.82 GPA, law school graduate with honors (anticipated cum laude), getting married, running a half marathon, and biking the 68 miles and 4,000 vertical feet around Lake Winnipesaukee in NH."
He discussed his key strengths and skills that he would like to use to advance his career goals. Jeff noted:
"I am a very stress free individual and I am able to work with people on just about any topic. In every job, working with others is very important and I have consistently found ways to work with others in even the most heated situations. I am also very detailed and organized, as my family would be sure to point out. Having an eye for details and communicating well has enabled me to succeed in my previous work experience as well as my current law curriculum."
As for his weakness, Jeff acknowledged, "I think I could work on my confidence and being more assertive in some areas. This has improved as my experience has grown, but is likely something that I will always be able to work on or improve."
Since
law school can be hectic at times
, he pointed out how he relieves stress. "I like to play basketball, run, and bike, but I generally do not stress much. At times when I am stressed I like to look at the situation and map or plan out what needs to happen and how I see it working out. There is generally enough time to solve most problems that might be causing stress."
Many readers are probably wondering how Jeff handles new assignments. The third year law student shared his process: "I generally try to get as much information as possible from the person assigning it. This always includes the due by date and any type of format request. By being well-organized I am able to give accurate times for how long or when a particular assignment may be finished. This helps to meet expectations as well as figure out whether some assignments are more important than others."
Where does he derive his confidence? "I build my confidence from all the little victories that come along such as a good comment, a work assignment being sent as is to a client, as well as grades from classes that pose the biggest challenges such as tax or evidence."
Three Wishes to Live By, Top Priority, Coping with Fear, Major Obstacles and Most Influential Traveling Experience
If Jeff had three wishes, what would he wish for? "To get a job offer before graduation (or just win the lottery), some semblance of world peace, and maybe a cure for cancer and/or Alzheimer's disease."
What is his top priority outside of work? "Family. I am married with my family and my wife's family in the general area. We see them a lot. Also, staying active with exercise, caring for our new dog, and keeping in touch with friends."
In regards to handling fear, Jeff said, "I attempt to think more rationally. There are not many situations that should scare a person beyond any rational thought. If that occurs, then just charge ahead and hope for the best."
Has he faced any obstacles in his life? "My lack of interest in my previous job was a very big obstacle. I felt stuck in my job and had no real guidance on where to go or what else to look for. It took me a year and a half after taking my LSATs before I finally applied to law school. It took a lot of convincing myself that it was the right move and also getting support from friends and family was important."
Has Jeff traveled? Does he have a most influential traveling experience? He explained:
"Yes. France, Monaco, Japan, China, Mexico, Jamaica, Puerto Rico and a lot of the US. The most influential would probably be Japan. My friend and I spent 17 days in Japan visiting another friend who had moved there. We were able to live as a local staying in his apartment and generally experiencing day-to-day life in Japan. It was a tremendous opportunity and allowed both of us to see a side of another culture that general traveling would not otherwise provide."
Legal Role Models, Personal Philosophy, People You Want to Surround Yourself With, Residency Program and Final Thoughts
Does Jeff have any legal role models? "Some of the attorneys that I have worked with in the past seem to have figured out how to be successful while also balancing a family life."
What is his personal philosophy? "No worries! I picked that one up in Jamaica. I don't have much of a personal philosophy, but I try to be a good person and be nice to others, while working hard for my goals."
The future attorney discussed what he believes holds more truth in light of his personal philosophy. Was it fate or choice? "I think the choices you make are all important. Fate may be out there deciding some things, but everyday you wake up and have a million choices to make which will decide your next 30 seconds or perhaps 30 years."
What kind of situations and people is Jeff attracted to? What kind of situations and people does the law student avoid? "I like intellectual situations and people that are able to think for themselves and have intelligent and rational conversations. I spent 5 years working in a job post-undergrad that left me bored most days. That situation led me to law school." Jeff continued to say, "I prefer to work with people, but also see the value of having alone time for concentrating and hammering out certain tasks or assignments." As for situations and people to avoid, he admitted, "I avoid negative people and those that only seek to serve themselves. I also try to avoid situations that might lead to bad results or situations that might get out of control. Surrounding myself with good people is usually enough to avoid bad situations so I think both of these play off of each other."
Has Jeff been a part of any study abroad program? He expressed:
"Not a study abroad program exactly, but while completing my MBA degree, the entire class did a residency program in China. We visited various Chinese companies and learned about various business topics including operations, marketing, strategy, etc. We also engaged in many different cultural experiences including the Great Wall and Tiananmen Square. It was a great learning experience, but also a great chance to see China. I enjoy traveling and this was a great way to do it."
Is there anything else you care to share professionally or personally? "I am excited to finish up law school and begin really learning
how the practice of law works
and where my niche is in the legal world."  
Click Here to View the 2015 LawCrossing Salary Survey of Lawyer Salaries in the Best Law Firms
If you're trying to find a law student summer job,
click here
.
Featured Testimonials
LawCrossing is the regularly updated and that's what I like about it.
Michael
Facts
LawCrossing Fact #74: Those who use the job map feature will have an easier time locating a job near them than those who don't.
Success Stories

I came back to LawCrossing to search through the listings in my new job search because I had been able to get my last 2 jobs through using the site. I love the search capacity and filters. This is a very valuable service.

Jennifer Guidea Bloomfield, NJ