Contents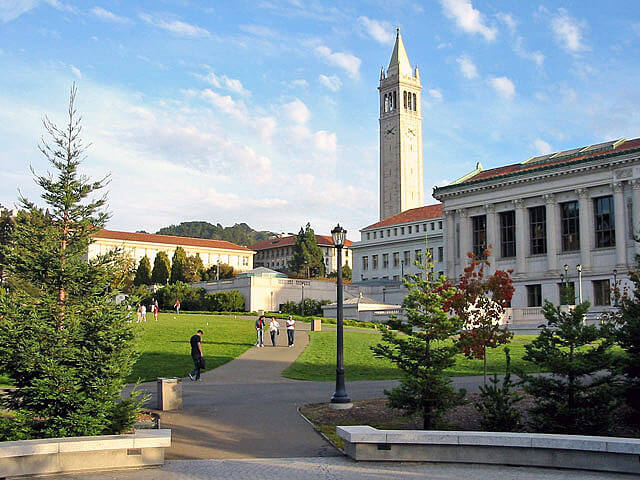 UC BERKELEY SCHOOL OF LAW
Established
1894
Mailing address
215 Boalt Hall, | Berkeley | CA 94720
Phone
510-642-1741
Website
http://www.law.berkeley.edu/
Student-faculty ratio
10.9:1
Number of students enrolled
869
Acceptance rate
12.7%
Bar passage rate (first-time test takers)
92%
Law school cost (tuition and fees)
$50,163 per year
The University of California, Berkeley, School of Law is also referred to as Boalt Hall and as Berkeley School of Law. The Department of Jurisprudence at Berkeley was founded in 1894 and thereafter the department was renamed School of Jurisprudence in 1912 and School of Law in 1950. Even though UC Berkeley School of Law is one of the best law schools in U.S. its environment is considered to be less stressful than most.
The law school has an acceptance rate that is lower than every other U.S. law school except Yale and Stanford. But Berkeley Law emphasizes more on GPAs and personal statements than on LSAT scores, and the school does not have a letter-grading system but has a pass/fail system designed to reduce the rat race.
The UC Berkeley School of Law offers interdisciplinary or dual degrees to interested students in combination with other schools in the university and also in combination with other universities across the nation. In the Berkeley-Harvard program, students in third year study at Harvard.

 TOP
In the U.S. News Law School Rankings published in 2012, Berkeley Law was placed seventh in its list of best law schools in the country. This also makes it the highest ranked public law school.
The intellectual property law department has been considered No. 1 in the nation for the past 11 years by the U.S. News & World Report. The school is also well-known for its social justice, environmental law and international law programs.
Prospects of placement and employment are as expected from one of the best schools of law in the U.S. Berkeley law graduates have a success rate of more than 88% at the bar and more than 98% are employed nine months after graduation. The ABA report on the employment prospects of the graduating class of 2011 shows that 80 percent of them were employed in jobs requiring bar passage within nine months of graduation.
Berkeley Law also was featured in a list of top law schools analyzed and ranked by LawCrossing CEO Harrison Barnes. This list can be found here: Top Law Schools Analyzed and Ranked by America's Top Legal Recruiter.

 TOP
Berkeley Law received 7,253 applications in 2011, out of which 920 were accepted. That's an acceptance rate of 12.7%. Average undergraduate GPA is between 3.64 and 3.89, while average LSAT score is between 163 and 170.
Personal statements are extremely important in gaining admission to Berkeley and usual personal statements submitted at Berkeley are known to be twice the length of that required by other law schools. The personal statement makes few specific requirements but is an opportunity for candidates to express themselves and their journey through life. Of course, the personal statement also provides a sample of the candidate's intelligence, expressions, and writing skills. Though personal statements are allowed to be up to four pages in length, resumes are expected to be in singe-page formats. Letters of recommendation are also given much weight in the admission process.
Like other top-tier law schools, Berkeley expects candidates to apply early though there is no early-decision program. Applications are usually opened from late October and offers start being sent then.
Berkeley Law's in-state resident tuition fees are lower than that in most universities though the law school is among the top ten in the world.
Want to continue reading ?
Become a subscriber to LawCrossing's Job Seeker articles.
Once you become a subscriber you will have unlimited access to all of LawCrossing Job Seeker's articles.
There is absolutely no cost!
Already a member? Login | Forgot your password