Contents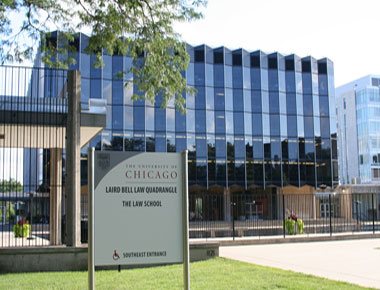 UNIVERSITY OF CHICAGO LAW SCHOOL
Established
1902
Mailing address
1111 East 60th Street, | Chicago | IL 60637
Phone
773-702-9494
Website
http://www.law.uchicago.edu/
Student-faculty ratio
8.0:1
Number of students enrolled
624
Acceptance rate
17.5%
Bar passage rate (first-time test takers)
96.3%
Law school cost (tuition and fees)
$47,502 per year
Established in 1902, by a group of distinguished donors led by John D. Rockefeller, The University of Chicago Law School has consistently ranked as one of the best in the U.S. The school is renowned for its contributions in economic analysis of law and the application of other social sciences. As the dean of the school says in his welcome message "The training you will receive as a Chicago Law student is second to none, and private and public employers alike will be glad to have you join their ranks."
Chicago has many scholarship programs and about 56% of students receive one scholarship or another. However, only about 5% of students receive higher than 50% of their tuition fees in grants and scholarships.

 TOP
The school ranks second for "Top 15 Schools From Which the Most 'Prestigious' Law Firms Hire New Lawyers." In government placements, too, the school is one of the best and ranks third for "Supreme Court Clerkship Placement." The University of Chicago Law School is also known for third highest per capita placement of alumni for U.S. Supreme Court Clerkships. In 2012, it was ranked fifth by the U.S. News & World Report in overall category.
The University of Chicago Law School also was featured in a list of top law schools analyzed and ranked by LawCrossing CEO Harrison Barnes. This list can be found here: Top Law Schools Analyzed and Ranked by America's Top Legal Recruiter.

 TOP
The University Of Chicago Law School is highly selective and admits only about 185 students each year. The last-known median GPA of students is 3.87 and LSAT of 171. According to the last data publicly accessible at ABA, the University Of Chicago Law School sent 849 offers against 5,579 applications.
In the case of selection of candidates and admission procedures, the University Of Chicago Law School places greater emphasis on LSAT scores than most others. Where personal statements are concerned, "The Committee looks for information that gives insight into the non-academic contribution you would make to the class. In general, a statement with a narrow focus on some personal attribute or experience is far more helpful to us than either a broad statement about the law or a restatement of your resume."
While the institution does not encourage submitting information that has not been requested, including optional essays, an essay on "Why Chicago?" is always welcome added to the personal statement. The school is trying to reduce as much paperwork as possible in the admission process and asks little beyond a resume.
Applications start being accepted from September 1st and offers begin being sent out by December, thought the official deadline for applications is February 1st . There is also a system of 'binding early decision' in place similar to that available in other big law schools.
Want to continue reading ?
Become a subscriber to LawCrossing's Job Seeker articles.
Once you become a subscriber you will have unlimited access to all of LawCrossing Job Seeker's articles.
There is absolutely no cost!
Already a member? Login | Forgot your password