Contents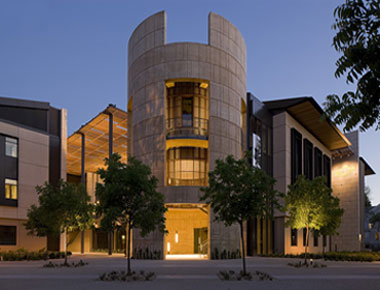 STANFORD LAW SCHOOL
 Stanford Law School L.L.M Program
Established
1893
Mailing address
Crown Quadrangle, 559 Nathan Abbott Way | Stanford | CA 94305
Phone
650-723-2465
Website
http://www.law.stanford.edu/
Student-faculty ratio
7.8:1
Number of students enrolled
571
Acceptance rate
9.8%
Bar passage rate (first-time test takers)
97.9%
Law school cost (tuition and fees)
$49,179 per year
Stanford Law School was founded in 1893. The inaugural faculty included dignitaries like former U.S. President Benjamin Harrison. While the traditional environment has always stressed on creating a comfort zone both for students and faculty, the small classes and high attention from professors ensure quality. The environment is summed up by a comment from Kathleen Sullivan, former Dean of Stanford Law School: "Who could resist a world-class law school in paradise?"
Stanford Law School has been putting great stress on preparing students to work collaboratively with other professions for the past few years. Taking a multidisciplinary approach Stanford is one of those few law schools that create students suitable for working both in law firms and within large corporate houses. It is common to find students complementing their JD in intellectual property with an MS in bioengineering or someone interested in environmental litigation doing an MS in environment and resources along with his/her JD. As of this year, Stanford Law School offers 27 formal joint degrees. The number of students enrolling for joint degrees offered by the school has increased nine-fold over the past six years.

 TOP
In the U.S. News Law School Rankings published in 2012, Stanford Law School overtook Harvard to gain the second place on the list. According to a Forbes list of Best Law Schools to Get Rich, Stanford is at the top with a mid-career median pay of $236,000.
Currently in the US News rankings, Stanford ranked within the top 10 in 2 (IP and Environmental law) out of nine specialty categories. That said, Stanford was not ranked in Health Law, Trial Advocacy, and Legal Writing. In the US News rankings from 1991, Stanford ranked at the 2nd spot 10 times, at the 3rd spot 7 times, and at 4th position once during 1991. While Yale stands at the top of the rankings undisputed, Stanford, over the last decade and more have continually dislodged Harvard to gain the 2nd spot in overall rankings.
Stanford also was featured in a list of top law schools analyzed and ranked by LawCrossing CEO Harrison Barnes. This list can be found here: Top Law Schools Analyzed and Ranked by America's Top Legal Recruiter.

 TOP
Out of an average of 4500 applicants each year, Stanford Law School chooses 170. Applications are submitted electronically by completing prescribed forms. The application fee is $100 with prescribed procedures for waivers. A one-two page resume needs to be attached with the application for admission listing academic, extracurricular and professional activities.
The median undergraduate grade point average for successful admissions is 3.9 and the median LSAT score is 170. In its selection of candidates, Stanford puts great emphasis on personality, work-experience, extracurricular activities, and previous graduate study records. At least seventy five percent of new admissions have previous work-experience and at least a quarter of new admissions have another graduate degree.
One of the most important parts of the admission application is the 'personal statement.' The personal statement required to be submitted by each applicant needs to be about two pages describing 'important or unusual' aspects of the applicant, which are not otherwise apparent.
A statement from the Undergraduate Dean is required in prescribed format, but the requirement is waived in case of foreign applicants. Two to four letters of recommendation must be sent directly to the 'Letter of Recommendation and Evaluation Service.' Letters that are directly sent in to the Office of Admissions are rejected. LSAT scores and Credential Assembly Service Reports are mandatory.
Want to continue reading ?
Become a subscriber to LawCrossing's Job Seeker articles.
Once you become a subscriber you will have unlimited access to all of LawCrossing Job Seeker's articles.
There is absolutely no cost!
Already a member? Login | Forgot your password