Support PDF,DOC,DOCX,TXT,XLS,WPD,HTM,HTML fils up to 5MB
08/18/10
Cozen O'Connor

Hired To Regulate BP's Gulf-Compensation
Philadelphia lawyer, Stephen Cozen, partner at Cozen O'Connor, has been hired to sketch up the rules on BP's gulf-compensation fund.
The $20 billion fund will be dispersed among businesses and persons who were caused loss by April's Deepwater Horizon well explosion. The administrator of the fund, Kenneth Feinberg says that ''no one else in the nation'' has Cozen's understanding or experience regarding the issues at hand.
Cozen's firm, Cozen O'Connor specializes in disasters. They worked such high profile cases as the MGM Grand Hotel fire in 1980 and the 1981 collapse of the skywalk at the Hyatt Regency in Kansas City.
Cozen will help determine which businesses and people are eligible for compensation. He said, ''You might have a restaurant in Boston that serves Gulf Coast shrimp. Those businesses are not going to be eligible for anything.''
Cozen also said that there were nine attorneys working on different areas of the case. Among the practice areas involved in the spill are the firm's litigation, maritime, insurance groups, as well as the firm's energy department. The firm generally charges somewhere between $400 and $600 per hour.
Crowell & Moring Sued By Victims Of Hijacking
Crowell & Moring is being sued by the victims of the 1986 hijacking of Pan Am Flight 73 in Pakistan.
The plaintiffs claim that Crowell took more than the 10 percent fee cap for the claims office. Additionally, the plaintiffs argue that the law firm distributed money to non-US citizens, when according to the settlement, they were not entitled to any compensation.
The lead lawyer for Crowell, Stuart Newberger, anticipates that the matter will be resolved during arbitration to be held in Washington D.C. He says he is confident that
Crowell & Moring
has complied with federal law in the matter, as well as any ''ethical obligations'' the firm might have.
Crowell Moring is comprised of more than 400 lawyers in 6 offices across the United States as well as offices in London and Brussels. They are headquartered in Washington D.C.
Drinker Biddle Adds A Chief Value Officer To Its Ranks
Philadelphia based firm
Drinker Biddle & Reath LLP
, is restructuring the payment process in an attempt to offer clients more value.
The firm has hired its first ''Chief Value Officer.'' That position will determine that clients are receiving good value for their business done with the firm.
Having a CVO is a relatively new concept, and will likely impress consumers looking for honest legal billing, which has been an issue in the past.
More and more, firms are moving away from the standard billable hour to a method that looks for efficient staffing and different fee arrangements. Still however, the objective of the CVO will be to increase profitability for law firms.
Drinker Biddle & Reath has around 700 lawyers throughout 12 U.S. based offices. Corporate Board Member magazine ranked Drinker Biddle #4 among corporate law firms in Philadelphia.
Crowell & Moring LLP.





1 reviews


Featured Testimonials
LawCrossing helped me search my dream job. The facilities it provided were perfect for finding a job.
Avi
Facts
LawCrossing Fact #206: Even if you're not looking for a job, LawCrossing keeps you abreast of trends in your industry.
Location
Philadelphia, PA
Description
Litigation Legal Secretary The candidate types general correspondence, memoranda and complex legal ...
Location
Philadelphia, PA
Description
Compensation Analyst The candidate performs full scope of activities associated with the Firm-wide ...
Location
Philadelphia, PA
Description
Senior Litigation Paralegal The candidate will work on major trial level cases with lead litigation...
Description
Criminal Defense Attorney The candidate with both entry level and experienced attorneys with crimin...
NOW TRENDING ON BCG ATTORNEY SEARCH
MOST POPULAR ARTICLES
Testimonial of the Week

I came back to LawCrossing to search through the listings in my new job search because I had been able to get my last 2 jobs through using the site. I love the search capacity and filters. This is a very valuable service.

Jennifer Guidea Bloomfield, NJ
Top Actively Interviewing Jobs
Denver, CO
Hall Prangle & Schoonveld is a national trial defense law firm. We are seeking candidates for an Associate position in t...
Employer: Hall Prangle and Schoonveld LLC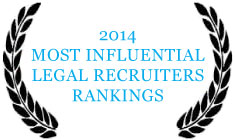 Job Search Tip
Learn to toot your own horn. Time yourself five minutes and write down every compliment you've received on the job, formal (performance appraisal) or informal. (You'll be surprised how terrific you really are!)