Support PDF,DOC,DOCX,TXT,XLS,WPD,HTM,HTML fils up to 5MB
How to Become a Public Defender
by Silas Reed
Other times, the cases that come through the office are family issues, such as protection of children. It is often these cases that bring attorneys to work in a public defender's office of their own will. Then again, there are some attorneys who simply cannot find employment anywhere else and simply do not have any other choice. For those who want to eventually move on, the public defender's office is a great place to learn a few good lessons and to get the hang of things. When considering whether or not you would like this type of employment for an extended period of time, you may want to think about the salary. Attorneys who work at the defenders office generally do not make a lot of money, at least not in comparison to other attorneys.
If helping those in need who are not are fortunate as those with more money, you may find a lot of personal satisfaction in this line of work. Family cases that come into these types of offices are generally the most touching that you will ever come across. You are their only hope in getting the justice that they need and deserve. Even though your clients will not have as much money as other people, they deserve to have their rights and their family held together and protected. You are generally their last chance.
In order to become a public defender, you need to make sure that you are following the same path that other types of lawyers would follow. You are going to need your four-year college degree, preferably in business or criminal justice. Next, you will need to attend law school. Make sure that the law school that you are attending is accredited by the ABA or you are not doing anything other than wasting your time. Even someone looking to work only as a public defender needs to make sure that they are backed by the right kind of education.
While in law school, start your research. Since the public defender is a state employed individual, you will need to look at appellate courts and state and federal courts as well for openings. www.lawcrossing.com/lcjobtypelisting.php now, you will be able to get a good feel for what you are in for. The more you know the better prepared you can become and the better you will be able to help that first family that comes your way.
Once you are ready to start helping a family or two, and you have graduated from law school and passed the bar exam, you can begin applying for employment. The testing, the interview process, and the waiting period are what you would probably expect from a government business. While there can be setbacks and waiting periods, the public defender position is one that generally has a lot of high turnover. This is a good thing for you since becoming a public defender is something of a goal for you and not just a temporary employment situation that you will move on from.
Make sure that you are always up to speed on what it takes to do all of the research that is going to be required for your cases. You will not have a team of people working for you as a public defender because it simply is not in the government's budget. This means that you will be doing extra work to help a family out. Another thing that you will have to take into consideration is the manners of some of the people that you are going to come across. Not all of the public defenders clients are going to know how to keep their cool in tough situations.
Featured Testimonials
The best part of LawCrossing is the regular emails and alerts. By far, it is the best search engine I have come across!
Erika
Facts
LawCrossing Fact #30: LawCrossing provides superb customer service via telephone during normal business hours, in addition to email correspondence.
Description
Staff Attorney Duties: Collaborate on legal, organizing and policy strategies with campaign teams f...
Description
Associate General Counsel Responsibilities : The candidate will provide legal advice and counsel on...
Description
Senior Associate The candidate must have: Superior academic credentials. California licensed, Litig...
Description
Grievance And Appeals Administrator (Manager) Duties: Responsible for oversight of the full grievan...
NOW TRENDING ON BCG ATTORNEY SEARCH
MOST POPULAR ARTICLES
Testimonial of the Week

LawCrossing is great at picking up all of the legal listings everywhere across the internet. I could have gone to three different sites to search, but you had them all on your site. That was extremely helpful. LawCrossing is a one stop shop!

Eileen Baca-Penner New Mexico
Top Actively Interviewing Jobs
Birmingham, AL
Associate with three (3) to five (5) years of experience to work in its Architects / Engineers and Environmental Law Pr...
Employer: Lloyd, Gray, Whitehead & Monroe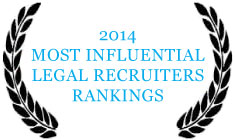 Job Search Tip
Know thyself: What job or jobs you want, in what kinds of fields, industries, and companies? How can you get somewhere if you don't know where you want to go?