By:
Teresa Lo
Summary: Learn how A.I. is currently affecting law firms and the legal industry and how it will affect future associate and legal staff positions.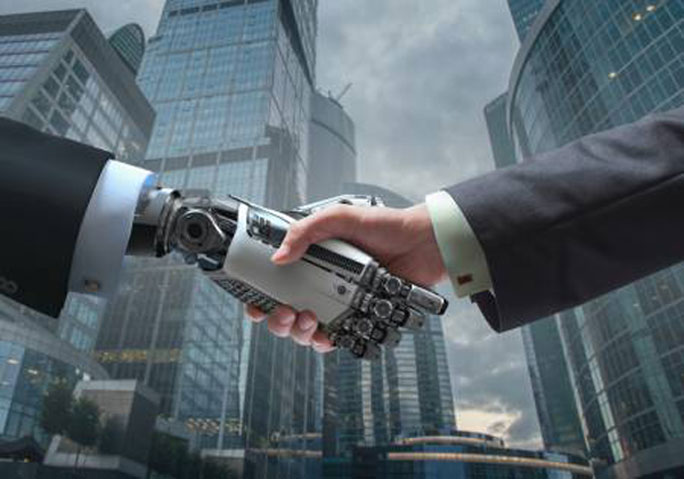 For years, we've heard the rumors. Robots are going to replace paralegals! Artificial intelligence is going to take first-year associate jobs! Regular citizens are going to use websites to get legal advice instead of hiring an attorney! While these rumors
have
come to limited fruition, the level of paranoia has so far been unnecessary. Technology has not destroyed the need for humans with legal knowledge, and in fact, the innovations have
added
to the industry. But how? What do changes brought by A.I. mean for law firms and the legal field in general?  
What Is A.I.?
When talking about "artificial intelligence," visions of Terminator-like robots are likely to pop into people's minds because of Hollywood. However, A.I. is less glamorous (and deadly!) in real life. Think less C3-PO and more Amazon Alexa or iPhone Siri, or even think less Amazon Alexa and more Google Search.  
A.I. can refer to algorithms in software that can do tasks such as scan and recognize words in a large amount of data. While the exact definition of A.I. is cloudy at the moment as technology develops, the simplest way to think of it is a tool for automation. In the legal industry, most firms use A.I. for research tasks such as scanning thousands of documents to find cases that match certain key words.  
Artificial intelligence is also capable of writing memos, but as of yet, its language capacity is limited and rarely used in law firms without a human counterpart.  
A.I. Can Complete Mundane Tasks Quicker Than a Human Can
One of the most popular uses for A.I. in the legal field is to do what is often considered "grunt work," such as research or making citations. Bots can scan databases for keywords faster than any person can, and this technology excited employers who believed they could get fast results at a cheap price. Conversely, the idea of robots being able to do these duties was scary for paralegals, researchers, and low-level associates. So far, however, the technology is not advanced enough to completely do away with human staff.  
Since the inception of A.I. technology, employers have learned that yes, A.I. can improve efficiency and accuracy, but it
cannot
completely replace human personnel. Major law firm
Reed Smith
has already been an early adopter of the search technology RAVN, and it shared with
CNBC
what it was like to use it.  
"We took a deal that we'd already done, which we'd done manually," Lucy Dillon, chief knowledge officer of Reed Smith, told
CNBC
. "And we put it through the RAVN system to see how it compared. And it compared very favorably."  
Reed Smith used the artificial intelligence system RAVN to review documents. Dillon said that RAVN was not perfect but that the technology gave associates a starting point to improve their work. RAVN also found things that a human may not have noticed, creating a system where A.I. and human intelligence worked together to create a superior and more accurate product. But even more importantly, RAVN could do work in minutes that would take a human days.
Numerous other law firms echoed Reed Smith's experience with A.I., noting that its implementation has saved them hours and even days of time.  
Dana Remus, a professor at the
University of North Carolina School of Law
, has studied automation in law firms and whether or not A.I. poses a threat to human employees. His research concluded that the new technology would result in a 13% decline in lawyers' hours. The report also said that large law firms have already outsourced or automated mundane tasks, according to
The New York Times
, and that this action has not reduced the number of staff.  
A.I. Can Please Clients Who Are Fed Up Paying Top Dollar for Junior Associates
Firms such as
Dentons
and
Latham & Watkins
use a similar technology to RAVN called ROSS Intelligence, and they told
CNBC
that A.I. has saved them hours of research. This time save resulted in them being able to bill clients less hours and thus increased client satisfaction, which has become a growing concern in the industry.  
In the past few years, big clients have fought back against law firms and their traditional billing practices. For instance, Bank of America complained about the
Cravath
Effect, a term for the increase of Big Law salaries, and it and other clients expressed unhappiness with paying junior associates premium hourly rates and other perceived wasteful spending. With A.I. making low-level work such as research more efficient, law firms can win back clients by no longer charging them top dollar for routine work.  
That does not mean that law firms will make less money. In fact, big clients have no problem handing over money to pick the brain of an experienced, human lawyer.  
James Yoon
, a partner at
Wilson Sonsini Goodrich & Rosati
in Silicon Valley, told
The New York Times
that in the past a big patent case could have three partners, five associates, and four paralegals assigned to it; but today, thanks to technology, a similar case would have less than half of that staff. While the downsizing seems alarming on the surface, Yoon said that clients still gladly pay him $1,100 an hour for his creativity, analysis and strategy—something a computer could never replicate.  
"For the time being, experience like mine is something people are willing to pay for," Yoon said. "What clients don't want to pay for is any routine work."  
A.I. Can Make Hiring a Lawyer More Affordable, Thus Increasing Business
As mentioned above, the efficiency created by A.I. worried paralegals and other lower-level law staff about the future of their jobs. While
technically
employers could slash staff because of A.I.'s efficiency, A.I. actually could lead to
more business
, which would actually mean law firms would need to hire
more staff.
Since A.I. can slash up to 30 hours of research on one case alone, that means that law firms can charge less for services, which makes hiring a lawyer more affordable. If legal work is more affordable, then that could lead to more people being willing to hire attorneys. Thus law firms need more staff.  
Andrew Arruda of ROSS Intelligence told
CNBC
that he foresaw a rise in jobs in the legal market as a result of A.I.  
"At present, the majority of individuals who need a lawyer cannot afford one," Arruda said. "At the firms where ROSS is at, we see more work being done, more clients being able to be served, and therefore not a decrease in staff, but an increase in productivity and output."  
Additionally, the rapid changing technological field has created an increase an intellectual property work. While A.I. can research those cases, human lawyers are still necessary to provide strategy to their clients and argue cases in court.  
"For IP professionals, the real opportunity however comes from the insight that AI can provide into otherwise impenetrable and inaccessible volumes of data. AI will help IP professionals generate business insight that can open up new markets, accurately value an IP portfolio and deliver a better understanding of what and where the next generation of IP investment should come from,"
IPWatchDog
said.  
Technology Will Create New Jobs and Programs at Law Firms
No one is certain what innovations will be made in the next year or next 3-5 years. But no matter what, it is a guarantee that technology will advance in
some
way. For smart firms, that means investing in hiring quality tech savvy staff, especially those in cyber-security and information technology.  
Dentons, the largest international law firm with over 7,000 attorneys, established Nextlaw Labs in 2015. The purpose of the initiative is to monitor the latest in technology, and
John Hernandez
, the chief innovation officer of Dentons, said to
The New York Times
that the legal industry is being "disrupted" and that it was important to be proactive and not be a victim of it. Dentons not only checks to see what is new with artificial technology, but the firm has already invested in several startups.  
Conclusion
Overall, it appears that A.I. is constantly evolving but will not be at a high enough level to remove human staff yet. Frank Levy, a labor economist at the Massachusetts Institute of Technology told the
New York Times,
"There is this popular view that if you can automate one piece of the work, the rest of the job is toast. But that's just not true, or only rarely the case."  
As of now, A.I. is primarily good for task-by-task processes that can supplement an employees' brainpower to make output accurate and more efficient. Firms who utilize it can benefit by offering lower prices and therefore gaining more business. Thus, A.I. is something that law firms of all sizes shouldn't fear or ignore.  
See the following articles for more information:
Want to continue reading ?
Become a subscriber to LawCrossing's Employer articles.
Once you become a subscriber you will have unlimited access to all of LawCrossing Employer articles.
There is absolutely no cost!
Already a member? Login | Forgot your password