AMERICA'S TOP LEGAL JOB SITE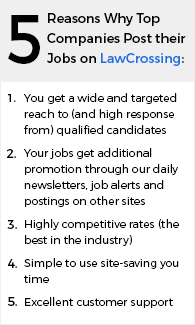 LawCrossing Reviews
Read what our satisfied customers had to say:
4.5
stars /
43
reviews
LawCrossing has provided our firm with good submissions that led to direct hires. It is nice to have a resource specifically for the legal community. Thank you LawCrossing!
Misty Methvin
Keogh Cox


The customer service at LawCrossing was fantastic! Megan spent much time helping me set up the account, contacted me for follow up and was immediately responsive to any questions I had. I really appreciate all her assistance and support.
Louise Herman
Herman Law Group


Myself and my colleagues' experience with LawCrossing has been very positive in our hiring process. It has an easy navigation layout on its site, and, I like the fact that once I post an opening, it instantly gets me going on my sourcing by matching possible candidates. I also really liked having access to your resume pool and the ease of the search engine to go through it. I know that in the future, we will again be using your services. Nice responsive CSR's too.
Elissa Outtrim



I have to admit that it was way quick and painless to cancel my account once we had filled the position with LawCrossing. Your customer service is great, I wasn't expecting that.
Dale Matsuda
California Western School of Law


We were able to fill the job in less than two weeks. The other job board we were using was horrible. Because it was a high salary listed on the job, there were several applications but none of them were qualified. We had less applications from LawCrossing but they were all qualified and I didn't waste my time by sifting through several unqualified resumes. We look forward to working with you in the future.
Daniel
Law Office of Daniel J. Donahue


I really liked the quality of candidates we received from LawCrossing. We're moving offices in the Fall and I am going to re-join at that time because we will need to hire several people, and I know we can get them with your service.
Joanne Wallen
Wallen Kelley

I got a good response posting my remote paralegal job on LawCrossing. I was impressed with your service and that I could actually talk to a human being. You guys worked hard for me. I would definitely use you again and I will definitely, DEFINITELY refer your service to others.
Steven C. Geeting
Steven C. Geeting, P.C.
Mission Viejo, CA
I was referred to LawCrossing through an attorney that had used the service and love it! We were able to hire a great candidate from LawCrossing. We will definitely use LawCrossing again for our hiring needs!
Brandi Moon
Smith Moore Leatherwood, LLP

Thank you for your assistance Christy. I did end up hiring someone from the posting on LawCrossing, so I'd say it worked very well.
Dana Kopper
High Noon Entertainment


We got an amazing hire from posting our job on LawCrossing. We are truly thrilled and will definitely use you again soon!
Elizabeth Pool
Gibbs, Pool & Turner, P.C.

Thank you for letting us use LawCrossing for posting our jobs. It was an easy site to initiate postings on and I appreciated the help I received when I called customer service.
Diane Warren
Rendall Kikes PLLC
Dallas, TX

LawCrossing is really great if you're looking to hire. There are a lot of excellent candidates we have found. I really loved the sort by date uploaded and the search filters in the resume database.
Alex Von Allmen
Newsura

We hired someone, and yes, It was someone who had answered the LawCrossing ad. We ended up with a very good candidate. Thank you LawCrossing.
Janine Oliker

San Francisco, CA
When I used LawCrossing for employers, I thought it was so much better than some of your competitors. The candidates I received were more impressive and a step above candidates from other sites. I will definitely use LawCrossing again to post my jobs.
Bill Nicholson
Kelley Law Firm

The best candidates we receive always come from LawCrossing. We just posted a new position for a Litigation Attorney 1 week ago and have been able to find 2 great candidates for the position.
Vivian Powers
Yukevich l Cavanaugh
USA
I want to tell you that my experience with Law Crossing worked out great. I received a LOT of resumes. Many were from qualified candidates. I have hired a person I found on Law Crossing for the position and she seems very well qualified.
Thomas R. Kolb, Esq.
Kolb & Associates
Washington, DC
LawCrossing has been very helpful in directing good candidates to our office. We have now filled the two open positions with applicants directed from your company. Next time we have a vacancy we will certainly contact you again.
Sandra Johnson
Johnson Law Offices, APC
Redding, California
Thanks for the opportunity to post our job postings for attorneys on your website. LawCrossing.com was very helpful in sending us resumes of applicants whose background matched our requirements. We plan to use LawCrossing.com in the future.
Nelda Jerrols


I recall posting a job on your site with ease. Posting the vacancy announcement went smoothly.
Luz Maria Moreno
Department of the Interior - Bureau of Reclamation Idaho


Using your services to post for a Legal Counsel position was a positive experience. We did find the right candidate for this position.
Linda Stewart
Family & Children's Services of the Waterloo Region
Kitchener, Ontario
Our firm has posted several jobs with LawCrossing. We are always more than satisfied with the stellar candidates we receive and will continue to post jobs on the site.
Edna Messick
E M Messick Consulting, Inc.
Jersey City, New Jersey

Our HR person who posted the job on your site informed me that the website was good and they didn't have any issues posting the job. They also received good number of responses. The overall experience was good.
Navid Dayzad
Dayzad Law Offices, P.C.
Los Angeles, California
The experience was really good; we did get a large number of applicants and will surely be back if we have any posting.
Melissa Bendele
Alamo Claim Service
San Antonio, Texas

We posted many positions on your site. We are satisfied with the responses we got and quite happy with the services. Posting jobs on the website is also hassle free.
Christina
UC Office of the President
San Diego, California
The service was really good. It was very easy to post and the payment process was also very easy. The navigation through the website was really good and we would surely love to post again in future if we get any openings. Also we did receive many relevant applications from the website.
Robert Sirianni
Brownstone, PA
Winter Park, Florida

I have got a very positive response from your website. I did use the website couple of times and each time I had a good experience, currently we are in the process of third round interviews, so I am happy.
Leslie Burleson
TRADEBE Environmental Services
Meriden, Connecticut
I think everything went fine for us; we didn't have any problems with the service. Currently we are in the process of interviews for that posting.
Karen Vaglica
Whole Foods Market
Austin, Texas

The website was user friendly and informative. We didn't have any issues or problems in posting our jobs, and it yielded a fair amount of responses.
Viktoriya Rozenkovichn
Bernard Hodes Group
New York City, New York
The website was good for us as it met our expectation. We were able to a hire a person from that posting, so it was all good.
Jonathan D. Davis
Jonathan D. Davis, P.C.
New York City, New York
It was fine, the website was ok and the applications were also good.
Katie Weber
Los Angeles Philharmonic Association
Los Angeles, California


It was easy to use and pretty straightforward. We got a few applications and they were relevant too.
Maribeth Karpinski
Lindner & Marsack, S.C.
Milwaukee, Wisconsin
The service was quite good, the cost is also normal.
Vicky Chen
State Farm Insurance
Diamond Bar, California

I very much enjoyed using your service and I was happy that I received a good number of responses from the job seekers. I did hire a candidate through our own source, but I was satisfied with your service and look forward to post jobs in near future.
Julie Machal Fulks
Scott & Scott, LLP
Southlake, Texas

The service was really good, The process was really easy.
Moheeb Murray
Bush Seyferth & Paige PLLC
Troy, Michigan
It is very easy post the jobs and the charges are reasonable.
Keller Mackie
Mackie Wolf Zientz & Mann, P.C.
Little Rock, Arkansas
I had a good experience with the website, we did get good number of resumes for the posting, and eventually we did hire someone. It was good and would surely use the service again.
Eileen Smith
ACell, Inc.
Columbia, Maryland
We didn't face any problems in using the website, and we eventually ended up hiring someone, so it was good.
Doreen Grasso
Torre,Lentz, Gamell, Gary & Rittmaster
Jericho, New York

The service was fine. Overall it was a good experience.
Veronica Contreras
Santa Clara County Office of Education
San Jose, California

The service was good, I like the website and it was easy to use. I did get lot of applications. The service was worth the cost and I will surely come back to use it, if I have some more postings.
Kristin Halko
Slaughter & Reagan, LLP
Ventura, California

The website was very helpful and we were able to find a candidate through LawCrossing. We would sign up again, if we need the service in future.
Belle Pannu
Santa Clara Valley Transit Authority (VTA)
Santa Clara, California, USA

I appreciate the opportunity to list jobs on LawCrossing and the prompt customer service. Thank you.
J. Blake Mayes
MayesTelles PLLC
Phoenix, Arizona, USA
We placed our ad on law crossing and within the first week had qualified applicants for the position. We were looking for a candidate to fill a very specific position in a subspecialty and we were able to fill the position within two weeks. We were very satisfied with the quality of the candidates.
Jane Schoener
Schoener & Associates PC
Philadelphia, PA, USA

The ad was EXTREMELY successful. We received dozens of resumes, interviewed a few and already finalized on one who is joining us tomorrow. Thanks very much for your splendid assistance and guidance.
Kiran Kulkarni
Kyko Global, Inc.