By:
Harrison Barnes, Managing Director - BCG Attorney Search
Veterans can be of invaluable help to a business or company in many ways. The greatest assets of a veteran are credibility, discipline, punctuality, teamwork, and ability to follow and give orders. A veteran may or may not be a computer genius brimming with novel ideas, but a veteran has the greatest chance of adding to the core of trusted personnel within a company – without which core a business workplace is nothing more than a way-house for mercenaries hopping from one job to another.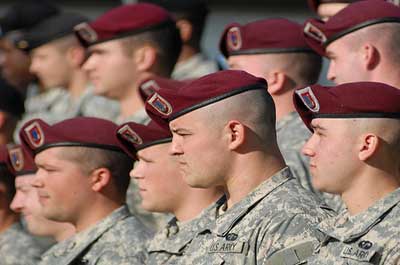 Some people have misconceptions that veterans are tough to deal with, but that's a wholly wrong idea. In fact veterans are known to excel even in caregiving industries, and a recent survey by the Apollo Research Institute found that more than 80% of employers favored veterans for their team orientation, 77% favored veterans for work ethic and reliability, 72% favored veterans for their goal-orientation and 53% favored veterans for adding diversity.

Hire the services of recruiters who are veterans or involve veterans who are already working with you in the recruiting
and orientation process
To induct veterans into your workforce and enhance your organizational strengths, it is good to hire the service of veterans or involve veterans who are already in your company, into the recruiting and interview process. One of the best methods to ensure proper hires of veterans is to leverage the experience of those who are already working with you. They can help other veterans to get acclimatized to your workplace and organization better than others can.

Use expert help to correlate the skills of a veteran candidate with needs in your organization – do not go on his/her designation

While interviewing a veteran, judge the person in front of you objectively, with the knowledge that a certain amount of resources would be spent on orientation and training. Besides that, do not focus on the designations held by the veteran, but try to learn what the person actually did while on duty, and ask him/her to describe the functions usually undertaken by him/her during a service day. Expert recruiters or other veterans listening in or taking part in the interview would be able to judge the mettle of the candidate accurately.
It's good to be happy about tax implications but you also need to be careful about legal implications of hiring a veteran
Veterans have served the country, and for that, as an employer you have both benefits from the government as well as duties to observe. Two laws you need to be most careful about, while hiring veterans are the Uniformed Services Employment and Reemployment Rights Act, (USERRA) and the Americans with Disabilities Act (ADA) among others.
That veterans are truly helpful to businesses and employers can be seen from the data at the bureau of labor statistics http://www.bls.gov/news.release/empsit.t05.htm, which shows that the numbers of unemployed veterans are steadily dropping year to year. While the unemployment rate of veterans of 18 years and above was 7.7% in August 2011, this year, August 2012, the unemployment rate is 6.6%.
Despite such heartening statistics, media reports say that veterans find returning to civilian workplaces challenging and the recently conducted Veteran Employment Challenge Study conducted by Prudential Financial found 44% veterans feeling that they were not ready for civilian life. Much of this reluctance is apparently due to unfounded apprehensions, and some due to ordinary workplace misunderstandings blown out of proportion by rumor mills.

The government and other organizations is out there to help you as an employer
In 2011, the Veterans Opportunity to Work to Hire Heroes Act was signed into law and it requires the Labor Department to commission a study on how to translate military skills to civilian equivalents. There is also an online calculator at careeronestop here, http://www.careerinfonet.org/moc/ to correlate between military and civilian skills. The task of hiring and acclimatizing a veteran is easier than ever before, but the benefits are no less.
Currently, there are over 65000 National Guard and Reserve Personnel in active duty and as they return to civilian life, both the government and employers are concerned over their welfare. With the ebbing of the war in Afghanistan, the number of veterans returning would continue to grow and it is inevitable that when you seek workers to fill your vacancies, some of those who turn up are going to be veterans. As a company how you use those opportunities is up to you, but if you have an eligible veteran turning up at your doors looking for a job, it's good not to squander the opportunity.