AMERICA'S TOP LEGAL JOB SITE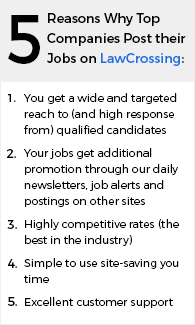 Employer Legal Articles

Summary: Learn why downsizing is often unavoidable in these articles. + read more
Summary: The time has now come to focus on the 2018 calendar to help your organization perform the best it can. + read more

Summary: Holiday bonuses can be a tricky process for a business. Consider this advice for giving that perfect employee the perfect holiday bonus. + read more

Summary: What can lawyers do to achieve a better sense of satisfaction at work? Find out in this article. + read more

Summary: There seems to be a drought of good, dedicated workers, particularly in the younger age groups, which makes it hard on H.R. individuals to hire competent employees. + read more

Summary: Could it be that modern telecommuting technology has finally come to today's law firms? + read more

Summary: Mergers can cause much consternation between employees and employers; see how you can mitigate this in your own business as you face a merger or acquisition. + read more
Summary: One of the trickiest tasks to establish and keep in place within today's business climates is workplace fairness. + read more

From the entertainment industry to politics, sexual harassment has increasingly become taboo.
Job loss to public shaming has all but silenced many women and men who are victims of workplace sexual harassment.
This is especially true within law firms.
But now women and men are speaking out, putting production companies, politicians, and yes, law firms on notice.
+
read more

Summary: Your company is merging with another company. The problem is few within your company know what a merger is and how it can impact their employment. + read more