By:
Kathryn Wheeler
Summary: Here are 5 books that you should definitely take the time to read if you haven't already. These books will take you on a journey that you will never forget.
Summary: Here are 5 books that you should definitely take the time to read if you haven't already. These books will take you on a journey that you will never forget.
Normally I like to share reviews for the books that I've recently read. However, I thought today I would mix it up a bit and show you a few books that I have on my
Goodreads "To Read" List.
I Am Malala
by Malala Yousafzai
When the Taliban took control of the Swat Valley in Pakistan, one girl spoke out. Malala Yousafzai refused to be silenced and fought for her right to an education.

On Tuesday, October 9, 2012, when she was fifteen, she almost paid the ultimate price. She was shot in the head at point-blank range while riding the bus home from school, and few expected her to survive.

Instead, Malala's miraculous recovery has taken her on an extraordinary journey from a remote valley in northern Pakistan to the halls of the United Nations in New York. At sixteen, she has become a global symbol of peaceful protest and the youngest nominee ever for the Nobel Peace Prize.

I Am Malala is the remarkable tale of a family uprooted by global terrorism, of the fight for girls' education, of a father who, himself a school owner, championed and encouraged his daughter to write and attend school, and of brave parents who have a fierce love for their daughter in a society that prizes sons.

I Am Malala will make you believe in the power of one person's voice to inspire change in the world.
Attachments
by Rainbow Rowell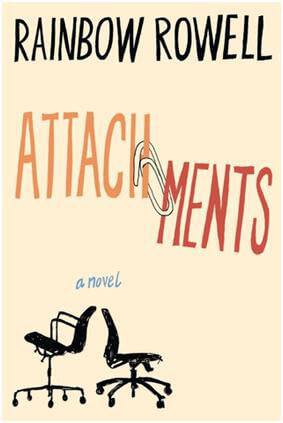 Beth Fremont and Jennifer Scribner-Snyder know that somebody is monitoring their work e-mail. (Everybody in the newsroom knows. It's company policy.) But they can't quite bring themselves to take it seriously. They go on sending each other endless and endlessly hilarious e-mails, discussing every aspect of their personal lives.

Meanwhile, Lincoln O'Neill can't believe this is his job now- reading other people's e-mail. When he applied to be "internet security officer," he pictured himself building firewalls and crushing hackers- not writing up a report every time a sports reporter forwards a dirty joke.

When Lincoln comes across Beth's and Jennifer's messages, he knows he should turn them in. But he can't help being entertained-and captivated-by their stories.

By the time Lincoln realizes he's falling for Beth, it's way too late to introduce himself.

What would he say . . . ?
Blackberry Winter
by SarahJio
In 2011, Sarah Jio burst onto the fiction scene with two sensational novels--The Violets of March and The Bungalow. With Blackberry Winter--taking its title from a late-season, cold-weather phenomenon--Jio continues her rich exploration of the ways personal connections can transcend the boundaries of time.

Seattle, 1933. Single mother Vera Ray kisses her three-year-old son, Daniel, goodnight and departs to work the night-shift at a local hotel. She emerges to discover that a May-Day snow has blanketed the city, and that her son has vanished. Outside, she finds his beloved teddy bear lying face-down on an icy street, the snow covering up any trace of his tracks, or the perpetrator's.

Seattle, 2010. Seattle Herald reporter Claire Aldridge, assigned to cover the May 1 "blackberry winter" storm and its twin, learns of the unsolved abduction and vows to unearth the truth. In the process, she finds that she and Vera may be linked in unexpected ways…
Now I See You
by Nicole Kear
At nineteen years old, Nicole C. Kear's biggest concern is choosing a major--until she walks into a doctor's office in midtown Manhattan and gets a life-changing diagnosis. She is going blind, courtesy of an eye disease called retinitis pigmentosa, and has only a decade or so before Lights Out. Instead of making preparations as the doctor suggests, Kear decides to carpe diem and make the most of the vision she has left. She joins circus school, tears through boyfriends, travels the world, and through all these hi-jinks, she keeps her vision loss a secret.

When Kear becomes a mother, just a few years shy of her vision's expiration date, she amends her carpe diem strategy, giving up recklessness in order to relish every moment with her kids. Her secret, though, is harder to surrender - and as her vision deteriorates, harder to keep hidden. As her world grows blurred, one thing becomes clear: no matter how hard she fights, she won't win the battle against blindness. But if she comes clean with her secret, and comes to terms with the loss, she can still win her happy ending.

Told with humor and irreverence, Now I See You is an uplifting story about refusing to cower at life's curveballs, about the power of love to triumph over fear. But, at its core, it's a story about acceptance: facing the truths that just won't go away, and facing yourself, broken parts and all.
Orphan Train
by Christina Kline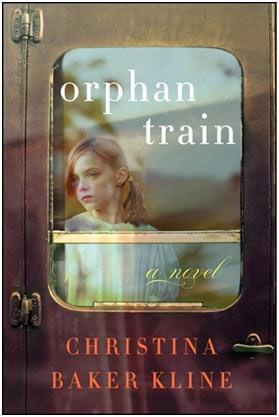 Nearly eighteen, Molly Ayer knows she has one last chance. Just months from "aging out" of the child welfare system, and close to being kicked out of her foster home, a community service position helping an elderly woman clean out her home is the only thing keeping her out of juvie and worse.

Vivian Daly has lived a quiet life on the coast of Maine. But in her attic, hidden in trunks, are vestiges of a turbulent past. As she helps Vivian sort through her possessions and memories, Molly discovers that she and Vivian aren't as different as they seem to be. A young Irish immigrant orphaned in New York City, Vivian was put on a train to the Midwest with hundreds of other children whose destinies would be determined by luck and chance.

The closer Molly grows to Vivian, the more she discovers parallels to her own life. A Penobscot Indian, she, too, is an outsider being raised by strangers, and she, too, has unanswered questions about the past. As her emotional barriers begin to crumble, Molly discovers that she has the power to help Vivian find answers to mysteries that have haunted her for her entire life - answers that will ultimately free them both.

Rich in detail and epic in scope, Orphan Train is a powerful novel of upheaval and resilience, of second chances, of unexpected friendship, and of the secrets we carry that keep us from finding out who we are.
What are you reading now?

Do you have much time to read for pleasure?