Support PDF,DOC,DOCX,TXT,XLS,WPD,HTM,HTML fils up to 5MB
Get Comfortable with Being Uncomfortable in These 3 Situations
by Kathryn Wheeler
(
2
votes, average:
3.4
out of 5)
What do you think about this article? Rate it using the stars above and let us know what you think in the comments below.
Summary: If you want to continually make yourself a better person and expand your horizons, you need to learn how to be comfortable with being uncomfortable.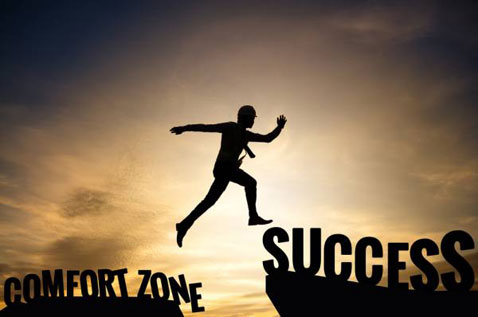 Most everything in our modern-day lives are created to make us more comfortable. It's our natural inclination to rest, stay safe and make our lives as easy as possible, to save up our energy and strength for when we really need it. Turns out, we're not going to have to live without food for several days, travel across a great distance or run from a saber-toothed tiger. While our lives are completely different, our instincts to stay comfortable are still the same.  
Unfortunately, this desire to feel safe and comfortable translates over many areas of our lives, from physical comfort to mental and social comfort. While we're sometimes pushed, by ourselves or others, to push past our comfort zones to go after something we really want, it's a rare occasion for many people.  
While it's not necessarily bad to be in our comfort zones, the adrenaline rush and positive feelings of pride and self-worth that come from going outside of those zones far outweigh the negatives. By pushing yourself out of your comfort zone, you'll be able to expand your comfort zone and feel better and better about doing more things. You'll expand your horizons, meet new people, have more opportunities, have new experiences, and often experience more joy than you would otherwise.  
While it can be scary, sometimes you just need to embrace being uncomfortable. Here are a few situations where you should get comfortable with being uncomfortable.    
When you know it's safe.
It's much easier to push yourself out of your comfort zone when you know, rationally, that you'll be just fine. Hate socializing? You know it won't injure you physically or mentally to go to a meet up with people from your company or a group from your church. In all honesty, you likely know that you'll be glad you went by the time it's over. Choosing to go outside of your comfort zone when you know the experience will be safe is the perfect way to grow your mental fortitude. When you do these uncomfortable activities and come out just fine, you're creating evidence that being uncomfortable results in good things. This evidence will allow you to make more and more choices that push you out of your comfort zone in the future.  
When the benefits are obvious.
Another way to mentally convince yourself that you should get out of your comfort zone is knowing that the benefits will be worth the sacrifice. Similar to the above, even if it's incredibly uncomfortable or you might look silly and awkward, choose to push yourself in an area that will give you clear benefits. The key, however, is to think about these benefits beforehand and see what they would be no matter the outcome. We can control our own actions, but we can't control others, so seeing the benefits to ourselves no matter someone else's choices is important.  
For example, if you've been set up on a blind date and you hate putting yourself out there in such a way, remind yourself that if this goes really well, you could end up in a great relationship. However, if it goes poorly, then you've not only checked this person off your list (or your friend's list) so that you're no longer wondering about them, but you've also created evidence that you are capable of going on a first date without withering away from embarrassment or that it might even be an entertaining way to spend a couple of hours.  
When you can repeat the activity.
Once you've established things to push yourself that are both safe and beneficial, the time comes to repeat them. Yes, you have to do them again. Succeeding at doing one uncomfortable thing might make you feel great for a moment, but then you'll likely go right back to where you were. Set up ways to do these things over and over again so that, eventually, they won't be uncomfortable anymore and you will have expanded your comfort zone a little larger. If you need outside accountability, tell a friend or family member what you're doing and ask them to check in with you. Before you know it, you'll be comfortable with being uncomfortable and will have had far more experiences and opportunities than you would have otherwise.
Featured Testimonials
I got a bunch of interviews through LawCrossing. It is truly a wonderful site and I enjoyed using it for my job hunt.
David
Facts
LawCrossing Fact #53: Users stand out when they subscribe to LawCrossing because LawCrossing is an exclusive job board; subscribers have a huge edge when it comes to finding a job.