Support PDF,DOC,DOCX,TXT,XLS,WPD,HTM,HTML fils up to 5MB
7 Reasons Why You Need to Make Your Bed
by Kathryn Wheeler
( 3 votes, average: 3.4 out of 5)
What do you think about this article? Rate it using the stars above and let us know what you think in the comments below.
Summary: Here are seven reasons you should start making your bed first thing in the morning.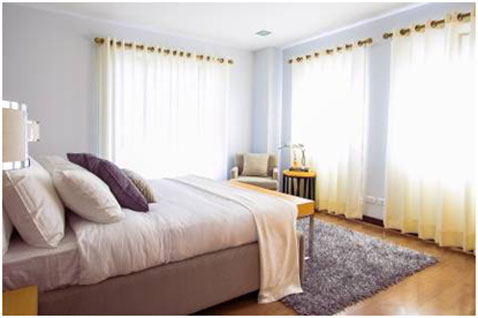 Most of us remember our moms telling us every morning to make our bed. Personally, I wasn't allowed to leave for school until mine was made and I hated being late so it was a pretty good incentive. As we get older, however, people tend to let go of this habit since no one is watching anymore. But did you know making your bed is actually beneficial?  
It makes things look nicer, but there are so many more benefits to making your bed to both your mental and physical health. Here are seven reasons you should start making your bed first thing in the morning:  
It looks nice. This is kind of an obvious one, but you never know when you might have an unexpected guest. Having your bed made not only pulls the room together, but it makes you look pulled together as well.  
It makes you feel productive. Going into a busy day, you may feel like you're barely keeping your head above water. While it seems small, making your bed at the beginning of the day is one thing you've accomplished.  
It's healthier. Straightening up your bed can help keep dust and dirt from getting underneath your sheets with you. This is especially helpful for anyone who deals with allergies.  
It can calm your mind. Having a clean, organized space can help with anxiety. For many people, being in a disorganized environment only contributes to racing thoughts. Making your bed is a simple way to keep your space more calming.  
It's welcoming. When you get home from a long day, the last thing you want to deal with is a messy home. Having a made bed makes your bedroom more inviting and will help your mind relax rather than worry about dealing with a mess.  
It helps you sleep better. Most people sleep better when their sheets are nice and neat, rather than twisted. Along with making you more calm, being able to slide into your bed without dealing with a mess makes your evening more relaxing.  
It's harder to go back to sleep. If you get up right when your alarm goes off and immediately make your bed, it's going to be a lot harder to hit snooze and go back to sleep. Jump up and do this before your brain even has a chance to wake up and realize what's happening.
Featured Testimonials
LawCrossing is doing a super job. I am very much pleased with the services provided by LawCrossing.
Jean
Facts
LawCrossing Fact #166: Your career is a product, so why not search the best job site to place it where it needs to be?
Location
Brighton, UNITEDKINGDOM(GENERAL), United Kingdom
Description
Commercial Solicitor The candidate working with a diverse range of clients on a variety of projects...
Location
Birmingham, CITYANDBOROUGHOFBIRMINGHAM, United Kingdom
Description
Part-Time PI Solicitor The candidate will be required to handle a busy caseload of pre-litigated/li...
Location
Manchester, CITYANDBOROUGHOFMANCHESTER, United Kingdom
Description
EL/PL Fee Earner The candidate will manage a quality caseload of both Fast and Multi Track EL/PL fi...
Description
Part time Attorney The candidate responsibilities include case analysis and development, deadline m...
Success Stories

LawCrossing has the most listings of any job board I have used. It's actually a great site. The website had a lot of detail. It's nice that you don't have to go through a recruiter if you don't want to. You can actually contact the law firm directly for the positions listed. LawCrossing had a ton of great features.

Brian McMillan San Francisco, CA