Support PDF,DOC,DOCX,TXT,XLS,WPD,HTM,HTML fils up to 5MB
Workplace Behavior: What's Acceptable and what's Not Acceptable?
by David Dorion
Social guidelines can be fuzzy, if not confusing, in most work atmospheres. While certain behavior is outright improper, other types of behavior don't seem to fall properly under what's right or wrong. The following six articles highlight instances of poor workplace behavior, and what you as a hiring manager or law firm partner can do about it.  
How far a person's freedom of speech can push the workplace behavior envelope really depends upon a company's culture. But will freedom of speech protect a worker from being fired, particularly if that worker said something offensive? No, not in the least bit will it protect them.
Go here to read the full article.
Yes, workers have rights. There are labor laws, contracts, and other rules and regulations that protect workers. However, when it comes to extreme behavior, especially if it adversely affects a company and other employees, that behavior is a strong enough offense to warrant termination.
Go here to read the full article.
As a hiring manager, you might come up against one or two employees who may not know how to properly conduct themselves in the workplace. But if it comes down to multiple employees with varying behavioral issues, you might want to either update or establish a series of behavior standards for all your employees to follow.
Go here to read the full article.
While conflicts can occur within any workplace atmosphere, if those conflicts and the behavior associated with them worsen, you as a hiring manager will need to know how to take control of the situation. Check out this article for some tips as to how to handle difficult behavior in your company.
Go here to read the full article.
Sometimes the root causes of bad behavior in a law firm are not so transparent. As a managing partner, what you may have to delve deeper into a lawyer's psyche and job performance to find the cause of this person's behavioral issues. Check out this article to help you find the causes and remedies for a lawyer who is behaving badly.
Go here to read the full article.
Some law partners are notorious for yelling, screaming, throwing and otherwise acting without consideration to other partners, associates and legal support staff. This article outlines 5 ways law firms can deal with a partner who is doing more damage than good to the firm where he (and others) work.
Go here to read the full article.
Featured Testimonials
Your company provides quality service, and I will certainly return in the future if I need to search for a position again.
Halley
Facts
LawCrossing Fact #59: There is less competition on LawCrossing, making it easier for users to land their dream jobs.
Location
New York City, NY
Description
Employment Law Attorney Duties: Assume a major role in litigation with extensive contact with clien...
Description
Employment Associate The candidate will be responsible for litigation strategy and management, lega...
Description
Labor & Employment Associate Candidate must have strong academic credentials from a nationally reco...
Description
Legal Researcher Duties: Provide both quick reference and in-depth research services using a variet...
NOW TRENDING ON BCG ATTORNEY SEARCH
MOST POPULAR ARTICLES
Testimonial of the Week

I was able to obtain my new job through LawCrossing. I love your service! Hopefully, I won't need your help for a while, but if I do, I'll certainly sign up again. I have already told others about your great site.

Top Actively Interviewing Jobs
Employer: New York State Office of the Attorney General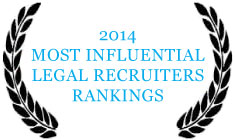 Job Search Tip
Opportunities are everywhere. A change in senior management spells personnel changes down the road. New management wants new blood. Learn to read between the lines and anticipate openings.