Support PDF,DOC,DOCX,TXT,XLS,WPD,HTM,HTML fils up to 5MB
12 Essential Daily Habits to Increase Organization and Reduce Stress
by Kathryn Wheeler
(
3
votes, average:
3.5
out of 5)
What do you think about this article? Rate it using the stars above and let us know what you think in the comments below.
Summary: Try incorporating these 12 daily habits into your daily routine and you will find you will have less stress and more organization in your life.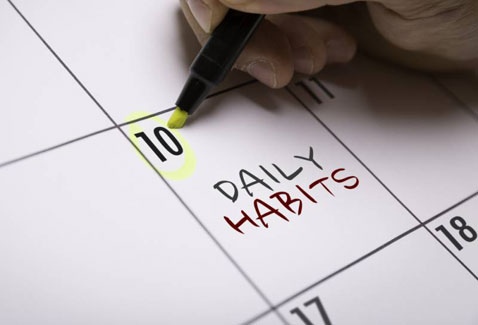 Many of us walk around every day feeling like we're barely holding on by a thread, like we're working hard to just keep our heads above water. While it might sound nice to have our lives organized, we can't quite figure out how to get there or haven't taken the time to sit down and figure out what we can do to improve.  
While spontaneity can be fun for the most part, or good for your creativity, your life could be considerably less stressful with just a little bit of time spent each day on organization. If the thought of adding in these daily habits feels overwhelming, pick and choose just one or two to try tomorrow. Just one day. Then if you like how that habit changed your day, try it again the next day. Before you know it, you might find a small bit of peace in your day that makes you happier and more productive.  
Here are 12 daily habits to help you become more organized and reduce stress:  
Have a morning ritual. Your ritual could be an hour long or five minutes, but simply having something you do every morning when you get up will give your brain and body the signal it needs that it's time to start the day. It could be as simple as getting up, drinking a glass of water, brushing your teeth and maybe throwing in a positive affirmation while standing in front of the mirror.  
Focus on one task at a time. We're all great at multi-tasking these days, but consider focusing on one task to completion. Having half-finished projects can lead to more stress, but knowing it's all done allows you to move on without any lingering worries.  
Read and respond to emails daily. This doesn't mean you have to get back to every email every day, but it does mean you don't just ignore your inbox and let it pile up. Once you make it through what you have by doing a little bit each day, maintenance is much easier and you'll be in the habit of taking that one or two minutes to respond to each email.  
Have a "To Do" List. It's easy to forget little things that you need to get done, so having a To Do list can take all these things out of your mind and put them on paper so you aren't trying to remember it all. Consider having one for work and one for home.  
Prioritize. Along the lines of having a To Do list, know what your top priority is and what will be okay if it gets pushed off until tomorrow or next week.  
Clear piles of paper off your desk. Let me guess - your desk is piled with papers and notes that you "need" but at the same time don't want to deal with? Carve a half hour to an hour out of your day and go through them all. While it might feel difficult at the time, you'll get a sense of relief when it's all over.  
Set alarms and reminders. There's nothing worse than completely forgetting your kid's soccer game, getting home and realizing your prescription has run out, or missing a meeting that was switched to a new time. Use your smartphone alarm to set notifications and reminders to keep you on top of things.  
Don't be a perfectionist. Sometimes it's okay to have a C+ kind of day. Sometimes it's better to get the job done even if it isn't "perfect." Usually, you're the only one who will notice.  
Put things where they belong. It's so easy to just dump your stuff at the front hall table when you get home after work, but taking a minute to walk around and put things away can make the rest of your week so much easier and eliminate the stress of seeing those piles of things everywhere.  
Plan your meals and bring snacks. Eating well is essential to proper brain function and having good energy throughout the day. Consider planning (or even prepping) your meals over the weekend and make sure to have healthy snack options in your desk to avoid the sugar rush and crash that comes with getting something from the vending machine.  
Plan the next day in advance. When you leave work, write down the things you need to do when you get in the next day. If you want to hit the gym, put in your schedule what time you're going to go. Eliminating these decisions makes your day run more smoothly and gives your brain energy to focus on other things.  
Make time for yourself every day. Do something just for you every day, whether that's reading a book for 30 minutes before bed or taking a walk during lunch. Taking care of yourself is essential to being your best for other commitments.
Featured Testimonials
LawCrossing can definitely consider me as a satisfied customer as I found my dream job right here.
Stefan
Facts
LawCrossing Fact #99: Why limit yourself by scouring individual websites? See all the avenues you can travel in one place!