Support PDF,DOC,DOCX,TXT,XLS,WPD,HTM,HTML fils up to 5MB
4 Things You Should Never Sacrifice for Work
by Kathryn Wheeler
(
7
votes, average:
4.6
out of 5)
What do you think about this article? Rate it using the stars above and let us know what you think in the comments below.
America has always been a country built upon the idea that if you work hard enough, you can achieve whatever you want to achieve. However, this hard work mentality has gone too far in many instances, with technology keeping us constantly connected to work and social pressures to come early, stay late, and even work from home simply because you can be reached.
Although our work and careers are significant portions of our daily lives, we are not defined or sustained merely by our jobs. Here are 4 things that should be more important to our lives than our work: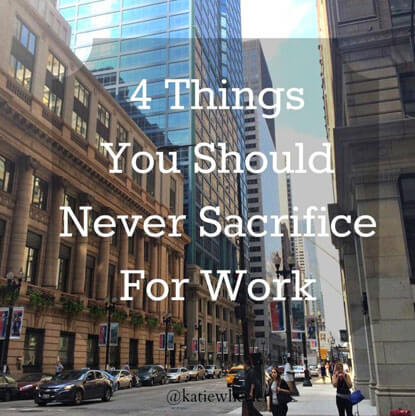 1. Your Health
Overextending yourself at work can cause your health to decline in two ways. First, merely by the fact that you have less time to take care of yourself, including exercising and eating healthy. Second, your health can decline by increased stress, which is not so quickly noticeable but can cause significant health issues. Think about what you need to do to keep yourself healthy, whether that's getting in a workout during lunchtime, prepping healthy meals over the weekend, or adding in a short meditation practice to deal with stress.  
2. Your Family
Many of us use our families as an excuse to work more, as we see our jobs as a way of supporting our families and giving them everything that they need. As corny as it sounds, money can't replace time with you. Reevaluate what's most important to you and where you want to be spending your time, because time is something you can't get back.  
3. Your Integrity
Sacrificing your integrity for a job can not only upset you, but cause massive amounts of stress. This stress and unease can leak into all areas of your life, causing you to release it onto other people rather than dealing with the real issue at hand. Make it clear to your employer that you're not willing to do things in what you believe to be an unethical way, and if they disagree it's probably time to part ways.  
4. Your Sanity
We often come up with excuses as to why we need to keep working or working a certain way or with certain people, when in reality it's not something we should be putting up with. Your boss can't know exactly how you're feeling, so you have to be the one to monitor your own sanity. Don't sacrifice yourself for a job, even though that may seem like the "tough it out" thing to do. It's okay to say no to more work, longer hours or more traveling. Take some time to step back and enjoy the things you love, and you'll come back refreshed and ready to work.
Featured Testimonials
A job search can be a really frustrating experience. LawCrossing makes it a breeze.
Matthew
Facts
LawCrossing Fact #185: Our application system allows you to apply for multiple jobs at the same time, saving time and energy!