Support PDF,DOC,DOCX,TXT,XLS,WPD,HTM,HTML fils up to 5MB
What is the Best Way to Get an In-House Position?
by Harrison Barnes, Managing Director - BCG Attorney Search

(
22
votes, average:
4.5
out of 5)
What do you think about this article? Rate it using the stars above and let us know what you think in the comments below.
Summary: This has been really, really popular – and at first I did not even understand why.
For the past several months
www.LawCrossing.com
has been receiving numerous unsolicited requests from attorneys who want us to exhaustively research and manually apply for jobs for them each day (and then report back to them the work we do at the end of each day).  
Most of these requests have been from attorneys seeking in-house positions and for whatever reason (1) do not want to use a recruiter and (2) do not have time to search for a job themselves (some in-house jobs on corporate websites can take 10 minutes or more to apply online).
At first, I turned the work away – as a recruiter, I like to get personally involved in analyzing each person's opportunities and wanted to make sure the work was done the best it could be (specialists who apply to jobs for attorneys need to be extensively trained).
However, as more and more requests came in I got involved, trained a few of my most trusted people and started offering the service to attorney friends of mine at a cost that compensated my staff for the time it took to do this work. It was an experiment for me and something I did because this is a labor of love for me.
Sign up for this service on LawCrossing today.
As a part of this service, I personally review every client's resume and make detailed recommendations to our US-based staff on how to identify jobs that are most likely to fit each attorney.
Attorneys are so interesting to me – some of these conversations about individual attorneys have gone on an hour or more in my staff meetings.
For at least an hour each work day, we meticulously review all of the jobs in the market and apply for these jobs for you (and always report back to you what we did each day). We also have a few other tricks we use, to get our attorneys before the right employers and get noticed (but I only share these with our clients).
I realize this service is not for everyone – you should not do it unless you see major value in it.
It was not something I even wanted to offer at first; however, I have seen the results and it works very well for numerous reasons (you are the first to apply to jobs, you are consistently getting your applications out, a professional is searching and finding jobs you might not find on your own and so forth) and I now believe it.
Since this takes us between one and three hours a day, we have been charging $1,000/month. I realize this is a lot of money. I personally think it is worth more than this.
To get the word out, for a limited time I have authorized LawCrossing to offer this service for only $449/month (not even a break-even number for us) to get the positive word of mouth out about it (the only true way to grow a business)
. I am sure the success of a larger audience of people using this service will spread the word and turn it into a service we could easily charge a minimum of $1200/month for (lots of people are already paying $1000/month so this does not seem a stretch).
This is certainly not something you have to do — but it will save you a lot of time and it does get results.
If it were me personally I would believe I could do all this work myself; however, seeing how much work this is I am convinced at the huge value of this service. Since this service is so novel, it does not even have a name yet … maybe you can suggest one for us after using it?
I want you to understand a few important points:
We will not do this service for everyone — and we turn away many people.
Since we are working for you, we want to make sure you are the sort of person who could benefit from this service.
We want to like you (no jerks). If you are rude to us, yell and so forth we will not work with you – or will stop working with you.
If this is something you are interested in doing, you can go here to sign up:
https://www.lawcrossing.com/lcthanks_offer1.php
We have a limited amount of staff to do this work so there may be a waiting list if you delay.
About LawCrossing
LawCrossing has received tens of thousands of attorneys
jobs and has been the leading legal job board in the United States for almost two decades. LawCrossing helps attorneys dramatically improve their careers by locating every legal job opening in the market. Unlike other job sites, LawCrossing consolidates every job in the legal market and posts jobs regardless of whether or not an employer is paying. LawCrossing takes your legal career seriously and understands the legal profession. For more information, please visit www.LawCrossing.com.
Featured Testimonials
LawCrossing has excellent features which can be accessed very easily. The e-mail alerts are the best feature.
Brian
Facts
LawCrossing Fact #153: We peruse a variety of job sources, which means you can use our industry-specific site to search for a specific job.
Do you want a
better legal career?
Hi, I'm Harrison Barnes. I'm serious about improving Lawyers' legal careers.  My only question is, will it be yours?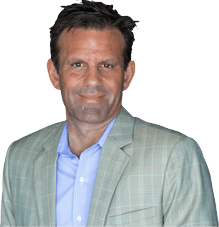 About Harrison Barnes
Harrison is the founder of BCG Attorney Search and several companies in the legal employment space that collectively gets thousands of attorneys jobs each year. Harrison is widely considered the most successful recruiter in the United States and personally places multiple attorneys most weeks. His articles on legal search and placement are read by attorneys, law students and others millions of times per year.
Success Stories
LawCrossing is fantastic! When I am looking for a job, it is the first place I come to. The service is very good and I enjoyed the emails. LawCrossing has more jobs and it is more tailored. Other sites gave a lot of irrelevant results. Your site may have a great algorithm, but it felt like an actual person choosing jobs they felt would be good based on my search. I will always recommend this site!
Why You'll Love LawCrossing
Stay Ahead. Get your weekly career digest giving you:
the latest legal jobs
legal employment news and trends
career advice and more