Support PDF,DOC,DOCX,TXT,XLS,WPD,HTM,HTML fils up to 5MB
Immigration Attorney Stacy Ehrisman-Mickle Files Complaint Against Judge J. Dan Pelletier Who Declined to Delay Hearing for Maternity Leave
by Nabeal Twereet Follow Me on Google+
(
61
votes, average:
5
out of 5)
What do you think about this article? Rate it using the stars above and let us know what you think in the comments below.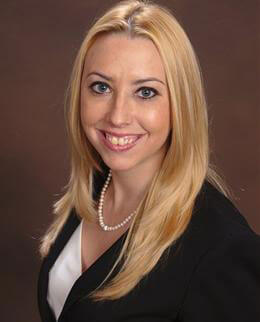 Professional Overview
Stacy M. Ehrisman-Mickle is the founder of the Ehrisman Law Firm, P.C., in Lawrenceville, Georgia. She specializes in
immigration law
and established her firm with the general goal of assisting people. Ms. Ehrisman focuses on helping families remain united in the U.S. She also fights and defends individuals who rightly belong in the country.
On September 8, 2014,
Ms. Ehrisman asked Judge J. Dan Pelletier to postpone an October 7 hearing
since she was due to give birth on September 12. Although she cited in her motion that she would be on maternity leave until October 24, Judge Pelletier declined her request on October 2. According to a copy of the order posted on The Daily Report, the judge wrote, "No good cause. Hearing date set prior to counsel accepting representation."
Ms. Ehrisman's husband was traveling for work, and she tried to put the baby in a daycare, but children under six weeks old were not accepted. Since she had no law partner who could fill in for her, Ms. Ehrisman had no choice but to bring her infant daughter to court. After Judge Pelletier reprimanded her for bringing her daughter to court, Ms. Ehrisman filed a complaint against the judge. According to the Stir, Ms. Ehrisman's complaint stated: "He scolded me for being inappropriate for bringing her. He questioned the fact that day care centers do not accept infants less than 6 weeks of age. He then questioned my mothering skills as he commented how my pediatrician must be appalled that I am exposing my daughter to so many germs in court. He humiliated me in open court."
Just for the record, Ms. Ehrisman had an appointment with her pediatrician right after court. She then asked if it was unsafe to bring her infant to court. The physician said it was all right as long as Ms. Ehrisman kept her daughter in a carrier on her chest facing her body. The doctor also recommended that nobody should touch the baby.
I asked Ms. Ehrisman if she was surprised over Judge Pelletier's ruling? "Absolutely. Even if he does have the discretion to deny a continuance request, I am still surprised he denied it based on common courtesy. This was a preliminary hearing; it wasn't a trial. To continue this case a mere 3 weeks would have prejudiced no one. His actions were unprofessional and discourteous on levels I would have never imagined."
What was her first reaction when the judge scolded her? "I couldn't believe it. I was in shock. I'm still in shock that he was so unprofessional."
The Executive Office for Immigration Review, the branch of the Department of Justice that oversees immigration courts, is handling Ms. Ehrisman's complaint against Pelletier. That office said in an email it couldn't comment on the judge's action and that a complaint had been filed and was being processed. What does Ms. Ehrisman expect the Executive Office for Immigration Review will do for her in this case? "Absolutely nothing. This judge has been abusive to female attorneys for years."
Does she feel comfortable reappearing in front of Pelletier after maternity leave? "No I don't. I'm dreading it. But I refuse to back down and I am determined to provide the best representation possible for my clients."
How does Ms. Ehrisman think judges and other legal professionals should treat women in the court room? "The exact same way they treat men. There should be no distinctions between genders, races, people of different cultures, etc."
What makes her stand out as an attorney in her field? "I care about my clients. I don't just take their money and push them out my door. If I can't help them, then I tell them. I am always honest about their chances of success."
Ms. Ehrisman grew up in South English, Iowa. She graduated with her B.A. in Political Science and International Studies, and she minored in Japanese while studying at
University of Iowa
. Ms. Ehrisman also earned her J.D. in two and half years at
University of Iowa College of Law
. "I come from a very humble background and I'm the first in my family to become a lawyer." After graduation, she lived in Madrid, Spain; Tennessee; New York; and Georgia. Ms. Ehrisman currently resides in Georgia with her husband, daughter, and their dog.
When asked about her husband, Ms. Ehrisman said, "My husband is a Marine. He is no longer active duty but is still serving in the reserves. He has served in Afghanistan, Iraq, the former Yugoslavia, Somalia as well as in several other conflicts."
Ms. Ehrisman's Memories and Motivations
Did Ms. Ehrisman receive any awards or participate in any internship that influenced her decision to go into the law? "No. I decided to go into law because I always wanted to give a voice to those who are less fortunate or who have been repressed by society."
Does she have a most memorable law school experience? "I went to New Orleans after Hurricane Katrina with the Equal Justice Foundation two years in a row during our Spring Break. We focused on recovery efforts by rebuilding and gutting houses that were damaged during the hurricane."
How long has Ms. Ehrisman been an attorney? "Since 2009. I graduated law school in Dec. 2008. I passed the bar in 2009."
Why did she decide to
become an attorney
? "I want to advocate for those who have no voice in our society."
What made Ms. Ehrisman specialize in immigration law? She asserted:
"Our country was built by immigrants. However, our immigration laws are unfair and oftentimes punish immigrants. So often, immigrants are left with the perception that they have no rights and live in fear. I fight for them and I remove that fear. The feeling I get when I prevent someone's deportation so that they can remain in the U.S. with their family is extremely rewarding."
What is the best part of her job? "I help people every single day. I never have a second thought about whether what I am doing is right or not."
What is Ms. Ehrisman known for professionally? "I do not back down in the face of a challenge. I have been litigating for the last 5 years and I will always stand my ground in court."
What is her strength and one weakness as an attorney? "My weakness is that I care too much. My strength is that I care!"
What area of the law is Ms. Ehrisman most passionate about? "Deportation defense."
If she were not a lawyer, what would she most probably be doing? "I would be a pastor."
Where does Ms. Ehrisman see herself in five years' time? "With a
successful immigration practice
and a healthy, happy family."
What motivates her to be an attorney every day? "Knowing that I have such a strong impact on peoples' lives."
How does Ms. Ehrisman want to be remembered? "As an ethical and honest attorney who would stop at nothing to do the right thing."
Pro Bono Work, Non-Profit Organizations and Ms. Ehrisman's Goals
Does Ms. Ehrisman handle pro bono work? "Yes."
Is she involved with any non-profit organizations? "My church."
Does Ms. Ehrisman have goals? "To be happy!"
Featured Testimonials
LawCrossing was definitely worth signing up. Anyone in the legal job market certainly shouldn't be without it.
Felicia F.
Facts
LawCrossing Fact #223: We offer an affiliate program through which individuals can earn money by placing links to our site on their websites. (You earn 40% of the revenue from sign-ups directed from your site.)
Success Stories

I was incredibly happy with the site. I thought it was very easy to use; had significantly more postings than any other site (or combination of sites); and provided a lot of useful information. (the number, and caliber, of job postings). Exactly what I was looking for – I have 5 years' experience and was looking for a lateral move or an in-house position, and that's exactly what I found!

Sarah E. Potter Louisville, KY