Support PDF,DOC,DOCX,TXT,XLS,WPD,HTM,HTML fils up to 5MB
Third Year Law Student Kelly Galligan Will Specialize in Mergers and Acquisitions at Rutan & Tucker
by Nabeal Twereet Follow Me on Google+
(
77
votes, average:
4.2
out of 5)
What do you think about this article? Rate it using the stars above and let us know what you think in the comments below.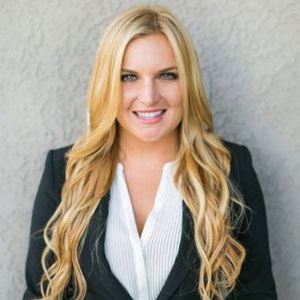 Personal Life
Kelly Lucinda Galligan    is a third year law student at University of California, Irvine School of Law and anticipates a May 2015 graduation. She recently accepted a position in the Corporate Group at Rutan& Tucker, LLP, in Costa Mesa, California. Kelly explained, "While the group has a wide array of transactional specialization, I am particularly excited to get involved in Mergers and Acquisitions. I not only want to be a talented lawyer but a strong businesswoman. I am also eager to continue providing community service and pro bono assistance."  
Click Here to Find Law Student Jobs on LawCrossing
Kelly was born in Long Beach and raised in Fullerton, California. When asked about her upbringing, she said, "I grew up in a large family. I have three siblings, two in-laws, four nieces (including two goddaughters) and one nephew. I am fortunate that we all live in Orange County and can get together often for barbeques, pool parties, and to watch the kids play sports. I am thankful to have such an encouraging and supportive family."
Kelly earned her B.A. in English from Hope International University in Fullerton, California in May 2010. She was a member of the varsity soccer team from 2006 to 2010 and varsity tennis team from 2008 to 2010. Kelly also served as a teaching assistant to Professor Natalie Hewitt from 2009 to 2010.
At University of California, Irvine School of Law, Kelly served as chair of the Student Bar Association and the American Constitution Society, and she was an Admissions Ambassador (2013 to 2014) and a community fellow (2013 to 2014). During that year, she also participated in UCI Law's Experian /
Jones Day
Moot Court competition. Kelly currently serves as a student representative on the Alumni Association Board, third year class representative, and she is an intramural soccer captain. She also participates in intramural softball, football, and she is involved with her school's production of the Vagina Monologues.  
Click Here to Find Summer Associate Jobs on LawCrossing
Has Kelly received any awards while attending law school? She noted:
"The UCI Law pro bono program offers ample public service opportunity to students, and I was eager to jump right in. As a first year, I participated in a variety of projects, including travelling to Biloxi, Mississippi, during spring break to provide legal assistance to a town still struggling from the effects of Hurricane Katrina and the BP oil spill. I completed 100 pro bono hours during that year and received an award for the most pro bono hours completed in my class.

During my second year, I worked as a legal intern at the Legal Aid Society of Orange County, assisting with general litigation and income taxation matters. I received a pro bono achievement award for completing almost 100 hours in that position.

This year, I am working in the family law division of the Public Law Center and am enjoying working with inspiring attorneys and helping low-income clients."
During the Summer of 2013, Kelly externed for Judge Deborah J. Saltzman at the U.S. Bankruptcy Court for the Central District of California. The following year, she served as a legal intern at the Legal Aid Society of Orange County. She worked under a
staff attorney in the litigation department
, where she assisted low-income clients with legal issues, including family law, landlord tenant, and income taxation matters. Kelly noted, "The best part about the position was working directly with clients. I was able to see the tangible impact of the work I was doing."
Since August 2014, Kelly has worked at UCI Law's Community and Economic Development Clinic, providing transactional legal assistance to individuals, small businesses, and non-profit organizations focused on developing the community. "What I love about this clinic is the sustainability of the assistance we provide. We provide the training and resources that allow these groups to self-maintain. My hope is that our help creates a trickle-down effect - that these groups create jobs, provide community programs, and serve other social functions."
What are her hobbies and personal interests? "I am a bit of a tomboy and love to be outside. I play soccer with the Orange County Bar Association, Young Lawyers Division and our UCI Law intramural team. I spend a lot of time with my family, because they are simply the greatest. Over the past few years I have gotten into crime fiction. Scandinavians write the most chilling fiction, in a fantastic way."
Kelly's Academic Law Career and Future Aspirations
Why did Kelly go into the law? "Initially, I was torn between applying to law school and business school. Although I am interested in finance and economics, I am fascinated with the legal side of business. After taking a few corporate law classes during my 2L year it was apparent I had found my niche."
She discussed her aims and aspirations. "I want to perform well in whatever I choose to do and I want to improve the world. First, I need to work incredibly hard and become a talented attorney. From there, I will have opportunities to help others by way of business venture or legal advocacy. As silly as it sounds, I do believe that changing the world is well within my reach."
Kelly also discussed her key strengths and skills that she would like to use to advance her career goals. "I love working with and meeting new people, and truly value relationships above all else. I am a dreamer with some pretty lofty goals, but I do not stand any chance of reaching them if I am not nice to people along the way."
Is there any particular achievement or activity that she has been involved in and which she would like to share with our readers? Kelly acknowledged:
"One of my key achievements was, generally, my tenure as Student Bar Association chair. My main goals for the year were to improve our relations with the local legal community, foster collegiality on campus, and promote equality and acceptance among students. I was working with a passionate and dedicated board and we had a productive and fun year! The position also provided great leadership and public speaking experience for me. I loved being involved in the life of such an amazing institute and have returned to student government this year as 3L Class Representative and as the student representative for the Alumni Association Board."
As for her weakness, she said, "My biggest weakness is that I am just a beginner. However, I am eager, willing work incredibly hard, and never back away from a challenge. Although I am new to the law now, I know these attributes will help me grown into a talented attorney."
Where does Kelly derive her confidence? She asserted:
"I am naturally a gregarious and confident person, but coming to law school was a humbling experience. My classmates are brilliantly impressive individuals. As a result, I have learned to work incredibly hard and to push myself every day. I take on challenging assignments, sign up for tough classes, attend networking events by myself, and introduce myself to strangers. I am constantly vulnerable to rejection, which I see as a win-win: either I succeed, or I fail and have the opportunity to grow."
Living in Sweden, Legal Role Models and Favorite Quote
Does Kelly have a most influential traveling experience? "Before beginning law school, I lived in Skåne, Sweden, for just under a year. I am a huge fan of Sweden's culture of equality and its insistence on sustainable development, and living there was an extraordinary experience."
Does she have any legal role models? Kelly stated:
"Erwin Chemerinsky is a remarkable legal role model and I am honored to have had the opportunity to learn from him. Erwin is not only teaching his students substantive law at a high level, but also the social responsibilities that come with being an attorney. He has impressed upon us a duty to have the highest legal and moral standards, and to care and give back to our community. UCI Law is a uniquely considerate, friendly, and socially conscious campus, and I attribute a lot of that to those, like Erwin, who are setting an example to all the students."
See:
Erwin Chemerinsky, the Most Influential First Amendment Scholar in the United States, Submits Amicus Brief in Support of Harrison Barnes
Click Here to View the 2015 LawCrossing Salary Survey of Lawyer Salaries in the Best Law Firms
Kelly's favorite quote is by Jerry Seinfeld: "Keep your head up in failure, and your head down in success." She said the quote resonates with her because it is a nice reminder to keep working hard and to never settle.
Looking for a law clerk job as a law student?
Click here to access law clerk openings on LawCrossing
.
Featured Testimonials
LawCrossing has so many jobs at one place. Plus, it is very easy to search for the kind you are looking for.
April
Facts
LawCrossing Fact #149: Come to our site to search for jobs on other job boards and websites; you will save yourself time and energy!