Support PDF,DOC,DOCX,TXT,XLS,WPD,HTM,HTML fils up to 5MB
Brendan Sullivan Honored as a "Constitutional Champion" for Revealing Misconduct at the U.S. Department of Justice
by Nabeal Twereet Follow Me on Google+
(
14
votes, average:
4.1
out of 5)
What do you think about this article? Rate it using the stars above and let us know what you think in the comments below.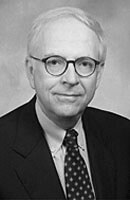 Professional Overview
On Thursday, April 24, 2014, the late Alaska senator Ted Stevens' legal team won an award as "constitutional champions" for uncovering misconduct at the United States Department of Justice. Five years after prosecutorial misconduct ruined the trial of Stevens, the Constitutional Project (a bipartisan reform group), honored Brendan Sullivan Jr., Robert Cary, as well as other attorneys from
Williams & Connolly
. According to a Legal Times article, "Ted Stevens' Defense Lawyers Honored As 'Constitutional Champions,'" Stevens' legal team earned their award for contending that prosecutors in the senator's corruption trial "fulfill their constitutional obligation to disclose exculpatory evidence."
According to the article on Legal Times, while receiving the honor, Sullivan acknowledged what happened in the Stevens case "can happen to anyone anywhere." He continued to say that federal prosecutors in the case infringed on their obligations under
Brady v. Maryland
"because they feared losing." Sullivan added, "My generation of lawyers has fought injustice to a tie." He noted that prosecutorial misconduct persists in the U.S. and it must be fought by the next generation of attorneys.
Henry Schuelke III of
Blank Rome
was assigned by the Honorable Emmet Sullivan of the U.S. District Court for the District of Columbia to conduct an investigation on what went wrong in the prosecution. His 2012 report, which included William Shields' opinion, concluded that Stevens' trial was "permeated by the systematic concealment of significant exculpatory evidence." Schuelke said the "true defender of the Constitution" in the Stevens case was Judge Sullivan who ordered the probe, condemned Stevens' conviction, and criticized the Brady violations.
I asked Mr. Sullivan how he felt about being honored as a "constitutional champion." He candidly admitted that Stevens' legal team was honored for working as a group. "It's very unusual for attorneys to win an award for working in a group. We worked hard and got great results."
Mr. Sullivan is a senior partner at the firm who has more than forty years of litigation experience in state and federal courts throughout the U.S. He is nationally recognized as one of the best-known trial lawyers in the country. Mr. Sullivan's principal areas of practice include all types of complex commercial litigation, which includes banking, RICO, antitrust, securities, and license disputes; the defense of major law firms in malpractice cases and the defense of accounting firms; will contests; products liability and mass tort; and high-profile criminal litigation. His clients include Fortune 500 companies involved in criminal investigations, litigation, government regulatory issues, or internal investigations.
In keeping with Williams & Connolly, LLP's long tradition of representing people indicted with white-collar criminal violations, one area of Mr. Sullivan's national practice continues to be the defense of individuals caught up in high-profile cases. These cases included representing former HUD Secretary Henry Cisneros and Lt. Col. Oliver North. Both involved great legal conflicts against enormous prosecutorial teams working at the direction of specially assigned "Independent Counsels" who have unlimited resources. In December 2009, a federal district court in California rejected the options backdating charges brought on Mr. Sullivan's client Dr. Henry Nicholas (co-founder of Broadcom). This case was dismissed as a result of misconduct of the government.
Other cases have involved major federal investigations and prosecutions of corporations and their senior executives in industries such as manufacturing, banking, securities, finance, finance, international trade, agriculture, food production and distribution, healthcare, and defense. A recent civil case includes the successful defense of Dick Grasso (CEO of the New York Stock Exchange), which was brought to litigation by the Attorney General of New York.
Over the years, Mr. Sullivan has been awarded with several distinctions. He holds an "AV" (pre-eminent) Martindale-Hubbell rating, which is the highest rating presented to any individual lawyer. Mr. Sullivan has been recognized as one of
The Best Lawyers in America
for more than ten years. His peers and the media have consistently recognized him as one of today's most respected trial lawyers. ABC World News named Mr. Sullivan as "Person of the Week," which praised him for how he handled six days of televised congressional hearings in the Iran-Contra matter. A
New York Times
article accredited the subsequent courtroom triumph to North's "battling lawyers."
The National Law Journal
frequently lists Mr. Sullivan as among "America's One Hundred Most Influential Lawyers" and the
Washington Post
has defined him as a "world class lawyer." In 2006, the
Legal Times
described him as "The Leading Lawyer in White Collar Criminal Defense" as chosen by the Washington D.C. legal community. The publication also listed Mr. Sullivan as the "Best Counsel Available" in D.C. and identifies him as "the leader" of the group. The
Washingtonian
magazine recognizes him as "D.C's Toughest Lawyer" and in a survey of five hundred leading attorneys in Washington, Mr. Sullivan was ranked "Number One" and was considered as "unmatched in preparation, quick-wittedness and aggressiveness." In 2009, the
Washingtonian
listed Mr. Sullivan "Number One" again. In 2010,
The National Law Journal
listed him among "The Most Influential Lawyers of the Decade" (from 2000 to 2009) in litigation.
Mr. Sullivan has been admitted to the District of Columbia and Rhode Island, the Supreme Court of the United States, the United States Courts of Appeals for the District of Columbia (Second, Third, Fourth, Sixth, and Ninth Circuits), the United States District Courts for the District of Columbia and Maryland, the United States Court of Federal Claims, and the United States Court of Appeals for the Federal Circuit.
Mr. Sullivan was born and raised in Providence, Rhode Island. He received his A.B. from Georgetown University in 1964 and earned his J.D. from
Georgetown University Law
Center in 1967. Mr. Sullivan is a fellow in the American College of Trial Lawyers, and he was awarded an honorary Doctor of Law by Georgetown University Law Center in 2011. He served on the Williams & Connolly Executive Committee for twenty-five years.
Featured Testimonials
LawCrossing is a really good job board. I have received many good interviews over the years by using LawCrossing.
Brian
Facts
LawCrossing Fact #23: LawCrossing lets you upload and save a variety of resumes and cover letters so you're prepared when that dream job is listed.