Professional Overview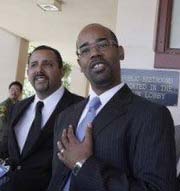 J. Christopher Smith is the founder of the Law Offices of J. Christopher Smith. Although his primary practice areas include parole advocacy and criminal defense,he has represented clients in personal injury and civil rights cases. Mr. Smith has successfully defended clients charged with bank robbery, driving under the influence, strike, allegations, petty theft, juvenile cases, narcotics sales and possession, rape, homicide and attempted homicide, and a host of other criminal matters. He has also tried numerous jury trials with exceptional results. In addition, Mr. Smith has used his negotiation and litigation skills to advocate for youth in the juvenile justice system, individuals with parole revocation concerns, and those facing probation violations.
He is well known for representing Grammy-winning singer Faith Evans, celebrity attorney Howard K. Stern (on conspiracy charges relating to Anna Nicole Smith), and -rapper T.I. and his wife. Mr. Smith also represented Giovanni Ramirez in connection with the beating of San Francisco Giants fan Bryan Stow at Dodger Stadium.
Before establishing his own practice, Mr. Smith served as a Trial Attorney with the Los Angeles County Public Defender's Office. There, he successfully represented thousands of clients charged with misdemeanor and felony offenses while managing a significant caseload. In addition, Mr. Smith is a former Southern California staff attorney with the California Parole Advocacy Program (CalPAP), which was operated by McGeorge School of Law's Institute for Administrative Justice. As an attorney with CalPAP, he supervised more than twenty attorneys defending the rights of individuals charged with violating parole. Prior to that, Mr. Smith served as an associate of a Downtown Los Angeles firm where he litigated business law, employment, and labor issues.
Want to continue reading ?
Become a subscriber to LawCrossing's Job Seeker articles.
Once you become a subscriber you will have unlimited access to all of LawCrossing Job Seeker's articles.
There is absolutely no cost!
Already a member? Login | Forgot your password