Support PDF,DOC,DOCX,TXT,XLS,WPD,HTM,HTML fils up to 5MB
Erin Guruli, Director of Career Services and Employer Relations at Paul M. Hebert Law Center
by Nabeal Twereet Follow Me on Google+
(
25
votes, average:
4.5
out of 5)
What do you think about this article? Rate it using the stars above and let us know what you think in the comments below.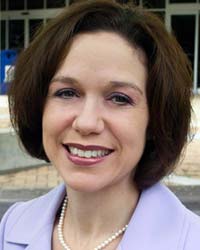 Erin Guruli has been Director of Career Services & Employer Relations at Paul M. Hebert Law Center, Louisiana State University for two years. She was born in Washington, D.C., and raised in Southern Maryland. Erin received her undergraduate degree from Tulane University and earned her J.D. from Loyola College of Law, New Orleans. She earned her LLM in Taxation from Georgetown University Law Center.
When Erin isn't working, she enjoys spending time with her children, roller-skating, indoor soccer and reading. She is an avid New Orleans Saints fan. Erin claimed, "WHO DAT!?!?!? I follow every game, every player, every season! (Although all my life my grandfather owned a Redskins retail store named after me, The House of Erin)." Her favorite restaurant is Drago's Seafood in Metairie, Louisiana. Her favorite books include Khaled Hosseini's
The Kite Runner
, Kathryn Stockett's
The Help
, and Sister Helen Prejean's
Dead Man Walking
.
Career Highlights
Does Erin have a most memorable school experience? "My most memorable school experience was receiving the CALI Award for Excellence in Advanced Federal Income Taxation (Loyola College of Law, New Orleans) - my exam grade was the highest ever in the history of my law professor's exams."
When and why did she decide to become a legal career counselor? "In 2005, I was offered a position as a legal recruiter with a national Fortune 1000 company. I am passionate about working with people and helping lawyers develop career plans and secure permanent employment."
What is the best part of Erin's job? "The best part of my job at LSU Law Center is working with students, and creating new methods to teach law students about how to identify jobs in a tough job market during challenging economic times."
What does Erin have a knack for? "I think that I have a knack for teaching students how to say the right things at the right time during interviews. I am also very skilled at cover letter and resume writing."
Erin was asked how the market has affected students' ability to obtain positions they want. She candidly stated, "In Louisiana, the market hasn't really prevented students from obtaining positions they want. Academic success remains key, and across the board, LSU Law Center's permanent employment statistics have remained high in recent years, even during difficult economic cycles."
What does Erin do to prepare students who are entering the workforce in a downward economy? "We prepare students by providing them with a variety of job search resources, as well as educate them about legal employment opportunities along a wide spectrum of industries. We also connect students to alternative legal careers, judicial clerkships, government opportunities, and careers in the military."
What advice would she give to students who are about to graduate and enter the workforce? "Professionalism and work ethic in the legal workforce will be noticed. Always submit your best work product, but remember that people around you are looking at what you do at all times. You are a professional now. Your job is to make a good judgment in every situation."
When asked what advice she would give to a student who is struggling with their coursework, Erin replied:
"I tell my students to start by meeting with their professor. Review every exam question, and understand what the correct answers should have been, and why. Read the model exam answers, and take time to understand why those answers were chosen as the best. Go back to square one and make sure you understood every issue, and why specific laws and/or case law should be applied to each of those issues."

What advice does Erin give to a student who doesn't know what career path to take after he/she graduates? She noted:
"Most law students know by graduation time what career path they are planning to take. However, for those students who still aren't sure, I always encourage them to sit for the bar exam, and then evaluate where they feel their strongest practical skills will be utilized. I always remind students that their first job won't be their last, and by gaining experience in an entry-level legal job, they are building skills and planning for their subsequent positions."

In regards to her strengths and weaknesses as a legal career counselor, Erin acknowledged:
"My strengths include being a 'people person' and my comfort in being able to communicate with and assist everyone who walks through my door. I also came to LSU Law Center with a vast national network of professional contacts that I have been able to leverage for the benefit of my law students. As a law school director of career services, my weakness is doing too much resume and cover letter writing for my students during busy times of the year!"

As a law school director of career services, what area of counseling is Erin most passionate about? "I am most passionate about interview preparation. I enjoy complimenting students about their strengths and helping them build confidence in themselves as new professionals entering the legal job market."
What motivated Erin to become a law school director of career services? "I am motivated by the desire to help new lawyers find jobs."
If she wasn't a law school director of career services, what would she most probably be doing? "Practicing law."
Where does Erin see herself in five years time? "In five years' time, I hope to be doing something larger than life for the continued benefit of LSU Law Center and the development of law students' practical legal skills and training."
Non Profit Organizations, The Downside of Her Position and Erin's Goals

Is Erin involved with any non-profit organizations? "I am a member of the New York and D.C. Bar Associations, and I am involved with the Baton Rouge Bar Association. In addition, I serve on the Louisiana State Bar Association's Diversity Committee where I have taken an active role in employer outreach projects."
Is there a downside to her position? "Like many other public law schools, we are staffed very lean and are required to operate our department on a conservative budget. Thus, each year we are only able to implement some of the new ideas that we believe will further benefit our students."
What are some of her future goals? "My professional and personal goals include advancing my career and continuing my quest for new intellectual challenges every year. I am a mother of four children, ages 4, 8, 17 and 21. I hope to be able to guide each of them toward successful careers."
Georgetown University







Featured Testimonials
I saw a large number of job listings on the site. It is the most impressive site for finding carrier options.
Mioko
Facts
LawCrossing Fact #222: LawCrossing is affiliated with the top student loan consolidation company, EdFed.