Support PDF,DOC,DOCX,TXT,XLS,WPD,HTM,HTML fils up to 5MB
( 277 votes, average: 4.2 out of 5)
What do you think about this article? Rate it using the stars above and let us know what you think in the comments below.
Personal Life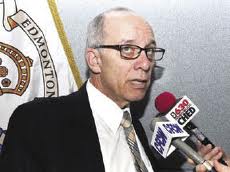 Ritch Winter works for 4Sports & Entertainment located in Edmonton, Alberta, Canada. He is the founder and former CEO of The Sports Corporation. Ritch sold the company in 2011. He has represented over three hundred National Hockey League players, which include players such as Dominik Hasek and Marian Hossa.
Ritch was born in Edmonton and raised in Drumheller, Canada. He earned his law degree from the University of Calgary. He was also a visiting student at Pepperdine University School of Law and UCLA. Ritch launched his career as a sports agent in the late 1980s in California before returning to Edmonton to establish The Sports Corporation. While residing in the Golden State, he worked with sports attorney Ted Steinberg, who represented Kareem Abdul-Jabbar and Eugene Levy as well as other prominent athletes at that time.
The sports agent is well known for his hard work at Carl Brewer's request in assisting in the restoration of a pension organization for retired NHL players such as Bobby Hull, Bobby Orr, Eddie Shack, Gordie Howe and other individuals. Ritch's assiduous work paid off and the retired players eventually received fifty million dollars from the NHL in an Ontario Court decision. Chicago's Rinkside magazine labeled Ritch as the game's "first player agent superstar."
When he isn't working, Ritch enjoys working out and spending time with his family. The devoted Mormon has five children. Ritch donates ten percent of his income to his faith and also volunteers his time there. He highly regards John Wooden and what he has accomplished for the UCLA basketball program. Ritch is a frequent visitor of Nobu, a Japanese restaurant known for its innovative new style cuisine, located in New York, NY. The businessman also enjoyed reading Daniel Kahneman's Thinking, Fast and Slow.
Ritch's Successful Sports Agent Career
Does Ritch have a most memorable law school experience? He said, "I got accepted." Ritch recalled that while other individuals applied to many law schools, he applied to only one, the University of Calgary. He enjoyed playing on the volleyball team at U of C and didn't want to go anywhere else.
Why did he decide to become an attorney? "I don't really know. I was young and I thought it was natural since other sports agents were attorneys. Earning my law degree has grounded me in the law which has been very helpful in my job."
Why did Ritch return to Edmonton to launch The Sports Corporation? "My visa expired…I am Canadian and I knew I had a wonderful opportunity to develop my hockey business in Canada rather than [develop] basketball or football in the U.S."
What is the best part of Ritch's job? "Flexibility, traveling and helping young men accomplish their goals is what I really enjoy."
Ritch discussed what he is known for professionally. "I am known for following through on what I say I will do."
When asked about his strengths and weakness as a sports agent, Ritch jokingly said, "My [strengths are my] biceps and hamstrings. As for my weakness, I don't know. I will leave that for others to decide."
What does Ritch think about the sports agent industry today? What would he change about it? "There should be some form of restriction on age at which agents can recruit players. At least until the athlete is eighteen years old in Canada and in the U.S." He believes a lot of athletes are too young to be pursued and they should enjoy the game that they are playing.
So what advice would Ritch give to individuals who want to become a sports agent? The candid agent stated, "Don't do it. There are too few clients and too much competition. There are easier ways to earn a living. It's a tough business."
If he weren't a sports agent, what would Ritch most probably be doing? "I would be running my own company in the sports or entertainment industry or I would be running my own team."
Where does he see himself in five years time? "Still siting in this chair, doing what I am doing. Hopefully, I will have had an impact on the game in a positive way in the years ahead."
Ritch noted that he is motivated to be a sports agent everyday to assist the families that he works with and to help their wives and children. Being a sports agent is a family oriented business.
How does Ritch want to be remembered? "As somebody that my children knew was there when they needed me."
Restoring Retired NHL Players Pension, Being Complemented By Chicago's Rinkside Magazine and Ritch's Mentor
Ritch worked tirelessly at Carl Brewer's request to help restore retired NHL player's pension organization. Was this one of your greatest achievements? "It was a significant achievement. I remember Carl sending me a paper which showed me what each player received. Knowing how much many of them needed the money made it one of the most satisfying things I have ever done."
Chicago's Rinkside magazine once referred to Ritch as the game's "first player agent superstar." How does it feel to be regarded this way? "I never gave it much thought. I don't get wrapped up in praise or criticism because neither one is generally accurate."
Does Ritch have a mentor? He acknowledged that sports attorney Ted Steinberg is his mentor.
The NHL Lockout, Should Violence Be a Big Part of the Game, The Future of the NHL and Ritch's Goals
Why was there a lockout this year? Ritch claimed, "Because the owners had leverage and they used their leverage for concessions. They got what they came for. They were right to expect it given the leverage we had. Hopefully we will turn the tide on them next time around."
Violence has been a big part of the game. What does Ritch think about fighting in the NHL? Does he think the game needs more goons like the Hanson brothers from the film Slap Shot? "No. I don't think fighting is necessary in the game unless you are protecting your teammates. I wouldn't completely ban it, but I would considerably reduce fighting by increasing penalties for staged fighting."
Where does Ritch see the NHL in five years? The sports agent believes that the NHL will expand from thirty franchised member clubs to about thirty-six or forty-two teams. Ritch explained that there would be six professional teams scattered throughout Western Europe. He envisions the NHL as a second global professional sport. Ritch asserted, "Just like [that] of soccer, and unlike the American football or basketball, the NHL has that type of potential."
Does Ritch have a favorite player he enjoys watching? Although he doesn't represent Pavel Datsyuk, Ritch said he enjoys watching Pavel. "He works just as hard as anybody else. He's amazing. He doesn't have the physical attributes to being considered a player, but he's a superstar because he worked so hard at it."
Is there an athlete that he is currently representing who he believes is the next rising star? "It's too early to tell." Ritch pointed out that Dominik Hasek is the best player he has represented. He has a picture of the goaltender posted on his office wall. The sports agent stated, "My players ask me, 'when will you post my picture on the wall?' I tell them when you become a two-time NHL MVP like Dominik, I will then post your picture on my wall and take Dom's picture home."
Does the Canadian have goals? "I want to be a good father, husband and friend. And I want to represent my players at a high level. To contribute in some way to them achieving their goals. That would be good."
University of Calgary







Featured Testimonials
I like LawCrossing as it is informative and educative at the same time.
Christina
Facts
LawCrossing Fact #127: Don't be caught off guard by getting stuck in a rut. Our experts tell you every week what the latest trends are in every job sector.
Success Stories

LawCrossing is fantastic! When I am looking for a job, it is the first place I come to. The service is very good and I enjoyed the emails. LawCrossing has more jobs and it is more tailored. Other sites gave a lot of irrelevant results. Your site may have a great algorithm, but it felt like an actual person choosing jobs they felt would be good based on my search. I will always recommend this site!