Support PDF,DOC,DOCX,TXT,XLS,WPD,HTM,HTML fils up to 5MB
Is This Right Law School For You? Deciding Factors
by Harrison Barnes, Managing Director - BCG Attorney Search

(
3
votes, average:
4.3
out of 5)
What do you think about this article? Rate it using the stars above and let us know what you think in the comments below.
For aspiring law students the first thing to do is to really understand what law school is all about, its pluses and minuses, its pros and cons and then make an informed decision, based on your own findings and not because someone else told you that it makes for a great career, whether you really want to pursue it. If the answer is confirmative and you decide that it is your career aspiration, you must pursue the tasks of selecting and getting accepted into the right law school for you.
Your journey to law school commences with your decision to join one and now you must decide where to apply – it will be one of the most important and vital decisions you will make, so give it a lot of thought. Don't only opt for a school's reputation and ranking, for while they may be extremely significant components of your decision making process, they must not be the only things that you consider.
Selecting which law school to attend is one of the few facets of the law school admissions process over which you have control. As a prospective law student, you have the opportunity to evaluate law schools on the basis of factors you consider important. To assist you in the evaluation process, we will list and discuss various factors you may wish to consider.
Once you have selected which law school to attend, the more difficult task to accomplish is getting admitted into that law school. Law school admission officers will be evaluating you in terms of the factors they consider important. To provide additional insight into this process, we will list and discuss some of those law school policy factors as well.
Introduction.
To practice law in most states, you must present evidence of graduation from an ABA-approved law school, pass the state's bar examination, and demonstrate high ethical standards. The ABA (American Bar Association), a national association for lawyers, has as one of its primary functions the accreditation of law schools. Accreditation is earned by evidencing a quality program of legal study. Attending an accredited law school increases a student's chances of access into the legal profession, starting with a higher likelihood of passing a state's bar exam. There are, however, around 202 ABA-approved law schools in the U.S. How do you, a prospective student, go about selecting the "right" law school for you?
Location:
If you have decided to go to the top ten schools, then obviously the choice of location is out and you will have to locate yourself where the schools are. However, if you do attach importance to the location of the law school, than you should try to aim for a school that is in the area where you intend to pursue a career following law school. This will open up job opportunities and help you develop contacts in the area that could become instrumental in helping you finding a job. What is the point of studying in Boston and developing contacts there and then practice in Chicago – your contacts in Boston will be a little help.
The Official Guide to U.S. Law Schools.
To assist you in your quest, Law Services in Newton, Pennsylvania publishes and updates annually, The Official Guide to U.S. Law Schools This single volume guide-available from Law Services, your prelaw advisor, most bookstores, and various libraries-profiles in detail and in alphabetical order all ABA-approved U.S. law schools. Many schools furnish The Official Guide with G.P.A./LSAT score indexes that list the number of acceptances compared to applicants, on the basis of various G.P.A.s and LSAT scores.
This guide should prove useful in helping you to select which law schools interest you and, on the basis of various law schools' G.P.A./LSAT indexes, where your chances for admission appear to be greatest.
Admission Councils And Services:
Law Services consists of the Law School Admissions Council (LSAC), the Law School Admissions Services (LSAS), and the Law School Data Assembly Service (LSDAS).The LSAC's purpose is to supervise law school admission procedures. LSAC also sponsors the LSAT exam and provides information services to law schools and to prospective law students, as well as publishing various guides, including The Official Guide to U.S. Law Schools.
The LSAS, a nonprofit corporation, is the business division of LSAC. LSAS's purposes include sponsoring LSAC services to member schools, and operating the Candidate Referral Service (CRS) that matches law applicants, primarily minorities, with appropriate law schools. In addition, Law Services administers Law Access, a program that provides assistance to law students who require educational loans.
The LSDAS is a service that summarizes important data, including basic back-ground information, furnished by law school applicants. As part of registering with the LSDAS, you must complete and submit forms that require such basic biographical data as date of birth, colleges attended as well as graduation date(s) or expected graduation date(s). In addition, you must request from each college attended, including graduate schools, original copies of all transcripts to send to LSDAS.
LSDAS analyzes the undergraduate transcript(s), makes adjustments based on such factors as the college(s) you attended (some are considered easier than others) and your under-graduate major and comes up with a summary of your undergraduate performance that can easily be compared with summaries of students who graduated from other colleges. LSDAS then forwards a copy of this summary, copies of your transcripts, LSAT results, and the Writing Sample to law schools designated by you. Although graduate transcripts are not considered in calculating the G.P.A./LSAT index, if LSDAS has those transcripts prior to summarization of undergraduate work, it will forward copies to the appropriate law schools.
The LSDAS subscription fee, based on the number of schools designated by you, is effective for one year but can be renewed by paying another fee.
It is recommended that you register with LSDAS at the same time you register to take the LSAT exam and that you select a date for initial registration with LSDAS that coincides with the year in which you will be submitting your law school applications to avoid payment of a second fee.
Law School Catalogs:
All law schools are not created equal! Each is unique with its own idiosyncrasies. Therefore, you should consult law school catalogs as to requirements, course offerings, and other relevant information. See if your college library or prelaw advisor has the specific law catalog(s) you desire or use. The catalogs you obtain will provide invaluable information as to the law school's admission requirements, course offerings (required and elective), course descriptions, student organizations and activities, application fees, tuition and fees, professors' backgrounds, possible joint programs, clinical programs, moot court competition, law review, financial aid availability, law school facilities, special programs and much more.
With respect to law school catalogs, we offer two warnings. First, they are prepared by the law schools themselves as an advertisement to attract students, so read them cautiously and carefully. Second, just because an elective appears in the catalog does not imply that it is offered on a yearly basis. It may be offered only every few years or as demand dictates. Therefore, do not base your choice of a law school on the offering of one course or even a series of courses unless you can be assured of their permanence. If there is something in the catalog you do not understand, ask. It is far better to be inquisitive from the outset and strive to be fully informed than to get into law school and be unpleasantly surprised.
Application Fees:
In applying for admission to law school, prospective students must pay an application fee that is normally nonrefundable, and that, depending on the number of schools of interest, can add up rapidly. Therefore, it is recommended that you emphasize application efforts to schools where your G.P.A./LSAT index matches the school's profile to maximize the likelihood of acceptance into at least one school.
Tuition and Fees:
Although tuition and fees vary widely from school to school, it is virtually certain that students will pay more in tuition and fees at the national schools than at state schools. However, opportunities for employment upon graduation from a nationally recognized law school will probably more than compensate for the difference.
Some generalizations can be made with respect to tuition and fees. State law schools normally charge state residents lower rates than nonresidents and private schools are normally more expensive than public schools. However, there are exceptions; some private schools may charge less than public schools, even for nonresidents, so check around.
Your choice of law school is the first official act of your professional career. Take plenty of time to fully investigate each potential school. It is especially important that you do not eliminate schools based solely upon their tuition cost. In fact, some of the schools that charge lower tuition and fees may turn out to be more expensive because they provide fewer scholarships, grants, and other funds.
Remember it is a choice that you are going to have to live with for three years or more, so be very careful and judicious.
About LawCrossing
LawCrossing has received tens of thousands of attorneys
jobs and has been the leading legal job board in the United States for almost two decades. LawCrossing helps attorneys dramatically improve their careers by locating every legal job opening in the market. Unlike other job sites, LawCrossing consolidates every job in the legal market and posts jobs regardless of whether or not an employer is paying. LawCrossing takes your legal career seriously and understands the legal profession. For more information, please visit www.LawCrossing.com.
American Bar Association (ABA)







Featured Testimonials
I really enjoyed using LawCrossing and the best part about it is the fact that one can search for a job locationwise.
John
Facts
LawCrossing Fact #140: Add our site to your "favorites" list and check back daily for updates!
Harrison Barnes does a weekly free webinar with live Q&A for attorneys and law students each Wednesday at 10:00 am PST. You can attend anonymously and ask questions about your career, this article, or any other legal career-related topics. You can sign up for the weekly webinar here: Register on Zoom
Harrison also does a weekly free webinar with live Q&A for law firms, companies, and others who hire attorneys each Wednesday at 10:00 am PST. You can sign up for the weekly webinar here: Register on Zoom
You can browse a list of past webinars here: Webinar Replays
You can also listen to Harrison Barnes Podcasts here: Attorney Career Advice Podcasts
You can also read Harrison Barnes' articles and books here: Harrison's Perspectives
Harrison Barnes is the legal profession's mentor and may be the only person in your legal career who will tell you why you are not reaching your full potential and what you really need to do to grow as an attorney--regardless of how much it hurts. If you prefer truth to stagnation, growth to comfort, and actionable ideas instead of fluffy concepts, you and Harrison will get along just fine. If, however, you want to stay where you are, talk about your past successes, and feel comfortable, Harrison is not for you.
Truly great mentors are like parents, doctors, therapists, spiritual figures, and others because in order to help you they need to expose you to pain and expose your weaknesses. But suppose you act on the advice and pain created by a mentor. In that case, you will become better: a better attorney, better employees, a better boss, know where you are going, and appreciate where you have been--you will hopefully also become a happier and better person. As you learn from Harrison, he hopes he will become your mentor.
To read more career and life advice articles visit Harrison's personal blog.
Do you want a
better legal career?
Hi, I'm Harrison Barnes. I'm serious about improving Lawyers' legal careers.  My only question is, will it be yours?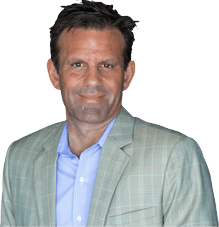 About Harrison Barnes
Harrison is the founder of BCG Attorney Search and several companies in the legal employment space that collectively gets thousands of attorneys jobs each year. Harrison is widely considered the most successful recruiter in the United States and personally places multiple attorneys most weeks. His articles on legal search and placement are read by attorneys, law students and others millions of times per year.
Success Stories
Out of all the other job boards I have used, LawCrossing was definitely the most impressive. I have received many job interviews from jobs I applied to on your site.
Mark Herskovitz Los Angeles, CA
Why You'll Love LawCrossing
Stay Ahead. Get your weekly career digest giving you:
the latest legal jobs
legal employment news and trends
career advice and more