Support PDF,DOC,DOCX,TXT,XLS,WPD,HTM,HTML fils up to 5MB
Founded in 1973, The Vermont Law School (VLS) is a private law school located in the South Royalton village of Royalton, Vermont. The school is recognized by the American Bar Association and proudly runs the leading Environmental Law programs in USA. In fact the Vermont Law School (VLS) is the top law school in the field of environmental studies and has been named the No. 1 Law School in Environmental Law by the US News and World Report. In fact The
National Jurist
named VLS one of the best law schools for women as well.
In the last few years, the Vermont Law School (VLS) has continued to gain such accolades. Since the rankings began way back in 1991, the school has never been ranked below the second position. In 2007 Vermont Law School (VLS) was ranked the No. 1 Law School and in 2008 was on the No. 2 position.
Academics
The Vermont Law School (VLS) runs special academic programs in close partnership and inter-departmental collaboration with a host of other American and thereon International Universities in order to build up particular dual degree programs for qualified students.
Vermont Law School (VLS) Dual Degrees partnered with other American Law Schools include:
University of Vermont Rubenstein School of Natural Resources (MELP/Master of Science in Natural Resources)
Thunderbird School of Global Management (JD/Masters of Business Administration) University of South Carolina (MELP/JD), University of South Dakota (MELP/JD), and Northeastern University School of Law (MELP/JD).
Vermont Law School (VLS) Dual Degrees partnered with International Law Schools include:
University of Cambridge (JD/master of philosophy)
University of Cergy-Pontoise (France), and University of Seville (Spain)
Programs in Academia and Degrees Offered
The Vermont Law School (VLS) offers several kinds of legal degrees and courses including,
Juris Doctor (JD)
Master of Laws (LL.M) in Environmental Law
Master of Environmental Law and Policy (MELP) (previously known as Master of Studies in Environmental Law (MSEL))
Along with the Juris Doctor (JD) some of the other degrees and joint degrees that the university offers to qualified students are:
Master of Laws (LL.M) in American Legal Studies,
Joint JD/MELP
In addition to these the Vermont Law School (VLS) also offers dual degrees in collaboration with varied institutions and organizations like:
The University of Cambridge
The Yale University School of Forestry and Environmental Studies (JD/Master of Environmental Management)
The Tuck School of Business at Dartmouth (MELP/Master of Business Administration)
Environmental Law Center
Since its establishment in 1978, the Environmental Law Center has been at the top of its league in terms of training people on Environmental Law. Students will find focused research institutes, specialized programs, and the Environmental and Natural Resources Law Clinic. The ELC responds to crucial issues such as sustainable development, global warming, environmental, energy law, and policy. Our clinic participants litigate real-world cases in these fields, and our world-renowned Summer Session provides a unique opportunity for students, faculty, scientists, and policy makers to meet and discuss the latest environmental developments.
International and Comparative Law Programs offer an exciting range of opportunities for students through partnerships with leading universities in England, Italy, Spain and China for example. It offers numerous options like opportunities to study abroad, conferences, guest lectures, research projects, and so on.
The Vermont Law School also offers Clinical and Experimental Programs, General Practice Programs, Legal Writing Programs, and so on.
The special student body publications at VLS
At the Vermont Law School (VLS) in every academic year the students publish two specific legal journals. These two are the VERMONT LAW REVIEW and the VERMONT JOURNAL OF ENVIRONMENTAL LAW. Both the journals are published on a regular basis in print form and online.
Other than that the two legal journals sponsor the annual symposia at the school on a collaborative basis as well.
Learn the 10 Factors That Matter to Big Firms More Than Where You Went to Law School
Vermont Law School







Featured Testimonials
I like the services provided by LawCrossin, but the E-mail alert function is the best.
Thomas
Facts
LawCrossing Fact #232: We aggressively contact employers to learn of new positions.
Location
Philadelphia, PA
Description
Corporate Attorney - Senior Attorney - Environmental and Transactional Law The candidate will provi...
Location
Sherman Oaks, CA
Description
Mid-level Associate Corporate transactional Attorney The candidate should be graduated from a top l...
Description
Director, Center For Public Service Law Duties: Educate and counsel students and alumni on career o...
NOW TRENDING ON BCG ATTORNEY SEARCH
MOST POPULAR ARTICLES
Testimonial of the Week

I was able to obtain my new job through LawCrossing. I love your service! Hopefully, I won't need your help for a while, but if I do, I'll certainly sign up again. I have already told others about your great site.

Top Actively Interviewing Jobs
Atlanta, GA
Elekta is looking for an Associate Counsel to join our team! The selected candidate will be involved in many practice...
Employer: Elekta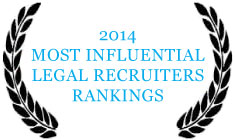 Job Search Tip
Know what you're worth in the market. Do your research. Then shoot for 10 to 20 percent more.