Support PDF,DOC,DOCX,TXT,XLS,WPD,HTM,HTML fils up to 5MB
Many Law Schools like Chapman University in Orange, California have their own online resource that helps students locate jobs available in the area during their school year and upon graduation. Your Law School may have the same resources for students during law school years. There will be some restrictions regarding the hours a student can work. The ABA restricts students who are taking full-time class loads to only 20 work hours per week during the school year. What is a full-time student? According to the ABA a full-time student has classes, research and study time that requires all the working hours to be appropriated to legal studies.
Click Here to Find Law Student Jobs on LawCrossing
First Year Students: Due to the ABA limitations on student employment, the Chapman Law School encourages first year students who are full-time not take on any employment. Academic demand in the first year of Law School does not allow any time for employment outside of classes and homework. The first year in Law School is an adjustment period for the students. Grades are important in job placement and students need to do their best in the first year. It is the summer after the second year in Law School that employers look at the first year grades when choosing summer help at the law firms.
After completing the first year of Law School, students generally have the pace of school figured out and feel they may be better able to handle part-time work in the second year. Students first work for the money but they also can accomplish resume building experience. For instance, a student may be a clerk for a law firm and earn $10 to $15 per hour in larger cities. After studies in many legal areas students finally get the opportunity to gain some lawyering skills.
Click Here to Find Summer Associate Jobs on LawCrossing
As a law clerk a law student might be asked to perform the following duties:
Draft complaints,
Create discovery requests and respond to requests received.
Do legal research.
Sometimes go to court and docket legal paper work.
Part-Time Employment Off-Campus: The Chapman School of Law compiles a database of part-time opportunities for law students during the second and third year in Law School. Students can easily review the listings for potential work. Most Law Schools will have these types of listings for their students.
In conclusion, to be assured the Law School years go well and tuition and living expenses get paid; a job might be just the ticket. However, there are restrictions from the American Bar Association about the number of hours a law student can work if taking full-time classes. The first year of Law School the ABA says it will not be efficient to carry a job due to the demand of classes. In the 2
nd
and 3
rd
year the ABA lightens up and allows full-time students to work 20 hours a week. These are the guidelines from the ABA. Plan to take extra student loan amounts or scholarships the first year. Do well in Law School.
Click Here to View the 2015 LawCrossing Salary Survey of Lawyer Salaries in the Best Law Firms
Featured Testimonials
I got a job using LawCrossing...and the listings were pretty updated and very comprehensive.
Marc
Facts
LawCrossing Fact #134: We improve our customers' lives. Come read the literally hundreds of testimonials from satisfied job seekers!
Location
Beverly Hills, CA
Description
Law Clerk The candidate will legal Document Drafting Legal Research Collection of Evidentiary Mater...
Description
Unpaid Entertainment Law Internship Intern will provide administrative and paralegal support to ent...
Description
Public Interest Law Internship The candidate will complete research and writing assignments, assist...
NOW TRENDING ON BCG ATTORNEY SEARCH
MOST POPULAR ARTICLES
Testimonial of the Week

LawCrossing has the most listings of any job board I have used. It's actually a great site. The website had a lot of detail. It's nice that you don't have to go through a recruiter if you don't want to. You can actually contact the law firm directly for the positions listed. LawCrossing had a ton of great features.

Brian McMillan San Francisco, CA
Top Actively Interviewing Jobs
Construction Litigation Associate
San Antonio, TX
Our client is a boutique construction law firm headquartered in San Antonio, Texas.  The firm handles transactional and...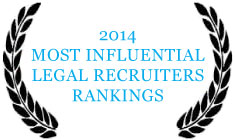 Job Search Tip
Unemployed and want to take a month or two off? Don't do it! The longer you're out of the job market, the harder it is to find.