Support PDF,DOC,DOCX,TXT,XLS,WPD,HTM,HTML fils up to 5MB
How to Become a Bail Bondsman in South Carolina
by Silas Reed
Because of such popular bounty hunter shows, many people are becoming interested in
how to become a bail bondsman
in South Carolina. The bail bondsman gives the bail money and the bounty hunter will go after the person if he or she skipped out on bail or failed to show up on their court date. Basically, the bondsman acts like an insurance agent for the people who find themselves in bad situations.
Every state works in a different way and the requirements for becoming a bail bondsman or a bounty hunter will be different. Generally though, there is a multi-step process that a person will have to go through no matter what state they are in. In the state of South Carolina, you are required to take a sixty-hour educational course. This sixty-hour course is done at an education center or institution approved by the state. If you are going to become a surety bondsman then you are going to actually become a licensed insurance agent, which means that you are going to need more hours than someone going to become a runner bondsman.
Once you have filled all of the educational requirements that are needed in order to officially and legally be able to help people with bail, you will need to select the county that you want to work in. When you select a county, it will be your territory for writing bail bonds. You will have to pay the required fees for that particular county that you have decided to work in. Within the state of South Carolina you can decide to work in a few different counties, but you will have to pay $150 per year to each county that you want to have the ability to write bail bonds in.
While in a lot of careers going through the educational and licensing process is the hardest part, this is not the case when someone wants to write bail bonds for a living. Because this is a business and because there is a lot on the line, you will have to put up collateral in order to write bail bonds. The minimum amount that you can put up as collateral is $10,000. Once you have pledged you are able to write bail for up to four times the amount that your collateral was. For example, if you placed $20,000 as collateral you will be able to write bail bonds up to the amount of $80,000.
The more money you are able to put up as collateral the more you will be able to write in bail money. But before you can even begin you will have to pay an additional $400 to the Department of Insurance in South Carolina. This must be done before you can legally and officially begin writing bail bonds for people. While it may seem like a lot to go through, working as a bail bondsman can be a personally rewarding and financially incredible career. If you want to work in a profession that allows you to call the shots and work for yourself then this is the right career path for you.
Simply make sure that you are getting in all of the education that is required and that you are paying all of the licenses fees that are required for your state and the counties that you are going to be working in. Even if you start out with just the minimum amount for collateral you can eventually work on getting more. The more you have in as collateral the more you will be able to write and the more successful you will be over all. It is certainly a career that is worth the time and money put up.
Featured Testimonials
Once I figured out how to use the website, I have found it to be terrific and useful.
D.D.
Facts
LawCrossing Fact #224: Your privacy is always guaranteed.
Description
VP, Deputy General Counsel Duties: Oversees litigation, securities, intellectual property and marke...
Description
Licensing & Credentialing Specialist The candidate should have secure proper licensure for each fac...
Description
Compliance Attorney The candidate will review legislation, ensure proper implementation of procedur...
Description
Claims Consultant The candidate: Makes timely and appropriate contacts and completes appropriate le...
NOW TRENDING ON BCG ATTORNEY SEARCH
MOST POPULAR ARTICLES
Testimonial of the Week

LawCrossing has the most listings of any job board I have used. It's actually a great site. The website had a lot of detail. It's nice that you don't have to go through a recruiter if you don't want to. You can actually contact the law firm directly for the positions listed. LawCrossing had a ton of great features.

Brian McMillan San Francisco, CA
Top Actively Interviewing Jobs
Denver, CO
Hall Prangle & Schoonveld is a national trial defense law firm. We are seeking candidates for an Associate position in t...
Employer: Hall Prangle and Schoonveld LLC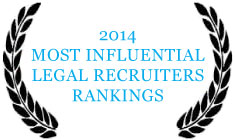 Job Search Tip
Ask for more than you think you can get. Then there's room to negotiate. And be prepared to settle for what they counteroffer. Successful negotiation is about giving as well as getting.