Support PDF,DOC,DOCX,TXT,XLS,WPD,HTM,HTML fils up to 5MB
How to Become a Superior Court Judge
by Silas Reed
While rising to this rank is something that is going to be a hard thing to do, it can be done. With amazing skills and dedication you can become the superior court judge that you have always wanted to be. The thing is, though, that many others also want that same legal title. Because there are so many people out there who simply cannot be just an attorney for the rest of their working career, there are many people fighting for these positions. Since these positions are limited, it is important to understand just how crucial it is that you stick to your guns and work to become the best in your field.
In order to make sure that you even have a shot at becoming a superior court judge, you have to make sure that you are completing several steps. The first thing is to make sure you have your legal education from law school and that you have obtained your Juris Doctorate. While in school, you want to make sure that you graduate with honors. This is extremely important in order to have a chance of obtaining such a high court position.
Before you even attempt to become a superior court judge you will need to practice as an active attorney for about ten to fifteen years. Even though this may seem like a long time, the experience is needed if you want to even be looked at as a possible candidate for the superior court position. You have to show that you have mastered the legal system and that you have learned just about everything that there is to learn during your time as an attorney.
While working on gaining all of the legal experience that you can while working as an attorney, you will want to make sure that you are familiar with the other court judges that you would be working with if you got into your dream position. Try to make as many high-level legal friends as possible. It is also vital to make sure that you are up to date on all of the latest decisions and changes of law.
When you are ready to become a judge, it would be pretty much impossible to simply apply for a superior judge position and get it right off the bat. Generally, you must apply and receive a position of judge in your local court system. By getting that type of court judge position you will gain the additional experience and knowledge you need in order to be successful, fair, and to be a consideration for a higher level of judgeship.
While acting as judge you will need to make sure that you are keeping an immaculate record and that you are networking as much as possible. Keeping in touch and on good terms with high political figures and committees is a good way to ensure that you will be able to advance in your legal career. Once you have served at least five years of judgeship, you can submit your name for consideration of superior court judgeship. But it does not stop there.
Once your name has been submitted you have to wait for a seat to open and then you can announce that you are a candidate. Make sure that you have a promising campaign manager so that your campaign is run smoothly and successfully. With your campaign focusing on how well you have done within the legal system you should have no problem winning the votes of enough people to gain yourself that court position.
Featured Testimonials
At LawCrossing I got the job that I always dreamt of. I am extremely grateful to LawCrossing.
Erica
Facts
LawCrossing Fact #140: Add our site to your "favorites" list and check back daily for updates!
Description
Administrative Municipal Court Judge The candidate will provide management of the Municipal Court, ...
Description
Instructor, Paralegal Studies (Spring 2018) Duties: Strive for continual improvement of student suc...
Location
Mission Viejo, CA
Description
Paralegal Instructor Duties: Instruct classes as assigned. Participate in general faculty functions...
NOW TRENDING ON BCG ATTORNEY SEARCH
MOST POPULAR ARTICLES
Testimonial of the Week

I came back to LawCrossing to search through the listings in my new job search because I had been able to get my last 2 jobs through using the site. I love the search capacity and filters. This is a very valuable service.

Jennifer Guidea Bloomfield, NJ
Top Actively Interviewing Jobs
Denver, CO
Hall Prangle & Schoonveld is a national trial defense law firm. We are seeking candidates for an Associate position in t...
Employer: Hall Prangle and Schoonveld LLC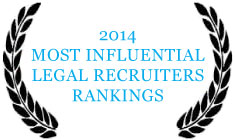 Job Search Tip
Rejection is tough, but don't take it personally. Detach. It's just business. After each rejection, evaluate why. Then figure out what you can do in the future to avoid the same thing happening again.