Support PDF,DOC,DOCX,TXT,XLS,WPD,HTM,HTML fils up to 5MB
Taking the Bar Exam: How to Prepare in Advance for the Big Test!
by Harrison Barnes, Managing Director - BCG Attorney Search

(
108
votes, average:
4.2
out of 5)
What do you think about this article? Rate it using the stars above and let us know what you think in the comments below.
The preceding is usually the cause for much stress and anxiety for nearly every law student and graduate. However, if you take the time to study and prepare just as you did in law school, you can do just as well on the Bar.
Read on to learn about the steps that you can take before the big exam to help you to ace your Bar!
Take a Bar Review Course (or Courses)
How better to learn about what to expect from the BAR than to take a class that is dedicated to teaching only that? These courses are specially designed to give you insight as to what's on the exam, studying tips, and much more. Some choose to avoid these courses due to the costs associated with them. However, if you find a course offered from your school or other reputable site, take advantage of it! After all, it may cost money now, but having to take the Bar multiple times will also cost you big!
Start Studying ATLEAST Six Months Before
Ideally, when scheduling your Bar Exam date, you should allow for at least six months to a year of studying time. This exam is NOT something to take lightly, or to just try and ''wing''. If you have the financial resources, consider taking this amount of time off from work, or consider working only part-time. After all, studying for the Bar should be a
full-time job
in itself! If not working for this amount of time is not feasible, try working some kind of leave arrangement out with your employer that will allow for you to take work off a minimum of six weeks before the Bar to allow you to cram!
Make a Schedule
Some days, it can be difficult to ''make'' yourself study, or to stay on task. Consider writing up a schedule for yourself. This schedule should consist of the length of time you will dedicate to studying, as well as the topics that you will be studying, to ensure that you cover it all. Another benefit to making a schedule is that it will allow you to make the best use of your studying time if you cannot take six months to a year off of work to do so.
Focus on the Material Covered
When setting a schedule, and when you are actually studying, set a goal to cover a specific amount of material and questions each day. Sometimes if you just merely set a specific time to study, you don't get as much out of your studying sessions as you would when setting a goal of specific material to cover. Focusing on this will also allow you to get an idea for how long it takes you to answer certain questions, and will help you to manage your time accordingly on the big day.
Take Advantage of ALL Studying Opportunities
Obviously, your entire life cannot consist of sitting at home and cramming for the Bar. You will have other appointments and commitments during this time as well. However, be prepared to take advantage of any ''down time'' that you have during these other commitments. For example, make an audio CD or tape to help you study (or find some that are professionally made for this purpose) and listen to them while you drive or commute places. Or, consider taking some flashcards or a small book of questions with you where ever you go. This will give you some study time when you find yourself waiting in the doctor's office!
Be Break-Savvy
While it is very important to discipline yourself and stick to your set schedule, remember, it is also just as important to understand when to give yourself a break. Break five to 20 minutes every so often, perhaps after each question, depending on how complex the subject is. Avoiding breaks can actually hurt your studying efforts, no matter how hard you study. Allowing yourself enough break time to grab a snack, return a phone call, etc. will actually allow your mind time to process what you've learned, and rejuvenate mentally so that you can go back and continue productively studying.
CLICK HERE TO SEARCH JOBS IN OTHER STATES!
About LawCrossing
LawCrossing has received tens of thousands of attorneys
jobs and has been the leading legal job board in the United States for almost two decades. LawCrossing helps attorneys dramatically improve their careers by locating every legal job opening in the market. Unlike other job sites, LawCrossing consolidates every job in the legal market and posts jobs regardless of whether or not an employer is paying. LawCrossing takes your legal career seriously and understands the legal profession. For more information, please visit www.LawCrossing.com.
Featured Testimonials
The site was great! It\'s very functional and it is certainly a great resource.
Tonie
Facts
LawCrossing Fact #120: Our parent company belongs to the most exclusive club of companies -- successful companies doing good for others!
Do you want a
better legal career?
Hi, I'm Harrison Barnes. I'm serious about improving Lawyers' legal careers.  My only question is, will it be yours?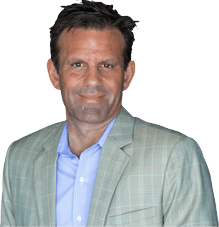 About Harrison Barnes
Harrison is the founder of BCG Attorney Search and several companies in the legal employment space that collectively gets thousands of attorneys jobs each year. Harrison is widely considered the most successful recruiter in the United States and personally places multiple attorneys most weeks. His articles on legal search and placement are read by attorneys, law students and others millions of times per year.
Success Stories
I was incredibly happy with the site. I thought it was very easy to use; had significantly more postings than any other site (or combination of sites); and provided a lot of useful information. (the number, and caliber, of job postings). Exactly what I was looking for – I have 5 years' experience and was looking for a lateral move or an in-house position, and that's exactly what I found!
Sarah E. Potter Louisville, KY
Why You'll Love LawCrossing
Stay Ahead. Get your weekly career digest giving you:
the latest legal jobs
legal employment news and trends
career advice and more