Support PDF,DOC,DOCX,TXT,XLS,WPD,HTM,HTML fils up to 5MB
Choosing a Career as a Telecommunication Attorney
by Harrison Barnes, Managing Director - BCG Attorney Search

(
39
votes, average:
3.9
out of 5)
What do you think about this article? Rate it using the stars above and let us know what you think in the comments below.
Duties and Responsibilities
Telecommunication jobs cut across various sectors of the telecommunication industry. In a law firm, telecommunication jobs and responsibilities are divided into various segments. An attorney will thus be assigned to a duty according to his/her level of experience. The overall manager, who might be a partner in the law firm, is tasked with the job of developing the overall company policy.
A telecommunications associate is tasked with the duty of representing telecommunications companies before the regulatory federal communications commission. He/she is supposed to give legal advice to various companies operating in the telecommunications industry on issues such as regulatory laws, contracts, transactions, and litigation.
A telecommunication associate is supposed to do research on legal laws, and the federal laws that directly affect the telecommunications industry. He is also supposed to prepare legal briefs on various cases that he is representing at the federal communications commission.
Telecommunication attorney jobs
require the attorney to give legal advice to his/her clients. A telecommunication attorney has to constantly update himself of the various changes, for example amendments in telecommunication regulatory laws. They may be involved in preparing constituting documents for telecommunications companies in compliance with the rules and regulations of the federal communications commission. The telecommunication industry has various segments. There are specific companies dealing with cellular phones, while others provide broadband internet access. The broadband internet access is enabled by the provision of a modem that enables you to easily access internet services at any location that you might be in.
Education Requirements
To work in any
telecommunication attorney jobs
you have to have an undergraduate degree in law. The undergraduate degree in law takes a maximum of four years. After this you proceed to a law school for a further three years.
Law firms that offer telecommunication attorney jobs normally set their own standards of admission. As a graduate a telecommunication attorney, you have to work under more experienced lawyers for a considerable period of time. There are various regulatory exams that one has to successfully pass to practice.
In the telecommunications industry, technologies change frequently. It is therefore imperative for the telecommunication attorney to have adequate knowledge of a product. For example, if it is a modem, you have to analyze its function, its advantages and disadvantages. An in house telecommunication attorney is supposed to come up with an in house regulatory frame work. This will ensure that the company complies with the various legislative requirements. It will also minimize the chances of the company going through a multiplicity of suits that it might have otherwise avoided.
Work Environment
Telecommunication attorney jobs
may be in the form of an in house attorney or an attorney working for a law firm. In house attorneys have a structured work schedule. They are given an office by the company from which they carry out their day to day activities.
Telecommunication attorneys who work for law firms may not have structured work schedules. They might spend long hours conducting research and gathering data.
Telecommunication attorneys are also employed by the government. Regulatory authorities such as the federal communication commission employ qualified telecommunication attorneys. These attorneys develop government policies on telecommunication. They also represent the government in legal suits either civil or criminal. The cases they are involved in are those touching on the telecommunication industry.
Licensure
To practice law you have to be registered with the relevant authorities. The licensure laws are established by the court with the highest jurisdiction in a state. Bar examinations might differ from one state to the other. Other states have common bar examinations. Passing one bar examination may make you admissible to practice law in another state. To qualify for licensure you must have an undergraduate degree in law and you must have successfully gone through the mandatory three year law school.
Advancement
Lawyers are generally employed as associates in law firms. As associates they work under the tutelage of the most experienced lawyers. You can advance you career as a telecommunication attorney and rise through the ranks to become a partner. Experienced telecommunication attorneys may also be recruited by the government as district telecommunication attorneys.
Employment
There are various employment opportunities for telecommunication attorneys.
Telecommunication attorney jobs
are either in house or in law firms. Telecommunication attorneys can also work in the academic field as lecturers or heads of departments.
Job outlook
This is the information age. Everything that was previously done manually can nowadays be done online. Information technology has revolutionized the telecommunication attorney jobs. All inventions and innovations have positive impacts on society as well as negative impacts. Laws and regulations are instituted to regulate both the good aspects as well as the bad aspects. In the daily usage of communication equipment there are bound to be conflicts. When conflicts arise in the telecommunications industry, a job opening arises for a telecommunication attorney. There are various telecommunication gadgets that are brought onto the market. As technologies change, the need for telecommunications also changes. Telecommunication attorney jobs are dynamic thus for one to succeed you have to continuously update yourself and love reading about technological changes in the telecommunication field.
Telecommunication attorney jobs are well paying. After working as a telecommunications attorney you can advance you career by going for further graduate studies. Graduate studies can enable you to offer consultancy services for telecommunication companies on all matters legal. The consultancy jobs are higher paying than ordinary attorney jobs.
Conclusion
Telecommunication attorney jobs
are legally related. To be a successful lawyer you must have good communication skills. You should also be good at research work and the writing of legal reports. You must love reading and getting new knowledge. Attorney jobs are all about reading. However, telecommunication jobs are a bit different because you have to adequately understand technological terms, for example DSL, the function of cables and modems in telecommunication, and how different cellular services operate.
About LawCrossing
LawCrossing has received tens of thousands of attorneys
jobs and has been the leading legal job board in the United States for almost two decades. LawCrossing helps attorneys dramatically improve their careers by locating every legal job opening in the market. Unlike other job sites, LawCrossing consolidates every job in the legal market and posts jobs regardless of whether or not an employer is paying. LawCrossing takes your legal career seriously and understands the legal profession. For more information, please visit www.LawCrossing.com.
Featured Testimonials
LawCrossing is a very userfriendly site. It provides with an excellent search feature which makes it an exceptional site.
Andrea
Facts
LawCrossing Fact #18: The "Advanced Search" option allows users to search for jobs by experience level, location, and keyword.
Harrison Barnes does a weekly free webinar with live Q&A for attorneys and law students each Wednesday at 10:00 am PST. You can attend anonymously and ask questions about your career, this article, or any other legal career-related topics. You can sign up for the weekly webinar here: Register on Zoom
Harrison also does a weekly free webinar with live Q&A for law firms, companies, and others who hire attorneys each Wednesday at 10:00 am PST. You can sign up for the weekly webinar here: Register on Zoom
You can browse a list of past webinars here: Webinar Replays
You can also listen to Harrison Barnes Podcasts here: Attorney Career Advice Podcasts
You can also read Harrison Barnes' articles and books here: Harrison's Perspectives
Harrison Barnes is the legal profession's mentor and may be the only person in your legal career who will tell you why you are not reaching your full potential and what you really need to do to grow as an attorney--regardless of how much it hurts. If you prefer truth to stagnation, growth to comfort, and actionable ideas instead of fluffy concepts, you and Harrison will get along just fine. If, however, you want to stay where you are, talk about your past successes, and feel comfortable, Harrison is not for you.
Truly great mentors are like parents, doctors, therapists, spiritual figures, and others because in order to help you they need to expose you to pain and expose your weaknesses. But suppose you act on the advice and pain created by a mentor. In that case, you will become better: a better attorney, better employees, a better boss, know where you are going, and appreciate where you have been--you will hopefully also become a happier and better person. As you learn from Harrison, he hopes he will become your mentor.
To read more career and life advice articles visit Harrison's personal blog.
Do you want a
better legal career?
Hi, I'm Harrison Barnes. I'm serious about improving Lawyers' legal careers.  My only question is, will it be yours?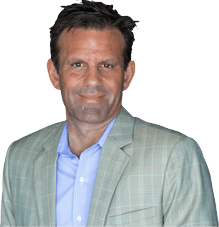 About Harrison Barnes
Harrison is the founder of BCG Attorney Search and several companies in the legal employment space that collectively gets thousands of attorneys jobs each year. Harrison is widely considered the most successful recruiter in the United States and personally places multiple attorneys most weeks. His articles on legal search and placement are read by attorneys, law students and others millions of times per year.
Success Stories
LawCrossing was probably the best legal board I have used. I liked the layout and it was user friendly. I tried to use another job board, but it was not user friendly and was kind of a pain, whereas LawCrossing was easy to use to find jobs. I really liked it. I would certainly recommend this site and service to my colleagues.
Stephen Kobza Tinley Park, IL
Why You'll Love LawCrossing
Stay Ahead. Get your weekly career digest giving you:
the latest legal jobs
legal employment news and trends
career advice and more