Support PDF,DOC,DOCX,TXT,XLS,WPD,HTM,HTML fils up to 5MB
Job Market Holds Steady
by Rebecca Luczycki
Despite layoffs and a weak economy, almost as many law school graduates from last year's class of 2002 found jobs as the class of 2001.
And despite recent drops, the employment market for new law school graduates over the past five years has remained relatively strong, standing at or above an 89 percent employment rate nationwide.
Those figures come from a new study from the National Association for Law Placement (NALP), "
Jobs & J.D.s: Employment and Salaries of New Law School Graduates
." The 29th annual report shows the class of 2002 saw the second decrease in employment rates since the crash of the early 1990s when employment rates were in the low-80 percent range. But the drop last year was only slight - 89 percent of graduates for whom employment status was known were employed by mid-February 2003, compared to 90 percent for the class of 2001 and 91.5 percent for the class of 2000.
That's good news for people in law school now, said Jerry Nash, NALP executive director.
"What's interesting to note is that this year [the employment rate] lines up with roughly where we were in 1998 and we had seen a steady increase in the employment rate during the boom time of the mid- to late-1990s," Nash said. Kevin Rosen, national chair of the hiring committee at the firm Gibson, Dunn & Crutcher, said some firms, like his, have learned since the early '90s, to take a steady and stable approach to hiring, to avoid shortages and overflows of associates. At those firms, hiring will likely remain stable for the next few years.
And even at firms that do change their hiring rates to match the peaks and valleys of the economy, Rosen said he thinks the outlook is bright for
current law students
.
"The law students we have just seen in a summer program or who we are interviewing this fall for next year's summer program will probably see themselves falling in within the peak or the rise toward the peak," he said. "Most law firms expect that by the time these people arrive, economic conditions will be better, and the reduced hiring they did in the valley will need to be compensated for. Either way, law students will win over the next couple of years."
Piper, Rudnick is one firm that did reduce its hiring recently. Sally McDonald, co-national hiring partner, said her firm, along with many others, has taken on smaller
summer associate
classes recently. But that approach will pay off for the associates who do get their feet in the door for a summer.
"Law firms didn't want to be in the position of having an summer associate who did excellent work and who ends up without an offer of employment because they over-hired for the summer," she said. "There will still be a smaller program [for the next few years], so the summer associates we do take on will have a very good chance of an offer of permanent employment at the end of the summer."
Nash points out that since the NALP data includes all jobs landed up to mid-February of the calendar year following graduation, there is no guarantee that those 89 percent who found jobs found them very quickly. And anecdotally, he believes some students are waiting longer for job offers than before. But the news is good there too. Nash said in the class of 2002, 69.5 percent found jobs before graduation.
"That number is five percent higher than it was in 1998, in the middle of a boom time," he said. "The jobs are still there, the offers are still coming. There is some reason for having hope and not panicking, but for being patient, being flexible and being creative."
This story appeared in the October, 2003 edition of The National Jurist,
www.nationaljurist.com
.
The National Association for Law Placement (NALP)







Featured Testimonials
I got a job using LawCrossing...and the listings were pretty updated and very comprehensive.
Marc
Facts
LawCrossing Fact #102: We're tech friendly. Our search engines make your search ultra convenient.
Location
Coral Gables, FL
Description
Associate Director, Career Services Responsibilities: Develop and direct the administration of law ...
Description
Director of lawyer talent Duties: Lead the entry-level attorney recruiting function at the firm, ...
Description
Legal Recruiting Manager Duties: Works in partnership with Director of Recruiting, Department Heads...
NOW TRENDING ON BCG ATTORNEY SEARCH
MOST POPULAR ARTICLES
Testimonial of the Week

I came back to LawCrossing to search through the listings in my new job search because I had been able to get my last 2 jobs through using the site. I love the search capacity and filters. This is a very valuable service.

Jennifer Guidea Bloomfield, NJ
Top Actively Interviewing Jobs
Washington, DC
To be part of the AMA is to be part of our Mission to promote the art and science of medicine and the betterment of publ...
Employer: American Medical Association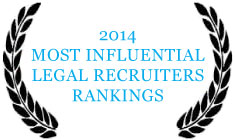 Job Search Tip
Keep in touch with your references after you start your new job. Send them your business card. Include them on your holiday card list. Keep them in your network. You never know when you may need them again.