Support PDF,DOC,DOCX,TXT,XLS,WPD,HTM,HTML fils up to 5MB
In-House Costs Surpassing Fees Associated with Outside Counsel
by Anique Gonzalez
Discussing the findings, Altman Weil principal James Wilber said, "
In-house lawyers
in management positions saw their total compensation rise between 8% and 14% this year, while non-management lawyers took home from 4.5% to 23% more. These increases, even after adjusting them for inflation, were very solid. Generally, as in recent years, base salary increases were relatively modest, with bonuses increasing more than salaries."
When choosing pricey outside counsel (the average cost of an in-house attorney is $346,497, while the average outside counsel attorney fee is $616,519), several factors are taken into consideration. These include firm specialization, responsiveness, and cost.
The survey covers four broad categories, including management positions, non-management positions, stock options, and variables. In the management position category the survey reported that chief legal officers (CLOs) saw both their salaries and their bonuses rise by 5.8% and 43% respectively. Overall compensation rose by 14.3%. Division general counsel and deputy CLOs also saw their compensation rise by 10.2% and 1.7% respectively.
In the non-management category attorneys saw their salaries increase as well. High-level specialists received a 6.4% increase and a 5% increase in bonuses, while senior attorneys saw their total cash compensation rise by 4.5%. Staff attorneys and recent graduates also saw their salaries rise by 23% and 10.8% respectively.
"As the survey shows, increases in total cash compensation for non-management lawyers were significantly higher for those of lesser experience. This may reflect a need to counter the dramatic increases in law firm starting salaries as general counsel compete with law firms for talent," Wilber said.
Stock options and other key variables were also discussed in the survey's findings. For example, although the median fair market value of CLOs' stock options was 2% less than last year, they were still worth more than their overall compensation at $900,800. The survey also found that a key variable impacting compensation was law department size. Departments that housed 25 or more attorneys saw their CLOs take home 56.6% more than the national median.
The survey obtained and analyzed data from 343 law departments.
Featured Testimonials
I have found employment! Incidentally, I found the posting on your site. Consider me a satisfied customer.
Barbara B.
Facts
LawCrossing Fact #117: We offer the largest collection of high-paying jobs out there!
Location
San Francisco, CA
Description
Technology & IP Transactions Paralegal Duties: Order searches on a company's IP holdings (registe...
Location
New York City, NY
Description
Professional Development Director - Litigation Duties: Training and development for our Litigatio...
Description
Manager of Attorney Training & Development Duties: As a member of the Firmwide (FW) Attorney Recrui...
NOW TRENDING ON BCG ATTORNEY SEARCH
MOST POPULAR ARTICLES
Testimonial of the Week

LawCrossing has the most listings of any job board I have used. It's actually a great site. The website had a lot of detail. It's nice that you don't have to go through a recruiter if you don't want to. You can actually contact the law firm directly for the positions listed. LawCrossing had a ton of great features.

Brian McMillan San Francisco, CA
Top Actively Interviewing Jobs
Birmingham, AL
Associate with three (3) to five (5) years of experience to work in its Architects / Engineers and Environmental Law Pr...
Employer: Lloyd, Gray, Whitehead & Monroe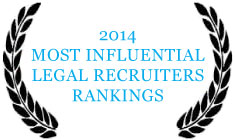 Job Search Tip
Don't be intimidated by headhunters and executive recruiters. Never let them railroad you into a job that doesn't meet your criteria.