Support PDF,DOC,DOCX,TXT,XLS,WPD,HTM,HTML fils up to 5MB
Brigham Young University J. Reuben Clark Law School
by Harrison Barnes, Managing Director - BCG Attorney Search

(
93
votes, average:
4.2
out of 5)
What do you think about this article? Rate it using the stars above and let us know what you think in the comments below.
Stellar reputation, well-known faculty, small class sizes, and affordable tuition? It's no wonder Brigham Young University (BYU) J. Reuben Clark Law School can be spotted in most top-fifty U.S. law school rankings. Thanks to BYU Law School's impeccable program structure based on educational and professional goals, as well as the university's prestigious Honor Code, graduates from this program are going places fast. Nestled in the lush and serene surroundings of Provo, UT, BYU not only provides a strong scholastic foundation but also a pleasant environment in which to focus and study; it's also easy to find stress-free places to hike, ski, or simply relax when work is done.
Overview
Founded in 1973, the J. Reuben Clark Law School at Brigham Young University is fully accredited by the American Bar Association. BYU offers students varied learning experiences—from the Socratic method of teaching and problem solving to seminars requiring individual research to hands-on clinical experiences—and the sum of these experiences helps prepare students to become adept in the range of professional experiences that make up the practice of law.
The J. Reuben Clark Law School's curriculum is designed to enable students to master legal reasoning and to appreciate the institutions and traditions that have shaped American law. The school's faculty members help students analyze complex factual situations and distinguish relevant information while performing thorough analysis of legal issues. Students are also taught the finer skills of written and oral advocacy.
Compact classes with small student-teacher ratios make the analytical approach to legal education more effective as they allow the teachers to pay closer attention to individual students. The first-year course curriculum also allows each student to actively participate in small, closely knit sections.
Students in their second and third years complete a substantial writing project under the supervision of a faculty member, which is designed to develop their writing and reasoning skills. In addition, the law school offers other opportunities to aid students with developing their careers through externships, seminars, and simulation courses. BYU law graduates may sit for the bar exam in any state of their choice.
J. Reuben Clark Law School's students also interact with the community to explore their future contributions as attorneys dedicated to religious principles practicing "law in light."
The law school's Howard W. Hunter Law Library comprises around 457,000 volumes of study materials in a technologically well-equipped environment.
Student-Faculty Ratio 16.0:1
Admission Criteria
| | | |
| --- | --- | --- |
|   | LSAT | GPA |
| 25th-75th Percentile | 160-167 | 3.51-3.87 |
| Median* | 163 | 3.74 |
The above LSAT and GPA data pertain to the fall 2011 entering class.
Medians have been calculated by averaging the 25th- and 75th-percentile values released by the law schools and have been rounded up to the nearest whole number for LSAT scores and to the nearest one-hundredth for GPAs.
Admission Statistics
| | |
| --- | --- |
| Approximate number of applications | 755 |
| Number accepted | 207 |
| Percentage accepted | 27.4% |
The above admission details are based on fall 2011 data.
Class Ranking and Grades
The law school compiles an individual class rank for students in the top 15% of the class. Under the Family Educational Rights and Privacy Act class ranking and cumulative grade point average records maintained by the law school are available to students. The law school compiles, and students may request, individual Student Progress Reports that disclose ranking to the middle of the class in 10% increments, with the remainder of the class listed as bottom 50%.
All courses and seminars are evaluated by numerical grades unless departure from that general policy is approved by the Curriculum Committee. Individual faculty members may determine whether to grade Directed Research on a numerical or pass/fail basis. There will be a minimum grade of 1.6 for complete non-performance and a maximum grade of 4.0.
Pass/Fail
In a Pass/Fail-graded offering, a student may receive a grade of Pass, Low Pass, or Fail. A Low Pass will appear on the transcript as a grade of 2.7 per credit hour. A Fail will be recorded as a 1.6.
The law school follows a 4.0 grading scale with intervals of 0.1. The presumptive top grade in each class is 4.0, the grade point average required for graduation is 2.7, and the minimum grade for which credit will be given is 2.2.
The J. Reuben Clark Law School uses the following grading scale:
A

4.0

Superior

3.9

3.8

3.7

3.6

Excellent

3.5

3.4

B

3.3

High Pass

3.2

3.1

3.0

2.9

Pass

2.8

2.7

C

2.6

Low Pass

2.5

2.4

2.3

2.2

No credit

2.1

Failing

2.0

1.9

1.8

1.7

1.6
Grades are usually based on a single final examination, except in seminars and in problem-solving/clinical courses. The law school's examinations ordinarily consist of general questions based on hypothetical situations. The quality of a student's response is determined not only by evidence of the student's mastery of the subject matter but also by his or her ability to recognize and assign priority to relevant issues, to deal with complex facts and separate the relevant from the irrelevant, to analyze the basis for his or her conclusions, and to express ideas in a clear and orderly fashion. Consideration in grading may also be given to attendance, class participation, and other written work. Students who fail to maintain a grade point average of 2.7 at the end of the second, fourth, and sixth semesters may be terminated from the law school.
Grade normalization (Curve)
The median grade for all first-year courses at the J. Reuben Clark Law School must be 3.3. For a class of fewer than 10 students in all second- and third-year courses, the median grade must be 3.3.
In a particular course a deviation may occur occasionally, but in almost all years the median for that course must be 3.3.
A cumulative grade-point average of at least 2.7 is required for graduation.
Honors
| | |
| --- | --- |
| Honor | Criteria |
| Order of Coif | Top 10% |
| summa cum laude | Top 2% or GPA of at least 3.80 or higher |
| magna cum laude | GPA of 3.60 to 3.79 |
| cum laude | GPA of 3.45 to 3.59 |
| Dean List | GPA of 3.45 or higher |
Awards
| | |
| --- | --- |
| Name of Award | Description |
| J. Reuben Clark Award | Awarded to students who are committed to making a contribution to the community by dedicating part of their legal education to public interest or pro bono causes |
| John S. Welch Awards | Awarded to the winners of the law school's co-curricular writing competition |
| A.H. Christensen Award | Awarded for oral advocacy |
| Hugh B. Brown Award | Awarded for class presentation and performance |
| Achievement and Service Award | Awarded for a variety of criteria |
| National Association of Women Lawyers Award | Awarded for contribution to the advancement of women in society |
| Foundation Press Award | Awarded for excellence in constitutional law |
| Margaret Rose Nielson Award | Awarded to the best oralist in moot court competition |
| International Center for Law and Religious Studies Award | Awarded for service related to international religious freedom |
| Distinguished Clinical Practice Award | Awarded for exceptional commitment to clinical practice |
| Exceptional Service Award – Student Bar Association | Awarded for exceptional service to the Student Bar Association |
| Linda Anderson Trial Advocacy Competition Awards | Awarded to the competition's champion, runner-up, and finalist |
| High Grade Awards | Awarded for excellence in law school |
| American Bankruptcy Institute Medal of Excellence | Awarded for a professional project in the bankruptcy area |
| ABA-BNA Award for Excellence | Awarded for excellence in IP Law |
| Humor in the Law Award       | Awarded to student who has kept their sense of humor |
| ABA State & Local Govt. Award  | Awarded for highest grade in municipal law and  land use     courses |
Journals
The Brigham Young University Law Review is a self-perpetuating organization comprised of second- and third-year students at the J. Reuben Clark Law School. Its goal is to produce a legal periodical for use by scholars, practitioners, and judges. Members of the law review contribute to this goal by editing and writing articles and by performing other tasks associated with its publication that are assigned periodically throughout the year. The law review publishes six issues each year. By preparing articles, notes, and comments for publication, members of the review receive intensive legal writing and editing experience, which improves their ability to analyze and discuss legal issues and contributes significantly to the orderly development of the law.
The Brigham Young University education and Law Journal, a student-run journal, is solely committed to the field of education law. The J. Reuben Clark Law School and the Brigham Young University Department of Educational Leadership and Foundations jointly sponsor this journal, which is currently published biannually and addresses educational and legal issues affecting elementary, secondary, and higher education. The journal features work by many of the nation's top legal scholars, practitioners, administrators, educators, and students.
The Brigham Young University Journal of Public Law is dedicated to publishing scholarly articles addressing topics in public law, including the relationships between governments and their citizens, associations among governments, and the effects of governmental entities upon society. It publishes two issues per year.
The Brigham Young University International Law & Management Review is an interdisciplinary student-edited journal that solicits, edits, and publishes articles dealing with current issues in the fields of international law and management. It provides practical insights and solutions to complex issues in international law and management. The review's student editorial staff is made up of law and business management students attending Brigham Young University. It is a biannual publication.
Moot Court
The basic requirement prior to joining a J. Reuben Clark Law School moot court team is to write an appellate brief and give an oral argument, and all first-year students participate in the 1L Moot Court Competition at this level. The 1L Moot Court Competition is the primary mechanism by which 1Ls apply to the team, and invitations to new team members will be extended during the summer. Brigham Young University's National Moot Court team is selected from second-year students who participate in an intra-school competition - the Rex E. Lee competition during the first semester. This team then represents the school in all regional and national ABA competitions during their third-year. These team members also become the editors and judges for all first-year competitions.
Others who progress in the competition may apply to compete in other competitions around the country during winter semesters of their 2L and 3L years. In years past the law school has sent teams to eight different competitions around the country. These competitions often focus on specific topics, such as securities law, civil rights, or religious liberty.
The J. Reuben Clark Law School also offers a trial advocacy program that facilitates its students' training in oral advocacy, courtroom procedures, trial practices and techniques, and trial competition performance. This is accomplished through an integrated program that works closely with the law school's faculty, administration, and legal practitioners. The program serves students at all levels of their legal education.
Clinical Programs
The law school provides opportunities for students to develop practical skills in three main programs: externships, LAWHELP seminars, and simulation courses.
LAWHELP seminars include a one-credit course on the topic, together with a one-credit practical experience externship. The LAWHELP seminars include elder law, domestic violence intervention, domestic relations, mediation, immigration, child advocacy, public lands & natural resources, advanced mediation, advanced community lawyering, judicial tribal courts, and appellate courts. Training in the development of practical skills is also provided by well-developed simulated courses in civil, criminal, appellate, and non-litigation situations. The law school maintains a complete audiovisual facility that allows students to self-critique and review with the professor.
Placement Facts
Starting Salaries (2010 Graduates employed Full-Time)
| | |
| --- | --- |
| Private sector (25th-75th percentile) | $80,000-$130,000 |
| Median in the private sector | $100,000 |
| Median in public service | $51,000 |
Employment Details
| | |
| --- | --- |
| Graduates known to be employed at graduation | 69.0% |
| Graduates known to be employed nine months after graduation | 95.9% |
Areas of Legal Practice
| | |
| --- | --- |
| Graduates employed In | Percentage |
| Law Firms | 48.2% |
| Business and Industry | 13.7% |
| Government | 12.2% |
| Public Interest Organizations | 3.6% |
| Judicial Clerkships | 13.7% |
| Academia | 5.8% |
| Unknown | 2.9% |
Externships/Internships
Externships
The law school's externship program aims at providing real-life experience for the school's law students. After the completion of their first two years of law study, students receive one credit for each 50 hours of work up to a maximum of six units (300 hours) during the summer or three units (150 hours) during a school term. Most students work full-time for five weeks during the summer and earn four credits. However, the number of hours and dates of work are mutually arranged between the student and the employer. American Bar Association rules prohibit students from receiving compensation of any kind, apart from compensation for expenses paid out of the student's pocket (like parking and lunch expenses), while earning externship credit.
A student who wishes to complete an externship must submit a learning plan (a list of experiences he or she hopes to have during the externship) to the law school, besides performing work assignments and participating in the full range of activities available through the office. A supervising attorney provides work assignments and evaluates the student's performance.
Internships
The J. Reuben Clark Law Society Internship Program provides a living stipend to one student each year that has distinguished him or herself in law school and is not engaged in paid employment for the summer. The program provides a stipend of $3000 and the recipient is expected to work approximately six weeks at a public service agency, private non-profit organization, or on a self-initiated, independent service project.
Student organizations
Alternative Dispute Resolution
American Constitution Society
Black Law Students Association
Business Law Association
BYU Law Review
Education and Law Journal
Environment, Energy, and Resources Society
Family Law Society
Federalist Society
Government & Politics Legal Society
Immigration Law Forum
International Law and Management Review
International Law Students Association
Iron Justice Golf
Jail Outreach
Joint Degree Student Association
J. Reuben Clark Law Society, BYU Student Chapter
Journal of Public Law
Latino/a Law Student Association
Law & Economics
Law Partners
Law School Choir
Minority Law Students Association
Moot Court
Native American Law Students Association
Pacific Island Law Student Association
Phi Delta Phi
Public Interest Law Foundation
Real Estate Law Society
Spirit in the Law
Sports and Entertainment Law Society
Student Bar Association
Student Intellectual Property Law Association
Trial Advocacy
Women in the Law
References
http://www.law2.byu.edu/
http://premium.usnews.com/
About LawCrossing
LawCrossing has received tens of thousands of attorneys
jobs and has been the leading legal job board in the United States for almost two decades. LawCrossing helps attorneys dramatically improve their careers by locating every legal job opening in the market. Unlike other job sites, LawCrossing consolidates every job in the legal market and posts jobs regardless of whether or not an employer is paying. LawCrossing takes your legal career seriously and understands the legal profession. For more information, please visit www.LawCrossing.com.
Brigham Young University







Featured Testimonials
LawCrossing was so easy to use. I found it comprehensive, well organized, and extremely helpful.
Sandra R.
Facts
LawCrossing Fact #213: We own a job search engine, www.hound.com, which runs in the background to ensure that all of the jobs that are relevant to LawCrossing are identified.
Harrison Barnes does a weekly free webinar with live Q&A for attorneys and law students each Wednesday at 10:00 am PST. You can attend anonymously and ask questions about your career, this article, or any other legal career-related topics. You can sign up for the weekly webinar here: Register on Zoom
Harrison also does a weekly free webinar with live Q&A for law firms, companies, and others who hire attorneys each Wednesday at 10:00 am PST. You can sign up for the weekly webinar here: Register on Zoom
You can browse a list of past webinars here: Webinar Replays
You can also listen to Harrison Barnes Podcasts here: Attorney Career Advice Podcasts
You can also read Harrison Barnes' articles and books here: Harrison's Perspectives
Harrison Barnes is the legal profession's mentor and may be the only person in your legal career who will tell you why you are not reaching your full potential and what you really need to do to grow as an attorney--regardless of how much it hurts. If you prefer truth to stagnation, growth to comfort, and actionable ideas instead of fluffy concepts, you and Harrison will get along just fine. If, however, you want to stay where you are, talk about your past successes, and feel comfortable, Harrison is not for you.
Truly great mentors are like parents, doctors, therapists, spiritual figures, and others because in order to help you they need to expose you to pain and expose your weaknesses. But suppose you act on the advice and pain created by a mentor. In that case, you will become better: a better attorney, better employees, a better boss, know where you are going, and appreciate where you have been--you will hopefully also become a happier and better person. As you learn from Harrison, he hopes he will become your mentor.
To read more career and life advice articles visit Harrison's personal blog.
Do you want a
better legal career?
Hi, I'm Harrison Barnes. I'm serious about improving Lawyers' legal careers.  My only question is, will it be yours?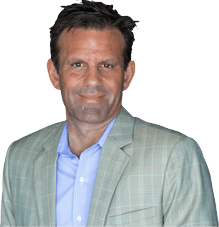 About Harrison Barnes
Harrison is the founder of BCG Attorney Search and several companies in the legal employment space that collectively gets thousands of attorneys jobs each year. Harrison is widely considered the most successful recruiter in the United States and personally places multiple attorneys most weeks. His articles on legal search and placement are read by attorneys, law students and others millions of times per year.
Success Stories
I was able to obtain my new job through LawCrossing. I love your service! Hopefully, I won't need your help for a while, but if I do, I'll certainly sign up again. I have already told others about your great site.
Why You'll Love LawCrossing
Stay Ahead. Get your weekly career digest giving you:
the latest legal jobs
legal employment news and trends
career advice and more