Are you tired of looking at the concrete and tall buildings that define most major cities in America? While not a legal market on par with New York or Los Angeles, Salt Lake City offers an ever-increasing number of opportunities for attorneys — as well as a beautiful landscape that provides plenty of room for outdoor activities.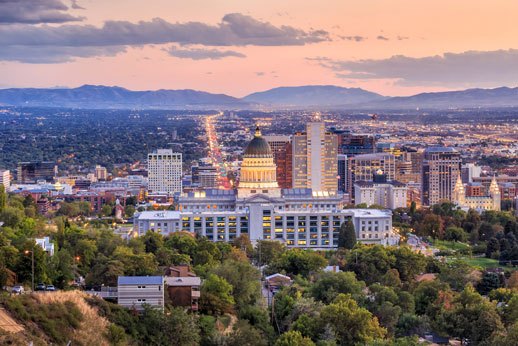 People come to Salt Lake City - and stay - for two main reasons: God and country.
As home base for The Church of Jesus Christ of Latter-day Saints (LDS Church, also known as Mormon), Salt Lake City attracts and keeps many members of the religion, which creates a climate for the town, just as finance does for New York and politics does for Washington. Salt Lake City is a company town.
And, no matter what their religion, natives and newcomers also stay in this city for the incredible natural beauty - mountains, canyons, and the Great Salt Lake itself - that not only surrounds, but also runs through the city itself. Every one we talked to said the words ''hiking'' and ''mountain biking'' repeatedly - no matter what their legal specialty or religious affiliation.
Want to continue reading ?
Become a subscriber to LawCrossing's Job Seeker articles.
Once you become a subscriber you will have unlimited access to all of LawCrossing Job Seeker's articles.
There is absolutely no cost!
Already a member? Login | Forgot your password